Cleveland Public Theatre previews 2018/2019 Season
Here and Now
"CPT's work is here. It is locally grown. And it confronts contemporary issues and social norms – struggles of now. But our work is also about the ongoing human obligation to live in the present moment. Theatre is about the sense of being alive in this moment. It's about a responsibility to the world to respond to what is happening outside us and something bigger than ourselves, to live fully in the moment. We often think these two ideas can't live together simultaneously – confronting the dark while existing in and appreciating the present moment."
-Raymond Bobgan, CPT EXECUTIVE Artistic Director
---
CPT's 2018/2019 SEason Preview
---
One Night Only. Saturday, September 8, 2018; Cleveland Public Theatre, various locations; 7:00pm; Tickets $165 ($95 tax deductible).

Cleveland Public Theatre's annual fundraising extravaganza transforms the CPT campus into a labyrinth of theatre, dance, visual, and performance art in every corner. Ticket is all-inclusive with fabulous local food and complimentary drinks served all night long. A feast for the eyes, mind, appetite, and imagination—proceeds benefit CPT's groundbreaking artistic work and life-changing education programs.
---
Runs October 4 – 6. James Levin Theatre.
Written & Directed by Teatro Público de Cleveland Ensemble Members.
Be a part of the development of new material and future Teatro Público de Cleveland work! Teatro Público de Cleveland presents a workshop series of new scripts and scenes written by local Latino artists. Experience work-in-progress plays as actors and directors make bold choices with scripts in hand! New Play Development.
---
Runs October 11 – 27. Previews October 11. Gordon Square Theatre.
Written & Performed by Nina Domingue.* Directed by Nathan Henry.
Ya Mama! is the autobiographical story of a young Afro-Creole girl losing a mother, gaining a stepmother, and becoming a mother—all while being an artist. Set in the lower ninth ward of New Orleans, we journey from the schoolyard to the delivery room, from the edge of sanity to pure joy, from devastation to hope. Ya Mama! was originally developed and produced by CPT in 2011.
*Actor appears courtesy of Actors' Equity Association, the Union of Professional Actors and Stage Managers in the United States.
---

Runs October 20 – November 10. Previews October 20 & 25. James Levin Theatre.
Created by Melissa Crum & Caitlin Lewins, 2016/2017 Nord Family Foundation Catapult Fellows.
Directed by Matthew Wright.
In this hot mess musical, a group of close friends struggles to navigate the tragedies of life. Filled with wry humor, heartfelt honesty, and the kinds of songs you belt in the shower, Everything is Okay (and other helpful lies) grapples with existing in an unforgiving world. Guided by poor decision-making and way too much alcohol, these buddies try anything to find happiness while the ties of friendship fray. This dark musical comedy is a celebration of the not-so-happy ways in which we persevere, grow, and change – whether we want to or not. Cheers! World Premiere.
---
Saturday, November 3. 11:00am – 10:00pm. CPT campus: Church, Parish Hall, & surrounding area.
Presented by Cleveland Public Theatre/Teatro Público de Cleveland & Día de Muertos Ohio.
A vibrant cultural celebration for the whole family, the annual "Day of the Dead" honors the memory of those who have passed and is a treasured holiday in Mexico and throughout Latin America. Activities include indoor and outdoor art installations, Latin food, live music, performances, and a colorful "Skulls & Skeletons" procession.
---
Runs November 8 – 11. Gordon Square Theatre.
Created & Performed by the men of Y-Haven, a branch of the Greater Cleveland YMCA. Directed by Adam Seeholzer. The one-weekend-only production at CPT is followed by a community-wide tour.
The Y-Haven Theatre Project is a twenty-year partnership between Cleveland Public Theatre and Y-Haven, a branch of the Greater Cleveland YMCA. Y-Haven is a transitional housing facility for formerly homeless men recovering from substance abuse and mental health challenges. Every year, CPT collaborates with the clients of Y-Haven to create an original theatre production, performed by the men and based on their life stories. The Y-Haven Theatre Project captures an authenticity and emotional power as the cast shares their true-to-life experiences often hidden from the world.
---

Runs November 23 – 24. James Levin Theatre.
Originated by Jason & Danielle Tilk. Featuring multiple acts performed by local variety performers.
CPT is proud to present Pinch and Squeal's WIZBANG! – Cleveland's very own variety circus theatre! Two spectacular nights of absolute holiday madness filled with ridiculous acts, local circus performers, and professional misbehavers! Shoving vaudeville kicking and screaming into the 21st century, Pinch and Squeal invite you into their absurd world where the nonstop entertainment unfolds all around, in your lap, and even above you! Come and laugh with us!
---
Runs November 29 – December 22. Previews November 29. Gordon Square Theatre.
Created by Conni's Avant Garde Restaurant Ensemble. Directed by Cynthia Croot.
Hailed as "devilish dinner theatre" by the New York Daily News, one of CPT's most popular holiday entertainments is BACK! This hilarious musical performance includes crazy cabaret, comedy, dancing, game show competitions, violence, and a five-course meal. The performers cook and serve the feast, using fresh, locally-sourced ingredients – each course served through musical and choreographed sequences. Conni's Avant Garde Restaurant: A Snowball's Chance is an eclectic, bizarre, and delightful night at the theatre like no other. You won't want to miss this. World Premiere.
---
January 17 – 19. CPT Campus, multiple venues.
Featuring work by various Northeast Ohio artists.
Grab a pass and step into a festival-like atmosphere of raw art-in-progress. Entry Point is a platform for artists to develop their work in the early stages of creation, and then share that work with the public in a festival forum. Entry Point activities include staged readings, short excerpts from works-in-progress, guest panel discussions, and facilitated feedback between artists and audience after every showing. New Play Development.
---

Runs February 9 – March 2. Previews February 9 & 14. Gordon Square Theatre.
Created & Performed by Northeast Ohio Artists.
Fire on the Water, the acclaimed multimedia theatrical event, returns to honor the 50th anniversary of the 1969 burning of the Cuyahoga River. Fire on the Water is a fast-paced series of short plays inspired by this pivotal moment in Cleveland's history. Created by a diverse team of playwrights, directors, and actors, the production features original work by CPT and friends, woven into a powerful production exploring how the environment shapes identity, while celebrating the remarkable recovery of Cleveland's waterways.
---
March 21 – April 20. James Levin Theatre.
A multi-week play development series featuring works-in-progress by local & national artists.
Test Flight is a multi-week series that showcases new work on its way to full production. Test Flight provides both local and national artists with the keys to the theatre and the opportunity to co-produce original works-in-progress. The series encourages risk-taking and an entrepreneurial spirit towards creating new work while offering artists a structured support system, activating an art-focused environment. New Play Development.
---
May 4, 7:00 – 10:00pm. St. John's Episcopal Church in Ohio City.
A Celebration of Hope. A Dialogue for Change.
Station Hope is a jubilant community event celebrating Cleveland's social justice history and exploring contemporary struggles for freedom and equity. Engage with over 250 artists as they envision, interrogate, and seek out hope on the grounds of Cleveland's first authenticated Underground Railroad site, St. John's Episcopal Church. Audiences explore the historic properties while viewing works of theatre, music, storytelling, and dance inspired by the most important issues of our time.
---
Runs May 18 – June 8. Previews May 18 & 23. James Levin Theatre.
A Co-Production with Ohio City Theatre Project. Conceived & Directed by Pandora Robertson.
Using music, humor, and bizarre bouffon theatricality, Central Concern is delightfully depraved and entertaining. Central Concern takes a satirical look at the history of the American real estate profession and how it championed property values at the expense of civil rights. World Premiere.
---
Runs May 16 – June 15. Gordon Square Theatre.
Featuring Northeast Ohio choreographers.
Every year, Cleveland Public Theatre welcomes Northeast Ohio's most adventurous contemporary dance companies to the Gordon Square Theatre stage for five weeks of single and double bill performances.
---
NEW PLAY DEVELOPMENT AT CLEVELAND PUBLIC THEATRE
In addition to the Entry Point festival and Test Flight series detailed above, an ongoing fellowship program throughout the 2018/2019 season, Catapult, is intended to help artists move their projects to a "production ready" stage through multiple readings, rehearsal time at CPT, workshop productions, and/or invitational showings. Catapult playwrights and creators will be awarded a Nord Family Foundation Fellowship and play an active role in the life of the theatre while they are developing their work.
And, as always, The Dark Room open mic for playwrights continues the second Tuesday of every month (7:30pm at The Church at CPT), pairing playwrights with actors to perform (mostly) cold readings of scripts-in-progress in a fun, low-risk atmosphere.
---
Other Productions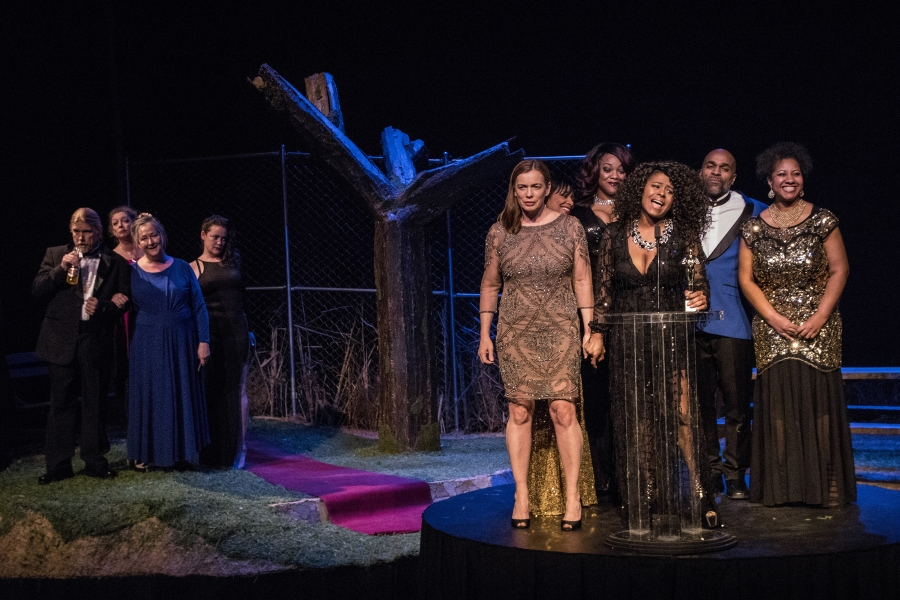 CPT is in the process of filling out the rest of the season – stay tuned for late-breaking additions to what will be a stellar year. Upcoming announcements will include a spring production directed by Beth Wood, information about Cleveland Core Ensemble's plans for the 2018/2019 season onsite (and off!), Teatro Público de Cleveland's 5th Spanish language production, and the launch of Masrah Cleveland Al-Arabi – a new project that will develop work by and with Arabic-speaking communities.
---
Location and Venues

Cleveland Public Theatre's box office is located at 6415 Detroit Ave., Cleveland, OH 44102, and unless otherwise noted, all performances take place in venues inside the CPT campus.
Cleveland Public Theatre's campus is comprised of two primary venues—the historic Gordon Square Theatre and James Levin Theatre. Both mainstage venues are fully ADA compliant, featuring a newly installed patron elevator and the addition of all gender, wheelchair accessible restrooms.
In addition to CPT's primary spaces, the campus includes three auxiliary venues, the Storefront Studio, The Church at CPT, and Parish Hall, the latter two of which are located on the east end of the CPT campus. Due to the historic nature of The Church and Parish Hall, these venues are not ADA compliant at this time.
Unless otherwise noted, shows at the Gordon Square Theatre begin at 7:30pm and shows at the James Levin Theatre and other venues begin at 7:00pm. For special venues and event times, check the website for details.
---
2018/2019 TICKET PRICES
Cleveland PUBLIC Theatre is proud to practice pricing transparency—the price you see on our marketing materials, is the price you'll pay at checkout. No sneaky ticket fees. Ever.
Full production single tickets are $15 – 35, with premium pricing for CPT's holiday show and other special events. New Play Development pricing ranges from $10 – $20 (Entry Point and Test Flight). Student and senior discounts are available for all Friday and Saturday nights. For more information, go to www.cptonline.org or call the CPT box office at 216-631-2727 ext. 501.
---
Audience Engagement at CPT
Cleveland Public Theatre's audience engagement initiatives seek to provide opportunities for our patrons to engage in meaningful pre- and post-show activities, aimed towards enriching the audience experience and brokering connections between audience members and the art presented on our stages.
FREE BEER FRIDAY – Every Friday at CPT is "Free Beer Friday." Stick around after the performance and enjoy a drink or two on CPT. But, wait… we all know there's no such thing as a free lunch. Free Beer Friday isn't really free. When you grab a beverage, we want you to "pay" by engaging in conversation with someone else about the play – the person you came with, a new friend, or stranger. You'll receive a playing card to set you off on your mission. Thank you for contributing to the artistic adventure with your intellectual currency.
FRONT ROW. FREE DRINK. – CPT conducted a "national study" (…if only) and found that at theatres using general admission, the front row fills up last. We know that sitting in the front row is a great experience for audiences, and a full front row inspires the performers on stage. When you arrive, be the first to snag a bar voucher from a seat in the front row and take it to the bar. We trust you'll find your way back to the front row and enjoy the performance up-close-and-personal.
AUDIENCE INTERACTION – At CPT we believe everyone is an artist, and our audience interaction installations invite audience members to engage with ideas surrounding the show by participating in hands-on lobby installations that visually and powerfully transform the space for select shows.
POST-SHOW ENGAGEMENT – Curated panels, artist talks, and other post-show enrichment invites CPT audience members to deepen their experience.