RED ASH MOSAIC
---
The Creative Production Team Includes:
Benjamin Gantose – Lighting Designer
Holly Holsinger & Irene Mack-Shafer – Co-Costume Designers
Matthew Ryals, 2016/2017 Kulas Theatre Composer Fellow – Composer/Sound Designer
Maura Krause – Dramaturg
Raymond Bobgan – Scenic Designer
Colleen McCaughey – Stage Manager
Marissa Green – Assistant Stage Manager
---
---
ABOUT THE DIRECTOR: RAYMOND BOBGAN
This is Raymond Bobgan's 11th season in the leadership position at CPT. Raymond specializes in working through an ensemble process to create new performances that are bold, multilayered and highly physical. In 2014 he became the first recipient of the Cleveland Arts Prize in the discipline of Theatre. Raymond's work has been seen in Romania, Brazil, Denmark, Serbia, Turkey, The United Kingdom and Canada and has been featured in American Theatre Magazine, Canadian Theatre Review, Theatre Journal and in Lisa Wolford's book Grotowski's Objective Drama Research. Raymond has created many works for CPT including: Rusted Heart Broadcast; Insomnia, with Holly Holsinger and Chris Seibert; Cut to Pieces, with Chris Seibert; Blue Sky Transmission: A Tibetan Book of the Dead, co-produced by CPT and La Mama ETC (NY); and The Confessions of Punch and Judy, co-produced by CPT, NaCl (NY) and Number 11 Theatre (Toronto), which was published in New Canadian Theatre Volume 9.
In 1994, Raymond initiated the Student Theatre Enrichment Program, a job training program that engages at-risk youth in writing, producing and performing new plays. Raymond was also the first director of CPT's Y-Haven Theatre Project. Under his leadership CPT has eliminated significant debt, run consistent operating surpluses and formed both a Building Reserve and an Innovation Reserve. This financial advancement was a result of mission-focused programming including a strong emphasis on supporting new works and local artists, a bold aesthetic vision and CPT's educational and engagement programs.
Raymond is a two-time recipient of the Creative Workforce Fellowship (2010 for Theatre, 2014 for Music Composition), a program of the Community Partnership for Arts and Culture funded by the Cuyahoga Arts and Culture. He is an alumnus of Theatre Communications Group/Pew Charitable Trust's National Theatre Artist Residency Program and the TCG/NEA Career Development Program for Directors. Raymond was Acting Artistic Director of CPT (1995-1997) and served CPT in many roles including Stage Manager, Guest Director, Associate Artistic Director, Education Director and Resident Director at various times since 1991.
---
---
A note from CPT's Audience Engagement Associate, Adrien Brizzolara
Red Ash Mosaic isn't typical. It's not your run-of-the-mill theatrical experience.
The production is rigorously physical with movement as an access to otherworldly dimensions and deeper states of being. Set in a modern America filled with fears and forgetting, Red Ash Mosaic centers around the exploration of ancient and psychologically embedded stories and their impact on our daily life. The story follows one man as he strives to unite the seemingly irreconcilable forces of his life, his memory and his splintered selves. Red Ash Mosaic is about the search for a connection to something bigger than our temporary lives and how that enriches, disrupts and haunts us.
Ethereal original music and a cappella singing with intricate musical themes and harmonies set the stage, carrying rich meaning and emotion with it. Viewpoints are layered, levels shift and narratives interweave, invoking a kind of transformation. This is a deep dive into poetic theatre.
Red Ash Mosaic is a piece that has been developed over years rather than weeks. Poetic theatre requires specific training for performers, unique approach to design elements and considerable effort from the audience… especially audiences who are curious and seeking performances that aren't typically experienced in American theatre.
We welcome you – the bold, the curious, the brave – as our final collaborator in this creative process. The bridge has been built (you'll see what I mean…) – let's cross it.
Adrien Brizzolara
Audience Engagement Associate
---
Taking Flight…
Rigging, ropes, pulleys, clews. Techniques, tricks and flips… theatrical flying is an art form.
Adam Seeholzer, CPT Education Manager and Cleveland Core Ensemble member, shared what it's like to work the ropes that make the wonder of flight possible in Red Ash Mosaic:
"It's hard work on many different levels… physically, mentally, emotionally… there's so many different things at play. Safety's your number one priority, period. But at the same time you have to risk in certain ways – both as the operator and as the person flying. But you have to figure out the balance between safety and risk, and that line is always changing depending on what's happening and who's the floor. When you're acting in a scene, safety's not really a concern. It doesn't really come up. But with the flying, it's always there. It has to always be there. Because the second it's not there is when an accident can happen."
---
Red Ash Mosaic  questions a deeply universal, human experience
From an interview with Raymond Bobgan, Director/Creator of Red Ash Mosaic:
"There are some themes that recur in my work which have to do with how an immaterial or internal or spiritual (or whatever you want to say) life sits and interacts with our daily life in ways that maybe most of the time aren't evident. And I'm really interested in exploring moments of stress or strain – moments in which those two worlds overlap more and interpenetrate each other.
For me, through looking at death, we begin to look at our lives in different ways. And in Red Ash Mosaic, I think I'm making a break from that sense.
I don't really accept this notion that to live is to sleep and to die is to awaken. And for me, I think that is a very dangerous concept because it allows a sort of complacency… it doesn't seem wise to wait for the afterlife to begin to go towards the light."
Click here to read the full interview.
---
The Meaning of the Music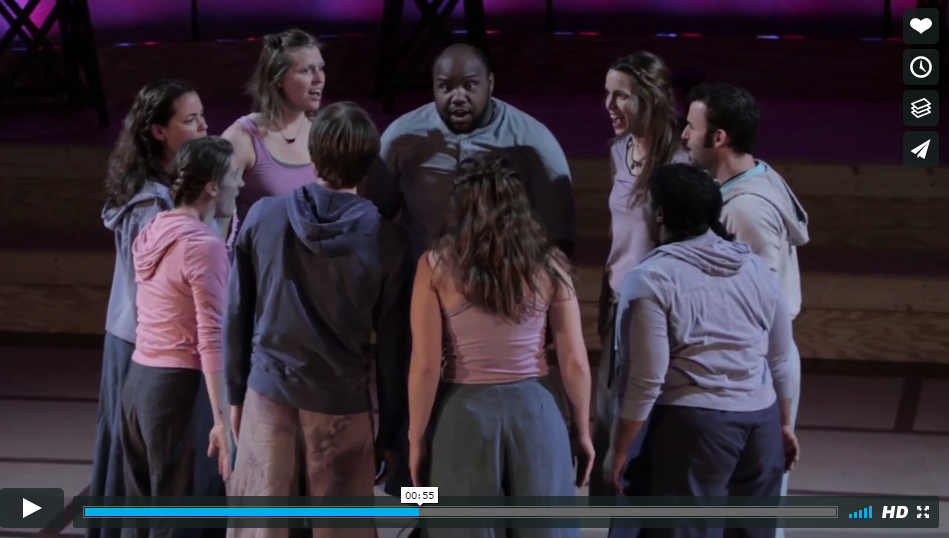 Music and song are used to invoke rich meaning and feeling in Red Ash Mosaic. There's original music by Matthew Ryals, 2016-2017 Kulas Foundation Theatre Composer Fellow, as well as haunting a cappella, actor-performed music composed by Raymond.
In this video, Raymond describes his group-centered approach to music composition and the transformative power of song.
"When we sing, our whole body is vibrating in different ways, and that also means that our mind is working in a lot of different ways, and I believe that song can actually change how we think." -Raymond Bobgan, Director/Creator of Red Ash Mosaic
Click here or on the thumbnail above to watch the full video.
---

In 2012, Executive Artistic Director Raymond Bobgan began working with a group of actors to create Rusted Heart Broadcast. The principles of this work were guided by Raymond's extensive experience in ensemble theatre creation. Raymond formed a core group of actors to continue working together as an ensemble company, aligning with the Network of Ensemble Theaters (a national organization of which CPT is a member) which defines ensembles as "a group of individuals dedicated to collaborative creation, committed to working together consistently over years to develop a distinctive body of work and practices."
As part of its growth, the group has claimed a name—Cleveland Core Ensemble—and is working on a multitude of projects, including the full scale creation and production of Red Ash Mosaic. The ensemble is made up of Raymond Bobgan, Dionne Atchison, Faye Hargate, Adam Seeholzer and Darius Stubbs. On occasion, other actors will work inside the ensemble as guests and the ensemble will continue to be part of other theatrical projects, both independently and as company members. The purpose of the ensemble goes beyond the creation of new work, as it also influences the approach to theatre throughout the season, instills core values in the broader artistic work of CPT, contributes to CPT's community work in events like Station Hope and forms the pedagogical basis for our education programs.
Click here to read more about Cleveland COre Ensemble.
---
The Journey to Red Ash Mosaic
Two years ago, CPT was honored with a grant from the National Endowment for the Arts – the largest NEA production grant in CPT history – for the development and production process of Red Ash Mosaic. Thanks to the NEA support, the first phase of Red Ash Mosaic's development was completed last June. These crucial works-in-progress presentations made it possible for the piece to grow and evolve into the full production opening this Spring. We could not have pursued this three-year timeline without the generous support of the NEA.
"I think theatre is best when the artists making it are on their own journey of self-discovery, so I feel compelled to experiment, to keep learning and growing." -Raymond Bobgan, Director/Creator of Red Ash Mosaic
---
Evolution: the next phase
"One of the most enjoyable parts of the Red Ash Mosaic creation process is being able to invest this amount of time with a group of people who are on a journey with you to discover what the piece wants to be." -Raymond Bobgan, Director/Creator of Red Ash Mosaic
After the workshop production last June, Raymond and Cleveland Core Ensemble continued developing Red Ash Mosaic. A new, fresh-off-the-ground scene from the play – pictured below – was presented at Entry Point in January 2017.
---
The 2017/2018 Season is on its way…
Coming To Red Ash Mosaic  on Opening Night? Join the party!
What:
A Free Beer Friday style party (you know the drill… beer, wine and soda on us!) with food, and the unleashing of CPT's 17/18 Season. Admission is free.
When:
Friday, June 2 at 10:00pm following the Opening Night Performance of Red Ash Mosaic (come for the show and stay after, or join us at 10:00pm when the party gets started!)
Where:
CPT's Storefront Studio (6415 Detroit Ave. Cleveland, OH 44112)