Feefer Rising
---
The Creative Production Team Includes:
Faye Hargate and Raymond Bobgan - Creators
Raymond Bobgan - Director
Matthew Ryals - Composition and Sound Design - 15/16 Kulas Composer Fellow
Natalie Rosmarin - Stage Manager
Ryan Patterson & Raymond Bobgan- Scenic Designers
Jess Haley- Specialty Dress Designer
---
Friday, December 11th, Saturday, December 12th, and Monday, December 14th are sold out.
Preview performances take place 12/3/15-12/5/15 & 12/10 (No performance Monday, December 7th).
Performances take place 12/11/15-12/19/15.
Performed by:
Faye Hargate
---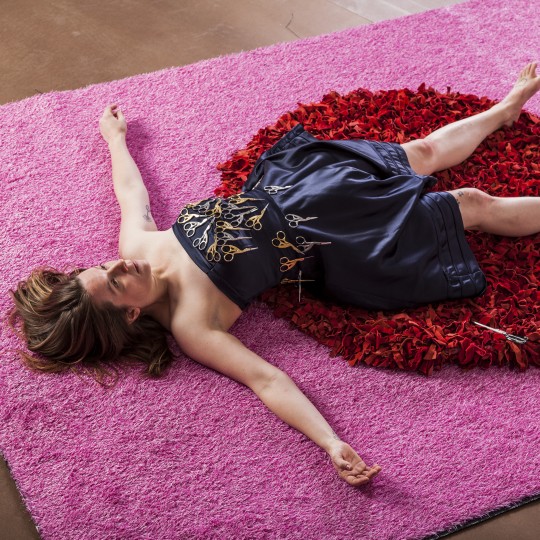 ---
A note from the Director — Raymond Bobgan, Executive Artistic Director
With Feefer Rising we are looking back into points of origin. We are diving into the realm of sexual identity as it forms and takes shape.  How do we explore or repress our own longings as we seek to navigate our way into understanding, acceptance and enjoyment of our full selves? This is about fantasy and action, fear and yearning. This is about wrestling with what we believe we should be and want and what we really want-who we really are. We ask "Am I normal? Is this normal?" The answer is rarely "yes." The only way to explore these kinds of questions, is on a singular, personal level. Our hero – Kit – is fighting many voices, within and without. This is scary stuff. This is strange and mysterious. But sex and eros can run deep with power and as the philosophers tell us, it can become the winged chariot that may lead us to ourselves and to awakening?"
---
Raymond Bobgan and Faye Hargate
Collaborating since 2008
Raymond and Ensemble during "Rusted Heart Broadcast" rehearsal – Faye Hargate in rehearsal
---
Meet Matthew Ryals 
15/16 Kulas Foundation Theatre Composer Fellow Composition and Sound Designer for Feefer Rising

Matthew Ryals is an electronic musician, sound artist and instructor currently residing in Cleveland, OH. After finishing his classical guitar studies at Cleveland Institute of Music in 2013, Ryals began recording and performing music under the moniker,Asound. The first document of this process, an EP entitled Feel Out, was released on his own label, Behind Glass, in 2014.Weekend Sonata is his most recent recording, released earlier this year on Low Hanging Fruit, a record label based out of Cologne, Germany. Ryals will release his first full-length album this fall on Low Hanging Fruit, which will be available in both vinyl and digital formats. Ryals recently collaborated with visual artist Natalie Lanese to create an audio and visual installation piece which was on exhibit at Satellite Gallery in Cleveland for two months. As an instructor, he keeps a studio of over forty students across the greater Cleveland area.
Click here to check out Matthew's original music – Asound.
---
Raymond Bobgan
Director of Feefer Rising and Executive Artistic Director
This is Raymond Bobgan's 10th season in the leadership position at CPT.  Raymond specializes in working through an ensemble process to create new performances that are bold, multilayered and highly physical. In 2014 he became the first recipient of the Cleveland Arts Prize in the discipline of Theatre. Raymond's work has been seen in Romania, Brazil, Denmark, Serbia, Turkey, The United Kingdom and Canada and has been featured in American Theatre Magazine, Canadian Theatre Review, Theatre Journal and in Lisa Wolford's book Grotowski's Objective Drama Research. Raymond has created many works for CPT including: Rusted Heart Broadcast; Insomnia, with Holly Holsinger and Chris Seibert; Cut to Pieces, with Chris Seibert; Blue Sky Transmission: A Tibetan Book of the Dead, co-produced by CPT and La Mama ETC (NY); and
The Confessions of Punch and Judy, co-produced by CPT, NaCl (NY) and Number 11 Theatre (Toronto), which was published in New Canadian Theatre Volume 9.
In 1994, Raymond initiated the Student Theatre Enrichment Program, a job training program that engages at-risk youth in writing, producing and performing new plays. Raymond was also the first director of CPT's Y-Haven Theatre Project. Under his leadership CPT has eliminated significant debt, run consistent operating surpluses, and formed both a Building Reserve and an Innovation Reserve. This financial advancement was a result of mission-focused programming including a strong emphasis on supporting new works and local artists, a bold aesthetic vision and CPT's educational and engagement programs.
Raymond is a two-time recipient of the Creative Workforce Fellowship (2010 for theatre, 2014 for music composition), a program of the Community Partnership for Arts and Culture funded by the Cuyahoga Arts and Culture. He is an alumnus of Theatre Communications Group/Pew Charitable Trust's National Theatre Artist Residency Program and the TCG/NEA Career Development Program for Directors. Raymond was Acting Artistic Director of CPT (1995-1997) and served CPT in many roles including Stage Manager, Guest Director, Associate Artistic Director, Education Director and Resident Director at various times since 1991.
---
Building upon previous works…
Feefer Rising builds upon body of work by Faye Hargate and collaborators that explores female American identity and sexuality.
Created by a mother/daughter team Faye and Joan Hargate, Royal Ann's Preserve is a performance art installation about cleanliness, sweetness and the veneer of femininity.
---
In 2013, Faye presented 15 minutes of Feefer Rising (formerly known as Feefer's Primer) in Leap/Conceive – part of CPT's New Work Development Series.
Click here to read reflections on curiosity, burgeoning sexuality and the birth of Feefer's Primer.
An art/performance installation that investigates purity, idealized femininity and sexual role-playing through the lens of the Virgin-Bride's wedding night.
---