Inda Blatch-Geib (Resident Costume Designer)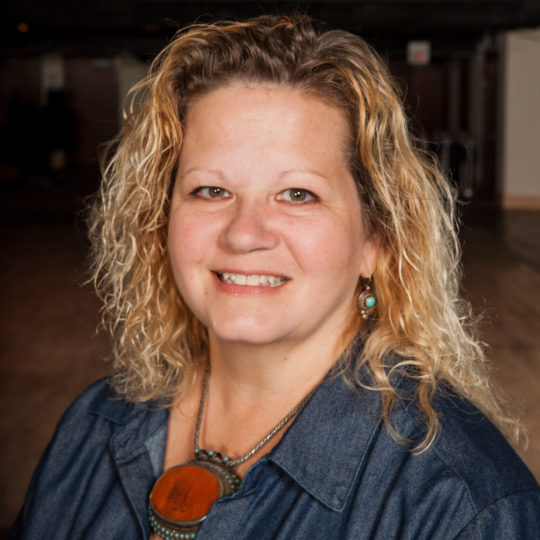 Inda Blatch-Geib's work as a costume and production designer for over 900 theatrical, commercial and film releases has spanned 30 years and crossed 4 continents. Inda's costume and puppet designs will be seen on Broadway in November 2017 in a special production of Kris Kringle The Musical. Her Production Design work takes an interior design twist, with a new club owned by Machine Gun Kelly opening soon. Additional collaborations with MGK include set design for his European Tour and EST Fest. Current commercial work includes Costume Design for The Cleveland Cavaliers' 1970's and 80's themed videos and 5 national spots for the team. Print designs have included set styling for Harper's Bazaar UK Scarlett Johansson cover and spread, as well as catalogue set styling for Foundations and Kilgore Trout. Inda's designs have been showcased in exhibits at The Smithsonian Institute as well as national and regional commercials including Microsoft, McDonald's, Under Armour, TroyBuilt, The Original Mattress Factory and Momentive. Recent film projects include Ohio Art Direction for The Signal starring Laurence Fishburne. Music Video Production and Costume Design includes Machine Gun Kelly's Alpha Omega and Let You Go releases. Locally, Inda is the 2017/2018 Resident Designer for Cleveland Public Theatre, Karamu House, Magical Theatre Company, New World Performance Lab and Cleveland Institute of Music. Inda was recently recognized with the Cleveland Critics Circle Award with Best Costume Design for Blues in the Night.
---
Elizabeth Cammett (Resident Stage Manager)
Elizabeth is a Cleveland native and 2014 graduate of Kent State University with a Bachelor of Arts in Theatre Studies concentrated in Stage Management. She has worked with several Northeast Ohio theaters including Cleveland Public Theatre, Dobama Theatre, Players Guild Theatre, Porthouse Theatre and Stagecrafters Youth Theatre. Elizabeth has worked in film and TV, both on camera and as a talent agent behind the scenes, and has participated in various live events in the area. Recent stage credits include Intermission; Labio de Liebre (The Lip of the Hare); Light the Lights, Ol' Moses CLE! (A Wild Holiday Romp); 44 Plays For 44 Presidents; Pandemonium 2016: The Fire Within; Les Miserables; The Giver; The Cat in the Hat; Pride and Prejudice; Legally Blonde; Annie; Fiddler on the Roof; Working; South Pacific; Pinocchio: No Strings Attached; Grease; Almost, Maine; The Rocky Horror Show; Reefer Madness; Nathan the Wise; Ragtime; Agamemnon; 4.48 Psychosis; Mr. Marmalade; The Crucible; Hamlet; Brigadoon and Cloud 9.
---
Benjamin Gantose (Resident Lighting Designer)
Benjamin Gantose is a lighting, scenery and installation designer. A Cleveland native, Benjamin attended the College Conservatory of Music at the University of Cincinnati where he studied Theatrical Design and Production with an emphasis in Lighting Design. His work spans ballet and modern dance, scripted and devised theatre, musical theatre, opera and theme parks. This is his fifth season as Resident Lighting Designer at Cleveland Public Theatre where his designs have included Red Ash Mosaic; Barbecue; Incendiaries; In A Word; Ancestra; The Drowning Girls; Titus: A Grand and Gory Rock Musical; Insomnia: The Waking of Herselves; Exact Change; There is a Happiness that Morning Is; Standing on Ceremony: The Gay Marriage Plays; Akarui; October in the Chair and Cut To Pieces. Benjamin's work has been seen around Cleveland at Theater Ninjas, Beck Center for the Arts, Talespinner Children's Theatre, Mamaí Theatre Company, Baldwin Wallace University, Cleveland State University and Verb Ballets; and nationally. Associate Design work includes lighting and scenic designs at Cincinnati Ballet, Kansas City Ballet, Cedar Fair Amusement Parks, Cain Park, Lakeland Civic Theatre and Inlet Dance Theatre.
---
Jesse Reagan Hernon (Resident Stage Manager)
Jesse is a Lorain native and holds a BA in Theatre Arts from Cleveland State University. He has worked as a stage manager at theatres throughout the Northeast Ohio area, including Cleveland Public Theatre, Theater Ninjas, Near West Theatre, Lakeland Civic Theatre and The Lorain Palace Theater. Recent work includes Test Flight 2017 and I Call My Brothers at CPT and Don't Wander Off with Theater Ninjas.
---
T. Paul Lowry (Resident Video Designer)
T. Paul Lowry has served in artistic, production and design capacities with such companies as Long Wharf Theatre, Playwrights Horizons, New Haven Theater Company, Eugene O'Neill Theatre Center, International Festival of Arts and Ideas, Cleveland Public Theatre, Dobama Theatre, Near West Theatre, Talespinner Children's Theatre and Celebrity Cruises. He is the Technical Director for Performing Arts at Hathaway Brown School. Noted recent design work includes Fire on the Water, Johanna: Facing Forward and Standing on Ceremony: The Gay Marriage Plays (CPT); Uz, El Pueblo and ¿Dónde Está My Home? (Teatro Publico de Cleveland); The Turing Machine (Theater Ninjas); Next to Normal (TrueNorth); The 39 Steps (Via Brooklyn) and To the Orchard and Things as They Are (Playwrights Local 4181). You can learn more about his work at www.tpaullowry.com.
---
Donna Pedaci (Senior House Manager)
Donna began working as a House Manager for Cleveland Public Theatre in 2007 during AtTENtion Span: A Festival of 10-Minute Plays.  As Senior House Manager, she is responsible for the training of new House Management staff and managing Front of House logistics and craft services for special events such as CPT's Pandemonium and pARTy in Gordon Square. Donna also worked as dramaturg on CPT's 2014 production of The Drowning Girls and both her daughter Ivy and her husband Brian have appeared as artists in a variety of CPT performances. Donna is a graduate of CSU with a BS in Anthropology.
---
Tecia Wilson (Education Specialist)
Tecia Wilson is a director, educator and community activist. Social justice and civic discourse are at the heart of her work – mobilizing, mentoring and empowering people to give voice to their story. She joined the CPT staff as Education Specialist in 2017, after working at the theatre in multiple capacities on education staff, as a Brick City Theatre teaching artist and mentor, and a 2015/2016 Joan Yellen Horvitz Assistant Director Fellow. As a director, she has created and directed original theatre pieces that were featured in CPT's Pandemonium, Gordon Square Fall Fest and Station Hope events. As an actor, she has worked with Cleveland Shakespeare Festival, Cleveland School of the Arts, Karamu Theatre, Brecksville Community Theatre and All City Musical Theatre. A Cleveland native, Tecia grew up in the King Kennedy Public Housing Estate and in East Cleveland, OH, and graduated from Cleveland School of the Arts (CSA). At CSA, she discovered the transformative power of the arts, and this has fueled her life mission to affect community change through the arts. She was a CSA drama teacher and created the S.C.R.E.A.M (Stimulate Change Revolt! Expect A Metamorphism) Peace Rally in 2012-2014 for CSA Students in the Central Area in response to the Trayvon Martin Case. She has also taught with The Boys and Girls Club, Talespinner Children's Theatre, Dancing Classrooms, YMCA and Drama Ministry for House Of God Cleveland Church. Tecia is an active member with the Cleveland Renaissance Movement and the Learning for Life Mentor Program and Parent Cafe, a support group for parents and children, advocating for their education rights and providing practical parenting tools and mentorship.
---
Emma Wolpert (Graphic Design Intern)
Emma is a designer and photographer from Bay Village, Ohio, and a recent graduate of Kent State University with a Bachelor of Arts in Visual Communication Design and a double minor in Marketing and Photo-Illustration. She was drawn to CPT because of the diverse community and unique opportunity to help give an innovative visual voice to CPT. She is a coffee enthusiast, traveler and avid music listener. She has traveled around Europe and Asia allowing her to expand her creative skills and learn more about the many different cultures.
---
Other Auxiliary Staff
Cayla Destefano (Technical Apprentice)
---