---
India Nicole Burton* | PANTHER WOMEN: AN ARMY FOR THE LIBERATION (WORKING TITLE)
India Nicole Burton is an actress, director, playwright, and producer. India founded Ma'Sue Productions, an African American theatre company located in Akron, and has directed, produced, and performed in several of Ma'Sue's plays and acted as co-artistic director until 2015. Some of India's acting credits include Julius Caesar (Portia), Bootycandy (Actor 1), An Octoroon (Dido), and Orlando (Orlando). India's directing credits include for colored girls who have considered suicide / when the rainbow is enuf (Heads Up Productions), The Laramie Project (Heads Up Productions), Daybreak's Children (Ma'Sue Productions), A Happening on Imperial (Ma'Sue Productions), O Patria Mia (Ma'Sue Productions), Little Women (Hathaway Brown Theatre Institute), Fire on the Water (Cleveland Public Theatre, co-directed with Raymond Bobgan), Panther Women: An Army for the Liberation (working title) (in development at Cleveland Public Theatre), and three short plays produced at Cleveland Public Theatre's Station Hope: What we could have been, Maya: The Poet, and We Call you George. India is a board member for New World Performance Lab and is in her second year as the NNPN Producer in Residence at Cleveland Public Theatre.
*2019/2020 NNPN Producer in Residence
---
John Dayo-Aliya of Ma'Sue Productions | OUR LADY OF COMMON SORROWS
John Dayo-Aliya is an Akron Arts Alive and Knight Arts Challenge award-winning playwright, actor, and musician. He is a graduate of Kent State University where he studied Theatre Arts and Pan-African Studies. He is Artistic Director of Ma'Sue Productions. His work explores various aspects of the black experience and he is specifically interested in black modern lives and the questions arising out of the challenge of holding on to faith, love, community, and familial ties while living against a backdrop of structural racism. He creates work that provokes audiences to call out to their higher humanity in order to face social and cultural issues with intelligence, clarity, and empathy.
---
Sally Groth** | GOLDEN STARLIGHT CAKE
Sally Groth's Northeast Ohio credits include Cleveland Public Theatre (Barbecue, 44 Plays For 44 Presidents, Ancestra, Rusted Heart Broadcast, The Book of Grace, Pandemonium, Station Hope), Actors' Summit Theater (Romeo and Juliet, The Turn of the Screw, Macbeth, Medea, The Herbal Bed, Photograph 51, Woody Guthrie's American Song, Quilters), Dobama Theatre (A Civil War Christmas), Beck Center for the Arts (The Underpants), Ensemble Theater (Louisa), and Porthouse Theater (Twelfth Night). Other regional and NYC credits: the Shakespeare Theatre in D.C., the Denver Center Theater, Trustus Theatre, Wayside Theatre in VA, the USC Repertory Co., Nettle Creek Theater, a national tour of The Little Prince, the Hotkeys series at Naked Angels Theater, numerous off-off Broadway productions and independent films (BIX, a Cannes Film Festival juried selection), and fiddling in a few rock bands. She has an MFA from the University of South Carolina.
**Actor appears courtesy of Actors' Equity Association, the Union of Professional Actors and Stage Managers in the United States.
---
Jesse Reagan Hernon | ANDROMEDA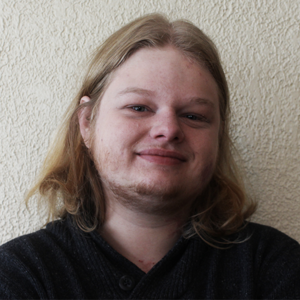 Jesse Reagan Hernon is a Cleveland-based writer and stage manager. He previously served as a Production Management Fellow at the Forbes Center for the Performing Arts, Stage Management intern at The Public Theater, and Resident Stage Manager at CPT (2017/2018 season). Stage management: Good at Heart (at BorderLight International Theatre + Fringe Festival), ENDependence, Test Flight (2017 and 2018), How to End Poverty in 90 Minutes (with 199 people you may or may not know) (A Sojourn Theatre Production), The Art of Longing, I Call My Brothers (Cleveland Public Theatre); Masculinity Max (The Public Theater); Joseph and the Amazing Technicolor Dreamcoat (Near West Theatre); The Last Five Years (Lakeland Civic Theatre). Writing: "Was Shakespeare Sexy? Modern Pop Culture and Will's Sex Appeal" (The Wellington Street Review). BA: Cleveland State University
---
Holly Holsinger | MARIE CURIE HORROR STORY
Holly Holsinger has been a Cleveland theatre artist for over twenty years. Most recently, Holly directed Teatro Público de Cleveland's A Xmas Cuento Remix, and in September engaged in a teaching exchange at the Raikin Theatre School in Moscow, Russia. Holly most enjoys creating and performing original works. In the past year, she toured to New Orleans and London with her solo show, Frankenstein's Wake, which she co-created with Raymond Bobgan. Other original works include Ancestra and Insomnia: The Waking of Herselves, co-devised with Chris Seibert. Holly is an Associate Professor at Cleveland State University where she received a Distinguished Faculty Award, the University's top honor for teaching. She received an MFA in Acting from the University of California, Irvine, and is a member of CPT's CORE Ensemble. For more information see CPT's Season Program.
---
Les Hunter+, Milta Ortiz, Elaine Romero, & Maria Torres | VoCES/VOICES (WORKING TITLE)
Les Hunter's recent plays include To the Orchard (Playwrights Local and JPP 2016 International Jewish Playwriting Contest Top 10 Finalist); Down by Contact (Dobama Theatre and Playwrights Local); Weimar (Baldwin Wallace University); and with his wife Elana, Aponibolinayen Visits the Sky (Talespinner Children's Theatre). He also wrote for all three parts of the collaboratively written, NYC hit, The Jackson Heights Trilogy (Theatre 167). Playscripts, Brooklyn Publishers, and Indie Theatre publish and license his plays. He is the Ohio Regional Representative for the Dramatists Guild of America, a 2019/2020 Cleveland Public Theatre Premiere Fellow, and an associate professor of English at Baldwin Wallace University.
---
Milta Ortiz is a theater maker and writer from the Bay Area who now calls Tucson home. She mostly works as a playwright, and sometimes as a poet, performer, director, or writer. Currently, she's working on a play about twins born on opposite sides of the border commissioned by Pima Community College, and a memoir with spoken word poetry about growing up Salvi. Recently, she directed The Sun Serpent at Pima Community College. Her play, Judge Torres, commissioned by Milagro Theatre, premiered in 2019 and went on to a national University tour. Milta received NEA and NALAC grants to develop/ produce her plays Sanctuary and Más. She earned an MFA from Northwestern University's Writing for the Screen and Stage program, and a Creative Writing BA from San Francisco State University. She teaches theatre at Pima Community College, is associate artistic director at Borderlands Theater, and mom to a creative first grader.
---
An award-winning U.S. playwright, Elaine Romero's plays have been presented across the U.S. and abroad; she is widely published and anthologized. Revolutions/Revoluciones, Wetback, Like Heaven, and Bloody River were all produced last season. Revolutions/Revoluciones was produced in Spanish translation at the Los Angeles Theatre Center under the direction of famed Mexican director, Bruno Bichir, with a cast from Mexico. It's the final play in Romero tetralogy, including Graveyard of Empires (16th Street Theater), A Work of Art (Goodman Theatre/Chicago Dramatists), and her play-in-progress, The Sleep of Reason (Headlands Center for the Arts Artist-in-Residence). She serves as the Southwest Regional Rep for the Dramatists Guild of America and on the Steering Committee of the Latinx Theatre Commons. Romero is an Associate Professor in the School of Theatre, Film, and Television at the University of Arizona, Tucson and the long-time Playwright-in-Residence at Arizona Theatre Company.
---
Maria Torres is an artist and educator born in Ciudad Juarez, Mexico and raised in El Paso, Texas. Maria resides in New Mexico, where she teaches English and college success courses. Since 2015, she has been a member of ImprovISA, the Institute for Improvisation and Social Action, an organization that advocates for social action through improvisation and performance. As an ImprovISA member, Maria helped launch the Cattleya Project, which provides movement workshops for women in Ciudad Juarez who have been subject to domestic or sexual abuse and are residing in shelters. Maria is also a founding member of the Border Theatre, a performance ensemble dedicated to producing new and original works. Maria received her Master of Fine Arts degree from Boston University and has written, acted in, directed, produced, and helped develop numerous original plays.
---
---
Molly McFadden | LIVING ON THE MOON
Molly formerly lived in New York, where she performed at a variety of Manhattan theatres and clubs, as well as on television and film, and studied acting with the well-known acting coach Allen Savage and learned the art and appreciation of puppetry from Craig and Olga of Flexitoon. She sang with Margaret Whiting, Sylvia Syms, and Nancy Wilson, all of whom encouraged her as a song stylist. Molly is a stylist of note and was featured in The New York Times as "An up-and-coming performer in a disappearing genre". Following 22 years in New York, Molly and her family relocated to Midland, MI, where Molly performed in numerous productions and initiated and acted as the Executive Director for the Michigan Jazz Trail. During that time, she and her husband owned and operated Molly's Bistro in mid-Michigan. Molly was the featured vocalist of the 19-member big band made up of performers throughout Michigan, and the band opened for Ramsey Lewis, John Pizzarelli, and Wynton Marsalis and the Lincoln Center Jazz Orchestra. Molly now resides in Cleveland.
---
Jordan Elizabeth Reed, Lena Vani, & Meredith Aleigha Wells of DIY Theatre | NOW YOU SEE ME (WORKING TITLE)
Jordan is an artist originally from western MA and newly based in Brooklyn, NYC. She works as a performer, playwright, costumer, dramaturg, and producer. Her latest work is her self-produced performance art piece FLAMBOYAN, poems from which were recently selected as part of the 2019 Western MA Poetry & Visual Arts Biennial.
---
Lena Vani was born and raised in the Pioneer Valley of Massachusetts. She graduated from the University of Massachusetts with a BA in Theatre in 2016. She currently resides in Brooklyn, New York while remotely managing her business on the western coast of Puerto Rico, Sol Casita. In addition to her current business venture, she is still actively working on artistic projects, often traveling for modeling gigs and shows. Aside from her ongoing film projects in NY, she most recently performed in the Charm City Fringe Festival in Baltimore, MD, the Joakim Interfest in Kragujevac, Serbia and modeled in a photo series project in Cologne, Germany.
---
Meredith Aleigha Wells is a musical theatre artist and writer from Massachusetts. Recently, she performed in the Luminous Festival, China's first-ever disability-led arts festival in Beijing. In 2017, she performed her original one-woman musical Dysfunctioning Just Fine at the My True Colors Festival in NYC where she received the Purple Skies Playwright Award. Meredith has performed in productions at Beck Center for the Arts, Mercury Theatre Company, Blank Canvas Theatre, and CPT, and has made appearances as a dancer and instrumentalist in Dance St. Louis, OHIODance Festival, Symphony Hall, Alvin Ailey Dance Theatre, and the Macy's Thanksgiving Day Parade. Meredith believes becoming disabled has reinvigorated her practice and forces her to reflect daily on why she chose a life in the theatre. In 2016, she created the Youtube channel "Dysfunctioning Just Fine", where she continues to spread chronic illness awareness and help others through sharing her experience as a queer disabled performer. @meredithaleighawells
---
---
Anastasía Urozhaeva | FAIRY TALE OF KINGS
Anastasía Urozhaeva is a Russian-born, Cleveland-based actress, artist, educator, and writer, and Cleveland State University alumna. Recently, in the fall of 2019, Anastasía performed as part of the ensemble of Crevice, Moth, & Flame at Pandemonium 2019: Alchemy, and also worked as a production assistant for the event. After, she traveled to Moscow, Russia to work on an acting master classes exchange with professor Holly Holsinger, working with actors from Raikin School of Theatre under the leadership of Holly, translating the classes from English to Russian and vise versa, and focusing on exploration and exchange of the craft of acting between the two cultures of Russia and the United States. Currently, she is focusing on developing a new play inspired by Soviet Russian science fiction, and she also collaborates on, acts in, and production assists local films.
---
Andrew Aaron Valdez+ | COYOTE
Andrew Aaron Valdez is an actor, director, playwright, poet, and educator, and is a C.A.R.E. Teaching Artist at Cleveland Play House, Steering Committee Member of the Latinx Theatre Commons, and a 2019/2020 Americans for the Arts (AFTA) Arts & Culture Leaders of Color Fellow. As an educator he has worked with ZACH Theatre, Creative Action, Safe Place, The Indigenous Cultures Institute, and Cleveland Public Theatre. As a theatre artist, Andrew focuses on the development of new work. He's worked with ZACH Theatre, Teatro Vivo, 14/48 Austin Theatre Festival, Paper Boats, Kitchen Dog Theatre, Karamu House, Cleveland Public Theatre, Cleveland Play House, Dobama Theatre, The Cohen New Works Festival, and on various productions at the University of Texas at Austin. As a playwright, his work was a part of the 2015 and 2016 Teatro Vivo Austin Latino New Play Festival, the 2015 Cohen New Works Festival, and the 14/48 Austin Theatre Festival. Andrew is a Terry Scholar and received his Bachelor's degree in Fine Arts – Theatre Studies from the University of Texas at Austin.
---
Carrie Williams | PLANET HASHTAG
Carrie Williams is an actor, director, visual artist, and occasional playwright. She likes weird plays with weird titles. In the last year she has performed with Cleveland Public Theatre, convergence-continuum, Playwrights' Local, Borderlight International Theatre + Fringe Festival, Nightbloom Theatre, and Talespinner Children's Theatre. Her one-act play Set Fire and Start Again was developed through Entry Point 2017 and workshopped in CPT's 2018 Test Flight series. Carrie is the Education Manager at Dobama Theatre where she produces the Marilyn Bianchi Kids' Playwriting Festival.
---