Mr. Burns, A Post-Electric Play
---
The Creative Production Team Includes:
Brad Wyner (Music Director) | Holly Handman (Choreographer) | Wes Calkin (Set & Lighting Designer) | Inda Blatch-Geib (Costume Designer) | Cyrus Taylor (Sound Designer) | Douglas Puskas (Prop Designer) | Joe Parker & Brad Wyner (Show Musicians) | Josh Brown & Kelly Elliot (Fight Choreographers) | Chialla Geib-Fenske & Inda Blatch-Geib (Mask Design & Construction) | Amanda Lin Boyd (Stage Manager)
The cast is Megan Elk, Trey Gilpin, Tim Keo, Cathleen O'Malley, Nicole Sumlin*, Abigail Anika Svigelj, Evan Thompson and Beth Wood.
 
*Actor appearing courtesy of Actors' Equity Association, the Union of Professional Actors and Stage Managers in the United States.
---
---
Preview performances take place 2/11/16-2/13/16 & 2/18/16. Press opening is 2/19/16 and the show runs through 3/5/16. Preview performances are open to the public at a discounted rate of $12-20. For more information about CPT preview performances, click here.
---
          
---

A NOTE FROM THE DIRECTOR, MATTHEW WRIGHT
Mr. Burns, A Post-Apocalyptic Play defies easy categorization:
It is part post-apocalyptic thriller, part morality play, part dark comedy, part musical/light opera. It traces the re-emergence of culture following a mysterious cataclysmic event that has eliminated the vast majority of Earth's population. And, OH, it is also a smash up of several episodes of The Simpsons, popular film (especially the 1991 crime thriller Cape Fear) and the music of Eminem, Gaga, Beyonce, Jay Z and Gilbert and Sullivan… to name a few. Yup. That's what it is: A wild, wild, startling and ingeniously funny ride.
This play requires us to think about the most fundamental, universal human questions. What does it mean to build community? What is the utility of art and entertainment? How does one answer the age-old existential quandary: what does all of this thing we call "the life experience" mean? Our diverse cast, by virtue of their individual identities, create a lens through which we begin to examine the possibilities of how civilization could shift if we begin with the simple proposal that "we're people first." I think all of these questions are the essential stuff around which we build a collective identity. And I really think we need to be working towards that collective. We're a civilization in pain. We need to help each other out. This play might point towards some ideas about how to do that. It also serves as very elegant model of how the artistic process works and how the collective unconscious processes the life experience. It's simple and indefinably complex. Just like life!
Matthew Wright
Director of Mr. Burns, A Post-Apocalyptic Play
---
Meet the Director…
Matthew Wright is an actor, director and theatre educator whose work has taken him across the United States. As an actor he has appeared at such nationally acclaimed regional theatres as La Jolla Playhouse, McCarter Theatre, Clarence Brown Theatre, Studio Arena Theatre of Buffalo, Trinity Repertory Company, New Theatre, Actors' Playhouse and many others. Since moving to the Cleveland area over ten years ago, Matthew has appeared at Cleveland Play House, Great Lakes Theater, Dobama Theatre, The Beck Center for the Performing Arts, The College of Wooster, Opera Cleveland, Actors' Summit, Fairmount Performing Arts, Cleveland Public Theatre and Oberlin College. Matthew has served on the faculties of The Ohio State University, Wright State University and Florida Atlantic University, where he headed the graduate actor-training program for ten years. He is currently the Chair and Professor of Theater at Oberlin College where he has directed Three Sisters, Dancing At Lughnasa, A Bright Room Called Day, Vieux Carre, Reefer Madness, English Channel, Beautiful Thing, Flora the Red Menace, Ghosts and the Oberlin College/Cleveland Public Theatre co-production of Iphigenia 2.0. Other local directing credits include Spirits To Enforce at CPT, The Call at Dobama and Holy Ghostsat Beck Center For The Arts. Matthew has been a proud member of Actors' Equity Association since 1988.
---

"It was just musing, in the subway, about what would happen to pop culture after a sudden fall of civilization, wondering what would survive, and how it might be useful. I wondered what would happen if you took a TV show and pushed it forward in time, and then forward again, what different needs it would serve, and how serving those different needs would change it."
From an interview with Anne Washburn from PlayOffthePage.com by Mary Aalgaard.
Pictured: Anne Washburn
Photo by Heather Phelps-Lipton
---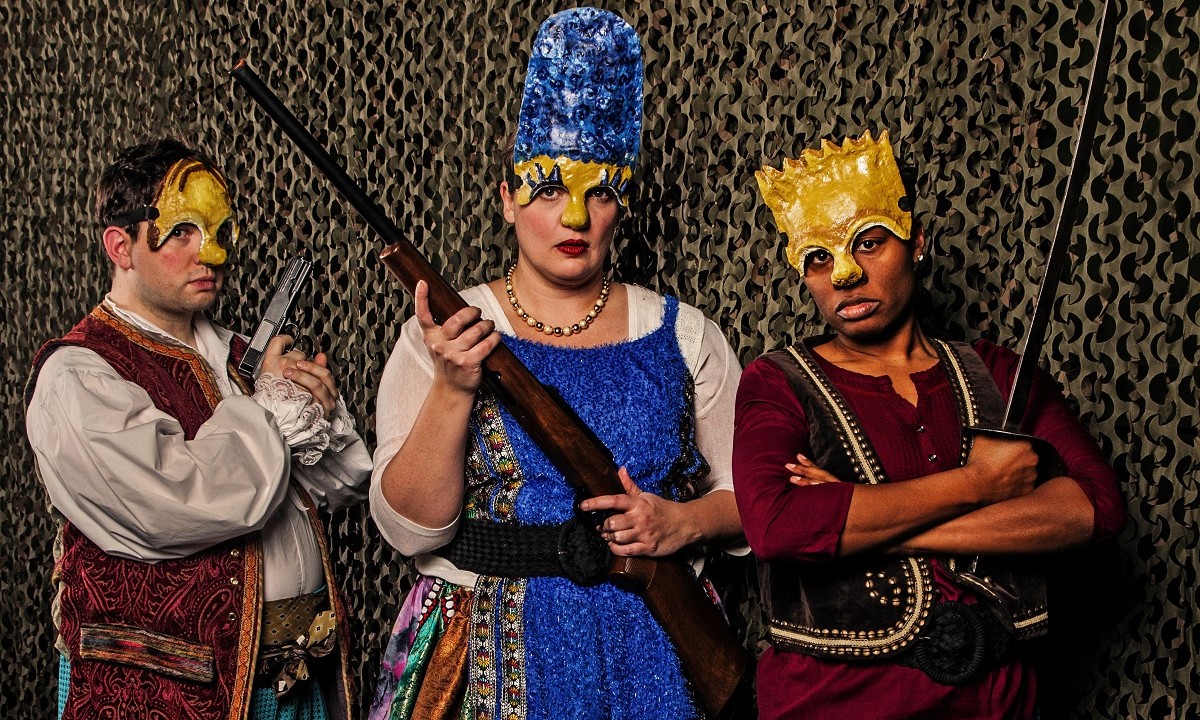 "In 1998, Time Magazine named Bart Simpson one of the Most Influential People of the Century.
All characters have just 4 fingers on each hand, except for one with five: God.
Krusty the Clown was originally created to be Homer's secret identity."
Spanning from the renaissance masters to contemporary minds, here's the complete history of art references in every Simpsons episode ever.
"It was always a huge treat to see… 
it was like, wow, this is where this stuff comes from."
*"The Simpsons" TM are copyright of Fox and its related companies. All rights reserved. This website, its operators, and any content contained on this site relating to "The Simpsons" are not authorized by Fox.
---