PANDEMONIUM 2016: THE FIRE WITHIN
---
PLAN YOUR EVENING!
Pandemonium Map and Schedule Here!
Program & Artist Listings Here! 
Pandemonium is rain or shine – Rain Map & Schedule is Here!
TRAVEL & PARKING
The Eastbound Shoreway (Rt. 2) will be closed from 6:30pm-10:30pm on September 10, due to a large cycling event. There is also other construction happening on the Shoreway and some exits may be closed. We recommend freeway commuters use I-90.
In general, please plan plenty of time for travel, as we are expecting higher than normal traffic in our neighborhood. As parking space is extremely limited, we encourage you to take advantage of the complimentary valet parking beginning at 6:30pm.
---
---
Pandemonium 2016: The Fire Within from Cleveland Public Theatre (CPT) on Vimeo.
---
PANDEMONIUM 2016 –

THE FIRE WITHIN
CPT celebrates the artist within us all:
Awake your inner passion!
–
CPT's educational programs empower youth and adults to let their light shine bright,
creating inspiring and luminous performances for the community
–
CPT is a sparkplug for creativity, innovation and rebirth on the west side of Cleveland
---
PARTICIPATING ARTISTS
Dance Performances from Verb Ballets, Inlet Dance Theatre, The Movement Project, Greene Works Project, Wind and Sand Dance Company, Elu Dance Live Music & Comedy Performances by Pureplex DJs, featuring Neil Chastain and Byron Lee Eulinberg (aka Funk Shway), with special guest A-Live and accompanied by Michael McNamara (guitar) and Matt Segall (saxophone), Revolution Brass Band, Vanity Crash, Shelley & Doreen Andrews-Hinders, Buck McDaniel, The Laughter League, Sheffia Randall Dooley and others Original Theatrical Work by Teatro Publico de Cleveland, Raymond Bobgan, Tecia Wilson, Cathleen O'Malley & Lauren Joy Fraley, Greg Vovos, Theater Ninjas, Cassie Neumann Lucas, Chris Johnston and many more Wandering Performances by Talespinner Children's Theatre, Mark Zust, Shenee King, Teatro Publico de Cleveland and others Visual Art Installation & Multimedia T. Paul Lowry & Matt Ryals, RA Washington, Elaine Hullihen, Joan Hargate & Kim Larson and more
PANDEMONIUM 2016 CELEBRITY CHEFS
Celebrity chefs will be cooking live throughout the campus, including: Merchant Street Provisions & Eatery, Flagpole Charley Eatery, The Root Café, XYZ Catering, Luxe Kitchen & Lounge, Davenport's Divine Delicacies and Saigon Plaza.
---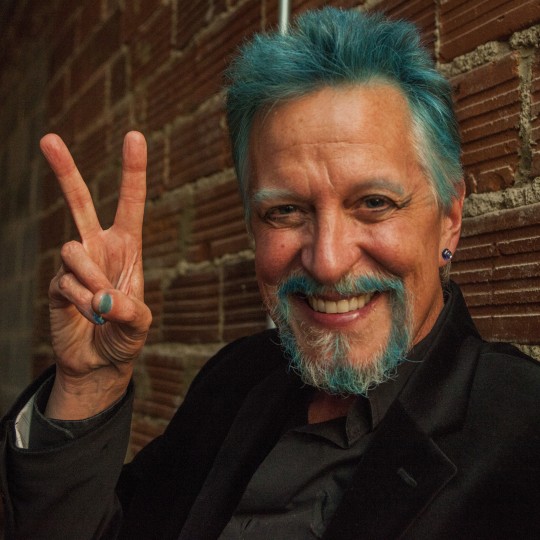 ---
2016 PAN AWARD HONOREES
This year we are delighted to honor Pat & Chuck Mintz with the 2016 PAN Award, in celebration of their inspiring artistry, dedication to our neighborhood, and wide-reaching civic engagement.
Pat has over 40 years of experience in education and the nonprofit sector, including professional positions and community-based associations. She has worked with students for over 32 years in secondary and community college programs, and has served in multiple administrative positions at Cuyahoga Community College, including Dean of Academic Affairs and Vice President of Student Success. Pat has been at the forefront of educational technology, and Technology Learning Center at the Tri-C Metro Campus. Pat is a board member of The Rotary Club of Cleveland, a member of the Friends of Photography at the Cleveland Museum of Art, and serves as a Vice-President for the board of North Coast Community Homes.  She also serves as a board member for Jewish Family Service Association.
Following a career that included designing industrial control systems and heading Superior Tool Company, Chuck became a full-time photographer in 2008. His work has met much critical acclaim, appearing in museums such as the Smithsonian Museum of History, and in numerous private and corporate collections in North America, Europe and Asia (and at CPT!).  Chuck is a passionate advocate for the arts: he is the former board chair of ICA–Art Conservation, a board member of the Cleveland Museum of Art – Friends of Photography, and serves on advisory boards at the Cleveland Print Room and the Artists Archive of the Western Reserve. With Pat, Chuck serves on the board for Jewish Family Services of Cleveland.
Read more about our honorees here.
---
SPONSORSHIPS AVAILABLE:
Contact Caitie Hannon
216-631-2727 ext 213 or
channon@cptonline.org
Click here to view sponsors of Pandemonium 2016.
---
---
HONORARY CHAIR
Hon. Frank G. Jackson
HOST COMMITTEE CO-CHAIRS
Howard & Terri Garfinkel
Alex & Daphne Johnson
Robert & Yan Maschke
Beth Mooney
Bob & Susan Smith
Hon. Matthew & Michelle Zone
HOST COMMITTEE
Erica Aber
Michael Benz
Susan Bichsel
Carrie Carpenter
Bill & Judie Caster
Hon. Joe Cimperman & Nora Romanoff
Trina M. Evans
Judi Feniger
Fred Geis & Kris Monaco
Arne Goldman
Brian Hall
George Hrbek & Stephanie Morrison-Hrbek
Sharon Hubbard
Donna & Stewart Kohl
Marv & Carol Lader
Wally Lanci
Joanne Lewis
Valarie McCall
Rita Montlack & Howard Freedman
Jakki & Fred Nance
Philip Oliss
Jeffery Patterson
Geri Presti
Paul Putman & Eric Dicken
Thomas & Anita Scanlon
Gary S. Shamis
Charna Sherman
Dr. Marie A. Simon & John Michael Zayac
Paul & Nan Volpe
Karen White
---