AMERICAN DREAMS
---
The Creative Production Team Includes:
Raymond Bobgan - Producer
India Nicole Burton - Assistant Director
Colleen McCaughey - Stage Manager
Merit Glover - Assistant Stage Manager / Board Operator
Wes Calkin - Lighting Designer
Sam Kusnetz & T. Paul Lowry - Sound Design
T. Paul Lowry - Video Designer
Kerry McCarthy - Costume Designer
Ryan T. Patterson - Scenic Designer
---
Announcing Four Post-Show Panel Discussions
Moderated by Chris Hoey, Immigrant Community Organizer, Global Cleveland
Saturday, 2/10: Race & Immigration
Panelists:
Kayla Griffin, Chair of the NAACP Yps
Jazmin Long, Deputy Director, Global Cleveland
Tracey Winbush, Treasurer, Ohio Republican Party; President, Ohio Black Republicans Association
Thursday, 2/22: Refugees in Cleveland
Panelists:
Thomas Kate, Employment Coordinator, The Refugee Response
Patrick Kearns, Executive Director, The Refugee Response
Tom Mrosko, Director, Catholic Charities
Monday, 2/26: Jewish-Muslim Response to Immigration
Panelists:
Murat Gurer, Salaam Cleveland and Muslim American Community
Rabbi Stephen Weiss, B'nai Jeshurun Congregation
FRIDAY, 3/2: Immigration Across the Atlantic
From Ireland to America
Panelists:
Kathleen Brennan, Program Associate, The Cleveland Foundation
Joe Cimperman, President, Global Cleveland
Mark Owens, Executive Committee President, Irish Network Cleveland
---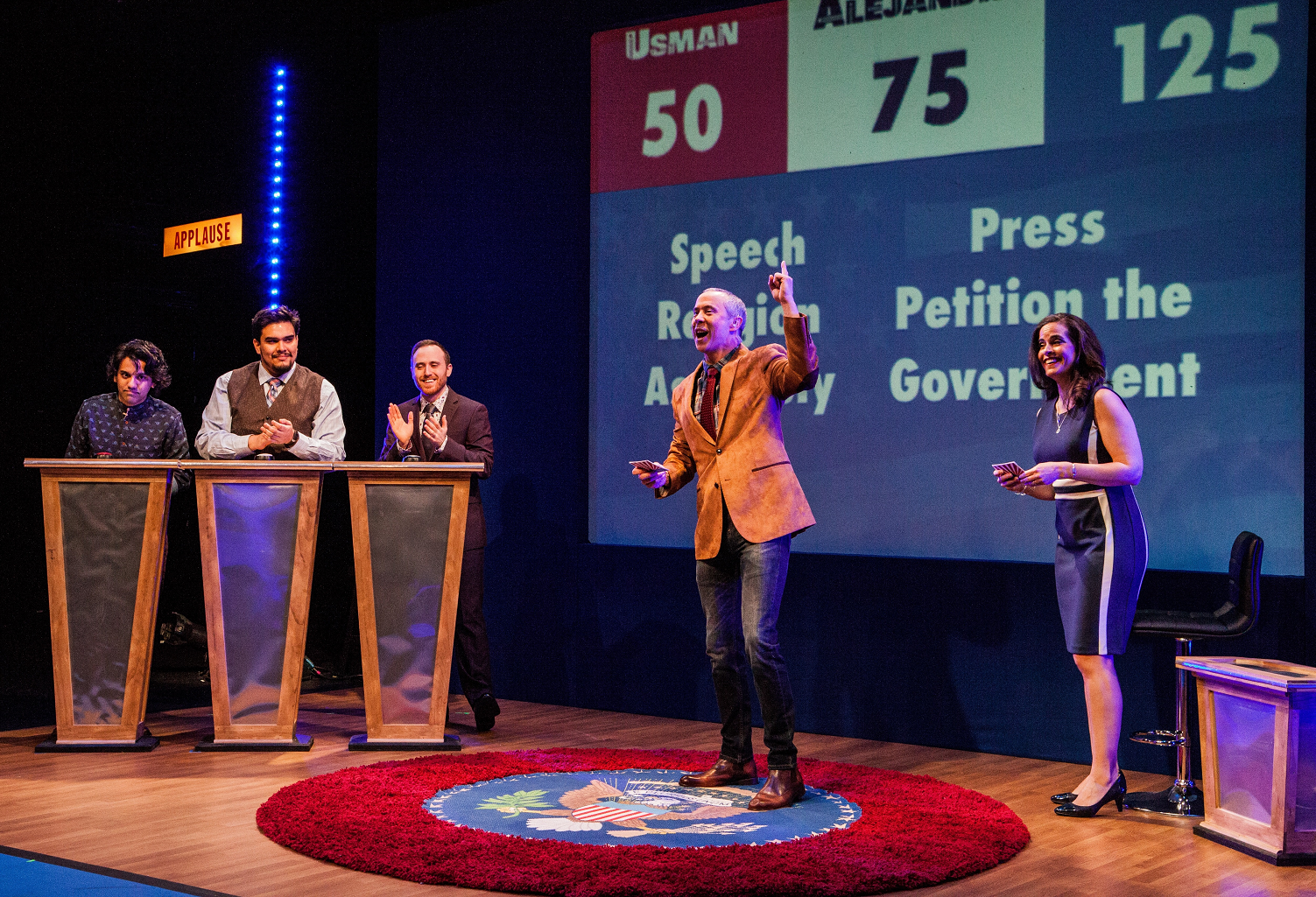 ---
About the Playwright: Leila Buck
Leila Buck is a Lebanese American writer, actor, and intercultural educator who has lived and worked across the U.S. and in 22 countries. She has performed and developed her plays with/at the Public Theater, Culture Project, Brooklyn Museum, Arena Stage (Best Performances, DC Metro Theater Arts 2016), New York Theatre Workshop (Drama League nomination), and the Wilma Theater (Barrymore Award). A State Department Speaker Specialist and Cultural Envoy, Leila has worked with UN teams to craft and perform stories of refugees and led workshops and dialogues on theatrical tools for cross-cultural communication with youth, aid workers, UN delegates, and educators in Denmark, Geneva, Istanbul, Tunisia, Saudi Arabia, Palestine, and Lebanon. She received the Edgar Beckham Social Justice award for her work as artist-in-residence for Wesleyan University's Doris Duke Foundation Building Bridges grant, teaching and creating interactive theatrical dialogues with students, faculty, and community about the (mis)representation of Muslims in the U.S.. She has taught storytelling and theatre for literacy, conflict resolution, and intercultural engagement with New York Theatre Workshop and Lincoln Center and at cultural, educational, and community-based institutions across the U.S. and around the world. Her work is featured in/on TCG's Finding Home Essay Salon; Lark's Stages of Resistance blog; Innovation in Five Acts; Etching Our Own Image: Voices from the Arab American Art Movement, and Four Arab-American Plays. She is a member of the Public Theater's inaugural Emerging Writers Group, a Usual Suspect with New York Theatre Workshop, and teaches Participatory Performance and Civic Engagement and Representation of Arabs and Muslims in U.S. Theater at NYU. www.leilabuck.com
---
About the Director: Tamilla Woodard
Tamilla is co-founder of PopUP Theatrics, a partnership creating site-specific theatrical events internationally, and the Artistic Director of The Five Boroughs/One City Project, a multi-year initiative of The Working Theater. She is a past Time Warner Directing Fellow at the Women's Project Theater, a Usual Suspect at New York Theatre Workshop, alumnus of The Lincoln Center Directors Lab, and artistic affiliate with New Georges. She graduated from The Yale School of Drama's Acting program and is the recipient of The Josephine Abady Award from The League of Professional Theatre Women. Recent work includes: James Scruggs' 3/Fifths at 3LD, PolkaDots: The Cool Kids Musical with The Atlantic Theatre Company, Harbur Gate by Kathleen Cahill at Salt Lake Acting, Melisa Tien's Yellow Card Red Card at the New Ohio, Beto O'Byrne's Loving and Loving at Stella Adler, Miami Motel Stories, a site-specific immersive currently running in Miami's Historic Little Havana, and a workshop of At Buffalo, a new musical about the 1901 World Fair.
---
---
News 5 Cleveland Features American Dreams
"To live in the United States now is to always live in that tension between the desire for freedom, the desire for equality for all people, and at the same time, the desire to protect what we have achieved."
-Raymond Bobgan, CPT Executive Artistic Director
"How do you actually decide something as complicated as the laws and the rights and the expectations of citizens to this country when we have such strong differences of opinion across this country about what that should be?"
-Leila Buck, Playwright, American Dreams
Click here or on the image to explore American Dreams in a feature by Amanda VanAllen on News 5 Cleveland.
---
A Message from the Playwright
"I've been in war zones, I've been under Israeli bombs, under ISIL bombs, under Iranian bombs. So I know there are reasons we have security and borders and questions about who we let in. And I also know there are real issues and problems with the assumptions and questions that go into how we decide who gets let in. And those conversations are more complex than they often appear in the media, and even in some of our own living rooms."
-Leila Buck, Playwright of American Dreams
---
Expect the Unexpected… The audience plays an important role
"One of the coolest, most unexpected moments was when an audience member protested something that happened in the play. They felt so responsible and invested, and wanted to make sure it was fair and that their voice had truly been heard. How often as audience members are we that immersed in the world of what we are watching?"
-Jaclyn Vogel, CPT Director of Patron Services
---
"There's a moment in the play where the audience can ask the contestants a question. During one performance, an audience member asked the actor who plays Usman if he could speak Urdu. They then spoke to each other for around 5 minutes in Urdu! It was astonishing! You could feel the palpable energy that surged from the audience."
-Andrew Aaron Valdez, American Dreams performer & CPT New Play Associate
---
---
American Dreams on Ideastream
"CPT's Raymond Bobgan said his goal is to create safe spaces for people to meet and talk. 'Places where people can have the freedom to move a little bit outside of whatever their viewpoints are,' he said. 'Even if it's just listening and saying, you know what? I still deeply disagree with you, but I understand you as a person better.'"
Click here or on the image to listen to a radio story by WVIZ/PBS ideastream's David C. Barnett about the challenge of promoting rational discussion about political and cultural issues in an age of social media invective, featuring American Dreams!
---
Raymond Bobgan and Tamilla Woodard on WKYC's Lakeside Today
"What is our relationship to our citizenship? How do we extend that idea and those ideals of being Americans outward to people who are interested in being a part of it?"
-Tamilla Woodard, Director and Co-Developer of American Dreams.
"It's not just a play, it's a game show, and the audience is the live studio audience, and it's like a reality show, so they vote. It's a super fun night, but at the same time dealing with some really, really cool topics."

-Raymond Bobgan, CPT Executive Artistic Director
Click here or on the image to watch the full interview with Tamilla and Raymond about American Dreams.
---
Welcome to American Dreams, a game show where 3 lucky contestants compete for the ultimate prize:
Citizenship in the USA.

Who will it be? A Pakistani cartoonist? A Palestinian chef? Or a Mexican medic?

You decide.
---
The Contest…
It's a Game. It's a Show. It's America.
Round 1 / How America Works!
A buzzer-style quiz taken directly from the U.S. citizenship test.
Will the contestants know as much as native-born Americans? Will they know more…?
Round 2 / America's Favorites!
Three audience members volunteer to help contestants answer questions from national surveys
about American cultural preferences and norms. The answers may surprise you…
Round 3 / Aliens With Extraordinary Skills!
The talent round! See if the contestants have what it takes to achieve the "American dream."
Round 4 / The Hot Seat!
Things heat up as co-hosts and audience members ask tough questions of each contestant in this critical final round!
What do YOU need to know to choose your newest neighbor?
The Vote!
You decide the lucky winner, and what they must promise in order to become our newest citizen!
But what will happen to the ones who don't win?
---
---
A Message from Raymond
"Regardless of whether you're someone who wants to build the wall, or someone who thinks we should throw the doors of America wide open to spur our economy, or anyone in between… it's important that as we think and talk about these issues we remember we are talking about people. This is not a play about policy or Dreamers or "the wall." It's about people who simply want to lead a better life and the inherent desire to protect the life we have."
-Raymond Bobgan, CPT Executive Artistic Director
---
A Message from Joe Cimperman, President of Global Cleveland
"I'm excited for this production and I am excited for March 4th – the day after American Dreams concludes here in Cleveland as its impact ripples across our city. I'm eager to witness how Cleveland may have fundamentally changed – this is why Global Cleveland encourages people to meet new neighbors that don't look like them and interact with strangers with greater compassion. We look to have volunteers assist us at every Naturalization Ceremony to welcome the New Americans awaiting citizenship and we commit to educating employers on hiring international applicants for jobs with greater appreciation. When we celebrate diverse peoples and cultures, foster collaboration and support, and harness the power of arts to transform our community, Cleveland and Cuyahoga County, and the people of Cleveland, are truly great."
-Joe Cimperman, President of Global Cleveland
---
The Kilroys List shines a spotlight on American Dreams
Continuing the fight to achieve gender parity in American theatre, LA-based playwright/producer collective The Kilroys facilitates an annual list of industry-recommended new plays, and in 2017, American Dreams received an Honorable Mention!
The List was compiled from a survey of 273 influential new play leaders—Artistic Directors, Literary Managers, Professors, Producers, Directors, and Dramaturgs—who were asked to nominate the most excellent un- and under-produced plays they'd seen or read by a female or trans writer of color.
American Dreams' Honorable Mention means it was in the top 21% of the most recommended plays.
To read more about The Kilroys, click here.
---
Moving beyond "build the wall" or "let them all in"
A blog article by Leila Buck exploring tough questions about creation, privilege, power & responsibility
"At a time when so many feel a deep divide between various definitions of who 'we' are, theatre offers opportunities more vital than ever… The goal of [American Dreams] is to engage audiences and communities with the question of what we would do if it were up to us, in a direct, immediate way, to decide who will be our neighbors: To move beyond 'build the wall' or 'let them all in,' to more complex investigations of our biases, beliefs, assumptions, and fears, and how they affect decisions about who to trust – and in the process, what it means to be(come) American."
-Leila Buck, Playwright of American Dreams
Click here or on the image to read "YES – AND: Asking ourselves (and each other) tough questions about creation, privilege, power & responsibility" – in Lark Play Development Center's Stages of Resistance blog, edited by Caridad Svich.
---
---
---
Thank you to our supporters
                         
---
SPECIAL THANKS TO OUR NEW PLAY DEVELOPMENT SPONSORS