THE LOUSH SISTERS GET HARD FOR THE HOLIDAYS (YIPPIE-KAI-YAY MOTHER-LOUSHERS)
---
The Creative Production Team Includes:
Michael Seevers, Jr. - Associate Director, Music Director & Choreographer
Sarah Lynne Bailey - Stage Manager
Kasey Gilder - Sound Designer
Kerry McCarthy - Costume Designer
Buck McDaniel - Pianist
Ryan T. Patterson - Scenic Designer
David Vazquez - Lighting Designer
---
**We've Extended!**
Join us for 2 additional performances on Friday, December 22 and Saturday, December 23!
11/24, 12/1, 12/14, 12/16 and 12/22 are sold out!
---
---
About Co-Creator Liz Conway
Liz Conway is thrilled to be back at CPT as part of the infamous Loush Sisters. She is proud to call CPT her artistic home and has performed on their stage in a variety of productions, including all previous Loush Sisters iterations and the award-winning in a word. She has worked with many theatres in Northeast Ohio including convergence-continuum, Beck Center for the Arts, Great Lakes Theater and Lakeland Civic Theatre. She is the board chair of Talespinner Children's Theatre, the only professional children's theatre in Cleveland, and neighbor in the Gordon Square Arts District. She is indebted to her actual family for allowing her the opportunity to create the madness that is the Loush family.
---

About Co-Creator, Associate Director, Music Director and Choreographer, Michael Seevers, Jr.
Michael began his college studies as a Spanish Education major at Bowling Green State University but the theatre bug was still too great and he switched his major to Theatre Management at Baldwin Wallace College. Michael is a classically trained pianist, as well as a singer, dancer and actor. He has performed, in all capacities, all over Northeast Ohio. He won a best lead actor award for his work as Sparky in Forever Plaid. Michael was Carlo Cannoli in Tony n' Tina's Wedding for a year at the Hanna Theatre. In 2000 he became "Mr. Bitch" in Cleveland Public Theatre's wildly successful two-season run of Hedwig and the Angry Inch; culminating in the Original Cleveland Cast Recording. In 2003 during Mrs. Bob Cratchit's Wild Christmas Binge at CPT, he met cast members Beth Wood and Liz Conway and the Spleeny Sisters were born – later changing the name to The Loush Sisters (that's loose and lush, but fancy) for their 2011 Playhouse Square one-act production. 14 years later, the sisters are still going strong and most of Michael's theatrical time is spent keeping the girls out of rehab.
---
About Co-Creator and Director Beth Wood
Beth Wood joined the CPT staff in 2007. A director, actress, administrator, designer, educator and theatre technician, she holds a BA in Communications and Theatre from John Carroll University. As a director of adventurous scripted work, she has been honored as a director of superior achievement by the Cleveland Critics Circle in 2016, 2015 and 2013, and has directed 14 productions, including five world premieres and seven regional premieres, during her ten year tenure at CPT. In 2017, Beth was selected as a finalist for the National Directing Fellowship. In addition to her directing work, Beth supports four New Play Development series that invest in outside-the-mainstream work and the artistic growth of Northeast Ohio creators. In 2016, she was awarded a TCG Leadership U[niversity] Continuing Ed grant to research long-term new play development models across the country. Beth also produces large-scale community events for CPT, including Station Hope – an annual community event featuring over 200 artists performing original work inspired by issues of freedom and justice at Cleveland's first authenticated Underground Railroad site. Her CPT directing credits include Lines in the Dust by Nikkole Salter, the NNPN Rolling World Premiere of in a word by Lauren Yee, There Is a Happiness That Is by Mickle Maher, Barbecue and Antebellum by Robert O'Hara, FEVER/DREAM by Sheila Callaghan, Why Torture is Wrong and the People Who Love Them by Christopher Durang and BOOM by Peter Sinn Nachtrieb. In addition to her work with scripted productions, Beth co-creates and directs original plays based on a comedic singing duo, The Loush Sisters, for Playhouse Square in 2011 and CPT in 2013, 2015 and 2017. Beth's CPT acting credits include Hedwig and the Angry Inch, Mrs. Bob Cratchet's Wild Christmas Binge, A Bright Room Called Day, Fefu and Her Friends, The Rocky Horror Show, Our Town, Pulp, Matt & Ben, Anna Bella Eema (co-production with Theater Ninjas), Open Mind Firmament, Don't Call Me Fat, Akarui, Standing on Ceremony: The Gay Marriage Plays, Earth Plays, The Loush Sisters DO the Nutcracker, The Loush Sisters Love Dick'ns: Great Expectations and Mr. Burns – A Post-Electric Play. A former Actor-Teacher for Great Lakes Theater, Beth has taught a variety of theatre and acting courses throughout Northeast Ohio, and has served as the Technical Director for John Carroll University, Lakeland Theatre and Stagecrafters.
---
---
Who are The Loush Sisters?
They're bawdy. Boozy. Cheerful. Gorgeous. Larger than life. Delightfully inappropriate… and absolutely unforgettable.
Meet Holly and Jolly Loush ("that's loose and lush… but fancy").
Holly and Jolly were raised by a, shall we say, under-the-influence stage mother. They trained at the foot of their icon and Fairy Godmother, Judy Garland (who they've never met), and believe they're right on par with her (they're not… but dammit they're close!). Kicking off their careers at prestigious venues such as Sea World and the Great Lakes Travel Plaza, The Loush Sisters eventually found their home at a windowless, low-lit, seedy extraordinary low-cost dance center on West 117th Street. From there, Holly and Jolly's careers took off like Anthony Weiner's pants. (To read the full story of the sisters' steps to stardom, click here.)
Holly and Jolly have great affection for each other, and they love their older sister Butter Rum (she's really smart and grounded and helps them stay on track.) They truly believe there's good in everyone and love to share in the joy of the holidays, spreading goodwill and cheer to all mankind. And some women. And select barnyard animals.
---
Meet the Villians of Loush!
Fun facts about the wonderfully wicked.
Svetlana, Krampus' Minion
What's your dream American Idol song?
All the parts in Handel's Messiah, by myself.
Who would play you in a movie about your life?
Barbra Streisand, because, Lord, have we felt the crushing pain of heartbreak. And she can sing almost as good as me.
---
Marshal "Marsh" Mallow, Krampus' Minion
What did you do before minionhood?
I was a stuffed animal "fluffer." I tested every stuffed animal to make sure it was soft enough for maximum cuddles.
Who would play you in a movie about your life?
Chris Pratt. He and I have very similar personalities and he's basically a marshmallow with abs now, which is what I strive to be.
---
Hermey, Krampus' Minion
What did you do before minionhood?
I was saving up to put myself through dental school actually. I was getting ready to apply to CWRU in the fall when I got laid off.
Who would play you in a movie about your life?
I have no idea. I'm sure they'd find someone good. As long as it's not a puppet. I hate puppets.
---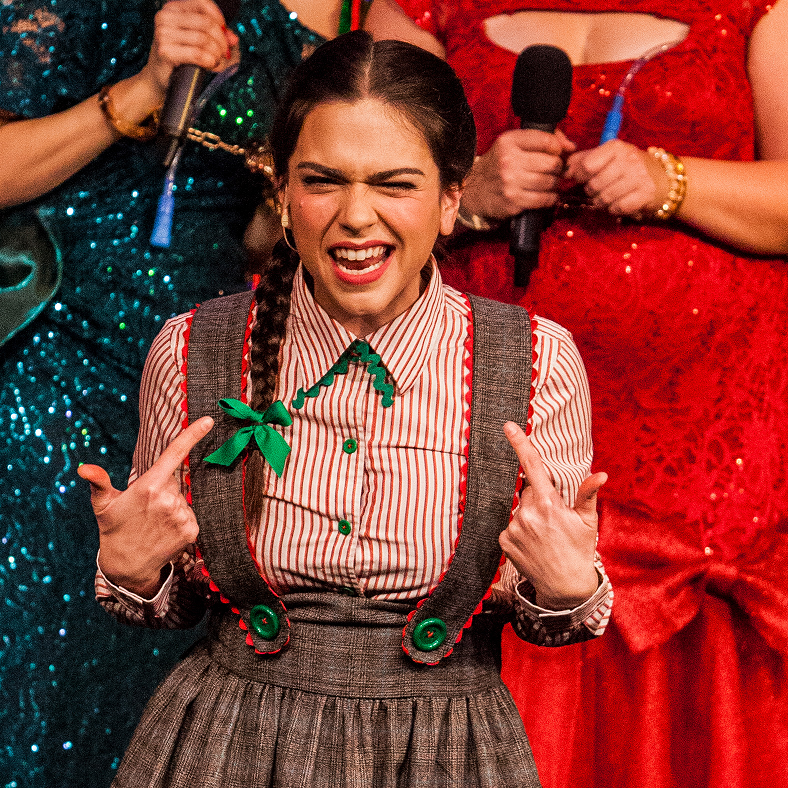 Chita, Krampus' Minion
What did you do before minionhood?
I worked as a pastry chef in a small bakery in Alaska!
What would you name your boat, if you had one?
The FLOTUS
---
Karla, Krampus' right-hand woman
What were you like in high school?
Choir nerd. No one wanted to date me. Then I got evil and saucy and now they all come crawling for me.
Who would play you in a movie about your life?
Elizabeth Warren, because we persisted. Or Alan Rickman.
---
Krampus, The Christmas Demon
If you had a catchphrase, what would it be?
"Get Into My Sack."
What would you name your boat, if you had one?
Knotty Buoys and Gulls
---
The Nakatomi Combo
It sounds like a dance, doesn't it? Well, it's more like a party for your mouth.
When you come to see The Loush Sisters get HARD for the Holidays, Holly and Jolly have something special in store for you… the Nakatomi Combo!
For $10, you get 1 slice of Angelo's pizza, 1 Great Lakes beer or glass of house wine AND a chocolate covered pretzel from Sweet Moses!
Click here or on the thumbnail to the left to see the full bar menu available during all performances – and plan to visit the bar before, at intermission and after the show!
---
Holly and Jolly battle a villain like no other…
We're good with coal, thanks.
Meet Krampus, "a half-goat, half-demon, horrific beast who literally beats people into being nice and not naughty." Fun!
This year, Krampus has kicked it up a notch – "The Christmas Devil" is after The Loush Sisters! Ironically, not for being naughty, but because he wants to (gasp!)… kill Santa!
Click here or on the scary image to the right to read a recent article in National Geographic (impressed?) about Old St. Nick's other half. (And don't worry, Loush Krampus is a little more fun.)
---
New to Die Hard? Or just need a refresher?
The Loush Sisters get HARD for the Holidays (Yippie-Kai-Yay Mother-Loushers) is loosely inspired by Die Hard – and if you've never seen it before, or if it's been a while since you did, have no fear! We've got the CliffsNotes version.
Click here or on the image to the left to watch a 2-minute trailer for Die Hard.
Warning: like The Loush Sisters, this video is for grown-ups only (there are curse words!). And lots of Hollywood-style violence.
---
---
A HERstory of Reinterpretations
The Loush Sisters are no strangers to radical satirizations of the classics…
In 2013, hot off the road from their "Tour of Destiny," The Loush Sisters made their debut on the Gordon Square Theatre stage with their first huge holiday hit: The Loush Sisters DO the Nutcracker. Joined by estranged siblings Folly, Dolly, Wolly, Lolly, Polly, Olly… and Bob, Holly and Jolly did everything they could to bring The Loush Family's treasured nutcracker, Carl, back to life. Finally, Butter Rum came to the rescue to help turn Carl into a real, live man.
In 2015, the sisters returned to the big stage, reinterpreting Charles Dickens' A Christmas Carol as you've never, ever seen it in The Loush Sisters Love Dick'ns: Great Expectations. This time, tragedy had struck… Butter Rum went missing at an RNC presidential debate! Certain that Butter Rum was dead, Holly and Jolly spiraled downward, until a ghost appeared, informing them that they would be visited by three spirits (no, not bourbon, gin and Boone's Farm!). Just like ol' Ebenezer, Holly and Jolly learned some very valuable lessons. (Don't worry, Butter Rum is alive and well!)
And this year, The Loush Sisters…
…for the Holidays! Holly and Jolly (and of course Butter Rum!) will take us on a thrill ride through a somewhat twisted reinterpretation of America's favorite holiday classic, Die Hard. We'll meet 7 new characters that have never appeared in a Loush production before, including nefarious villains and mischievous minions! Yippie-Kai-Yay Mother-Loushers!
---
15 Years of Loush!
The trio of comedic brilliance behind The Loush Sisters – that's Liz Conway, Michael Seevers, Jr. and Beth Wood – have been working together to make us laugh for nearly 15 years! The three met at CPT in 2003 while working on Mrs. Bob Cratchit's Wild Christmas Binge. The Loush Sisters began creating and performing 15-minute sets as the Spleeny Sisters (inspired by SNL's the Sweeney Sisters). In 2011, they changed their name to The Loush Sisters for a one-act production in Playhouse Square. Since then, Liz, Michael and Beth have created 3 full-length productions – and are stronger than ever.
Pictured (from left): Co-Creators Liz Conway, Michael Seevers, Jr. and Beth Wood.
---
---
Official Sponsors of
The Loush Sisters get HARD for the Holidays
(Yippie-Kai-Yay Mother-Loushers)
---
---