Entry Point
---
The Creative Production Team Includes:
Raymond Bobgan, Executive Artistic Director – Producer
Molly Andrews-Hinders – Line Producer
Colleen McCaughey – Production Associate
Beth Wood – Associate Artistic Director & Director of Production
Chris Young, Dan Schumacher – Technical Directors
Maes Lunaria M., Colleen McCaughey, Yesenia Real, Dezhanay Simmons – Stage Managers
---
Plan your weekend!
Click on the links below for the program, schedule, and map for each night of Entry Point.
---
FREE AFTERNOON PANEL DISCUSSIONS
SATURDAY, JANUARY 19 AT 2:00PM & 3:30PM
Enjoy free Saturday afternoon panel discussions with guest speakers whose work is shaping the national theatre field.
Pictured (from left): Eric Coble – photo by Betsy Molnar, Milta Ortiz – photo by Marc David Pinate, Nikkole Salter – photo by Christine Jean Chambers, Raymond Bobgan – photo by Laura Ruth Bidwell, Amy Mueller – photo by Lorenz Angelo, Beth Wood – photo by Steve Wagner, Les Hunter – photo by Marie Cameron.
Saturday's panel discussions are an official Dramatists Guild – Ohio event and will be livestreamed by HowlRound.
[2:00] Who Owns the Story?
In a time in which we are thankfully more sensitive to authenticity and appropriation, who can tell what stories? How can people write about characters from different cultural and ethnic perspectives? How does the playwright's identity carry meaning into the play and how can theatres be most responsible? How do these questions help us advance our anti-racism and anti-oppression work as artists and arts organizations?
Eric Coble – Playwright, CPT 2016/2017 Nord Family Foundation Playwright Fellow
Milta Ortiz – Playwright, Borderlands Theater Associate Artistic Director
Nikkole Salter – Playwright
Moderated by Raymond Bobgan, CPT Executive Artistic Director
[3:30] The Play's Not the Only Thing
Notes from the field about building relationships, expectations of Artistic Directors and Literary Managers, and how theatres want (or don't want) to play a role in the creation process.
Amy Mueller – Playwrights Foundation Artistic Director
Beth Wood – CPT Associate Artistic Director & Director of Production
Moderated by Les Hunter, Playwright, Ohio Representative, Dramatists Guild of America
---
---
ENTRY POINT FEATURES 4 STAGES…
1 – EAST STOREFRONT
How Blood Go | Lisa Langford* [Thursday 7:35, Saturday 7:35 (Full Length)]
Approx. 2 hours
How Blood Go weaves the present and past together with the story of Quinntasia, an African American woman about to embark on a career as a health and fitness expert, and that of her ancestor, Bean, an unwitting participant in a 1930's government experiment on Black men.
Director: Darius J. Stubbs | Dramaturg: Eric Schmiedl | Performers: Ashley Aquilla, Tonya Broach, Kris Ryan Inniss, Sara Katrenich, Sarah Kunchik, CorLesia Smith, Brenton Sullivan, Greg White, Carrie Williams
*2018/2019 Nord Family Foundation Playwright Fellow
Breakout Session (or Frogorse) | Nikkole Salter [Friday 7:35 (Full Length)]
Approx. 1 hour and 40 mins
An intimate reading of a play commissioned by CPT with funding from National New Play Network. A corporate training company is vying for the contract for de-escalation and anti-bias training with Cleveland's Police Department. Can a 90-minute training session change people and the world we live in?
Director & Collaborator: Beth Wood | Performers: Beth Wood, Nikkole Salter
2 – Gordon Square Theatre
Excerpts from Fire on the Water | Raymond Bobgan & India Nicole Burton** [Thursday 7:20, Friday 7:20, Saturday 7:20]
Approx. 30 mins
Sections from the larger piece running Feb 14 – Mar 2 at CPT. What happens when we remember the environment is not a lifeless, simplistic phenomenon, but something in which we and our interior selves—our dream selves—connect with?
Performers: Courtney Nicole Auman, Luka Blackhill, Sidney Edwards, Faye Hargate, Brinden Harvey, Shatara Jordan, Michael Levin, Kim Martin, Terah McGowan, Daniel McKinnon, Mary-Francis R. Miller, Zach Palumbo, Adam Seeholzer, Kat Shy, Anastasia Urozhaeva, Hillary Wheelock
**2018/2019 NNPN Producer in Residence
Waters (Working Title) | Milta Ortiz & Marc David Pinate of Borderlands Theater [Thursday 8:15, Friday 8:15, Saturday 8:15]
Approx. 30 mins
A collaboration between CPT and Borderlands Theater supported by National New Play Network. A physical theatre reflection on water in our region, created in tandem with a work on water in the desert of Arizona.
Performers: Isaiah Betts, Meiver De la Cruz, Chaunice Hendking, Holly Holsinger
Sorry Doesn't Sweeten Her Tea | Lauren Joy Fraley*** [Thursday 9:10, Friday 9:10]
Approx. 20 mins
An adaptation of a short story from Helen Oyeyemi's magical realism anthology, What Is Not Yours Is Not Yours. Multiple interconnecting worlds jump through time and space.
Performers: Mohammad Gholam Abolfazl, Assad Khaishgi, Akane Little, Brandon X. McSwain
***2018/2019 Joan Yellen Horvitz Director Fellow
3 – Cabaret
Living on the Moon | Molly McFadden [Thursday 7:15 & 9:25, Friday 7:50 & 9:25]
Approx. 15 mins
An autobiographical story with music and puppetry examining a woman's relationship with her mother who was diagnosed with Alzheimer's.
Director: Chris Courtenay | Performers: Molly McFadden with Jim D. Johnston
Bedroom Culture | Hannah Rae Leach [Thursday 7:45, Friday 8:20, Saturday 8:20]
Approx. 20 mins
The story of a queer love triangle, Bedroom Culture is a theatrical reimagining of the great teen movie, and an exploration of what it means to experience a coming-of-age molded by popular culture and media in 2019.
Director: Arien Hodges | Music: The Prom Queens (Ayana Cheston, Josh Perelman-Hall, Hannah Rae Leach) | Performers: Samantha Cocco, Nicole Coury, Corey East, Alexa Fatheringham, Katherine Nash
Butterfly/Mandela | Cat Kenney [Thursday 8:20, Friday 8:55, Saturday 7:15 & 9:30]
Approx. 15 mins
A short play about dimension travel, the Butterfly Effect, and the Mandela Effect. No butterflies or South African Presidents were harmed in the making of this play.
Director: Lynna Metrisin | Performers: Mylin R. Cartwright, Felicita Sanchez
Octet | Twelve Literary Arts [Thursday 8:50, Friday 7:15, Saturday 7:45 & 8:55]
Approx. 20 mins
Six poets from Twelve Literary Arts perform a collection of original poetry to spark awareness and call to action.
Performers: Mary Barrett, Kisha Nicole Foster, Raja Belle Freeman, Siaara Freeman, Sage Mack, Damien McClendon
4 – James Levin Theatre
Muir and the Bridge (a love story) | Merit Glover [Thursday 7:15, Saturday 8:15 & 9:20]
Approx. 20 mins
Combining magical realism, historical writing about the national park system, and immediate modern day issues, Muir and the Bridge explores why we should care if our national parks disappear, and why America protects its land at all.
Director: Jonah Roth | Performers: Emmy Cohen, Doug Kusak, Grace Mitri, Marshare Polk, Hanna Shykind
Tell The Brethren | Tim Collingwood [Thursday 7:50 & 8:55, Friday 7:15 & 8:45 ]
Approx. 15 mins
A collection of historical and contemporary scenes exploring what it would take to confront sexism in the institutional Catholic church.
Director: Kelly Elliott | Dramaturg: Anne McEvoy | Performers: Adrien Brizzolara, Robert Lucchesi, India Pierre-Ingram, Tammy Shanley
The Tulpa | Tania Benites of Teatro Público de Cleveland [Thursday 8:20 & 9:25, Friday 8:15, Saturday 7:15]
Approx. 15 mins
The Tulpa explores the battle between good and evil within us. Do we control the darkness inside, or let the darkness control us? An excerpt from a longer piece.
Director: Jason Estremera | Performers: Sylka Edmondson, Bianca Flores, Selina Marie Pagan, Beau Reinker, Anthony "TonyFresh" Velez
Standard Starting Pay | Mara Layne & the Gold Men Ensemble [Friday 7:45 & 9:15, Saturday 7:45 & 8:50]
Approx. 15 mins
A devised piece inspired by the life of Emma Goldman, which seeks to challenge economic violence against women and people oppressed by patriarchy in the work place, and explore anarcho-communist solutions through feminine storytelling.
Performers: Dominique Coppella, Mara Layne, Cheryl McConnell
---
Click here or on the image above to watch the video from Entry Point 2018.
---
Entry Point 2019 Creators
Click here or on the image below to get to know the creators of Entry Point 2019.
---
Visit the Entry Point Storefront Studio Lounge
Enjoy conversation and concessions before, between, and after performances! The Lounge opens at 6:15pm, and at the conclusion of programming, everyone is invited to gather in the Lounge for Free Beer Thursday, Friday, and Saturday! Beer, wine, and soft drinks will be flowing while you mingle with the artists and your fellow audience members talking about what you've all just experienced. Your drinks are on us.
---
Entry Point on WKYC's Live on Lakeside
"Cleveland Public Theatre is our region's premiere theatre for new plays. We develop plays throughout our whole season, and most of the plays we produce are actually brand new; they're world premieres. Entry Point is both a party and a backstage tour for audiences to get a chance to see work while it's in development, and participate in that development by giving feedback to the artists."
-Raymond Bobgan, CPT Executive Artistic Director
Click here or on the image to watch Raymond and CPT Education Coordinator & Entry Point artist Darius J. Stubbs share an insider's view into Entry Point on WKYC's Live on Lakeside.
---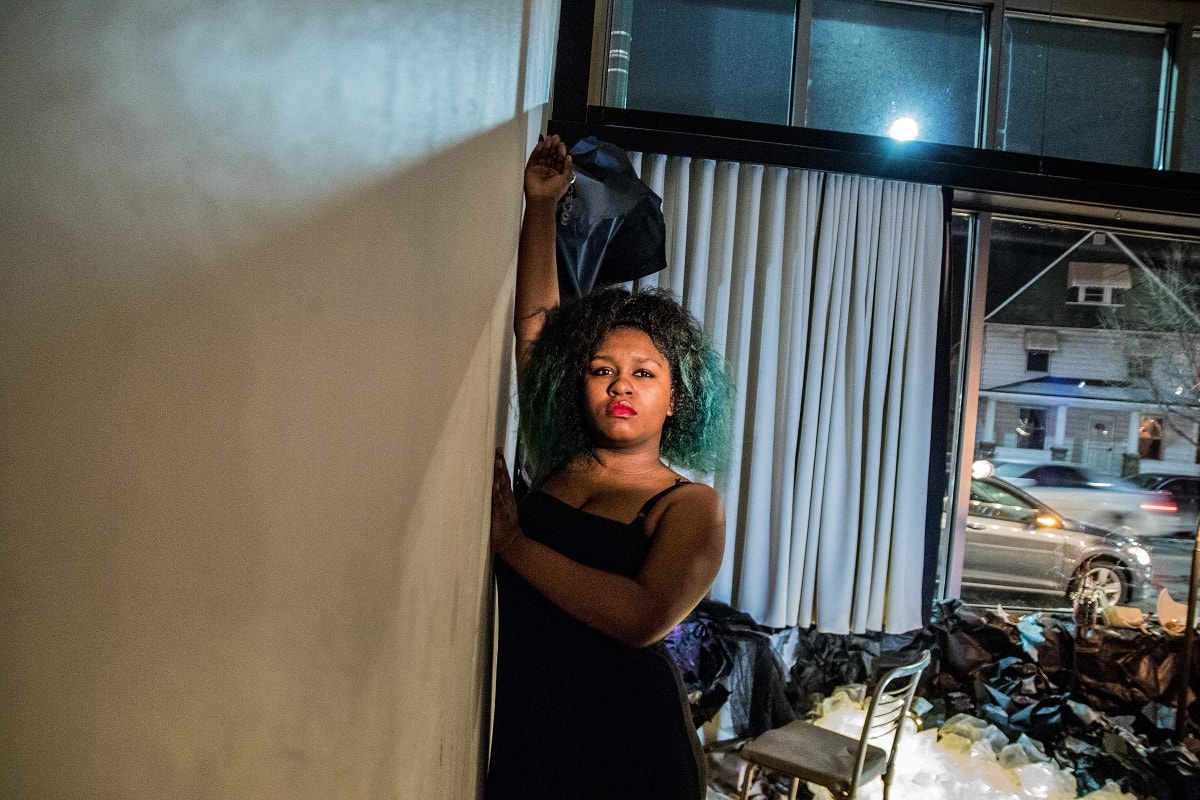 ---
SPECIAL THANKS TO OUR NEW PLAY DEVELOPMENT SPONSORS…