PANDEMONIUM 2018: LABYRINTH OF DESIRE
---
PLAN YOUR EVENING
Pandemonium Map & Schedule HERE!
Program & Artist Listings HERE!
TRAVEL & PARKING
The Eastbound Shoreway (Rt. 2) will be closed from 7:00pm-10:00pm on September 8, due to a large cycling event. There is also other construction happening on the Shoreway and some exits may be closed. We recommend freeway commuters use I-90.
In general, please plan plenty of time for travel, as we are expecting higher than normal traffic in our neighborhood. As parking space is extremely limited, we encourage you to take advantage of the complimentary valet parking beginning at 6:30pm.
Want to skip the valet line? Thanks to our friends at Lyft, you can ride to Pandemonium at a discounted rate! There will be a drop-off location at the eastern end of our campus on Detroit Ave. Use discount code TEN4CLE for $10 off your first ride (if you're new to Lyft), or CPTPAN20 for 20% off two rides.
---
---
PANDEMONIUM 2018:
LABYRINTH OF DESIRE
CPT celebrates the artist within us all:
Open your heart… there are no wrong turns!
CPT's education programs empower youth and adults to seek their inner magic
Creating a-maze-ing and enchanting performances for the community.
CPT is on a mission to inspire creativity, innovation, and rebirth on the west side of Cleveland.
---
Dance Performances by Verb Ballets, Inlet Dance Theatre, Wind and Sand Dance Company, Suga Shack Girls Entertainment, Levity Dance + Physical Theater, Emily Jeffries, and Shanty Circus Jacrobats Live Music Performances by Pureplex DJs featuring Neil Chastain & Byron Eulinberg (aka Funk Shway), By Light We Loom, David Loy & the Ramrods, Global Connections, Buck McDaniel – 18/19 Kulas Theatre Composer Fellow, Baldwin Wallace Musical Theatre, Hannah Rae Leach & Ayana Cheston, Beezy Douglas & Deb Zep, The Modern Electric, and more Original Theatrical Work by Raymond Bobgan, Faye Hargate, Molly Andrews-Hinders, David Hansen, Carrie Williams, Christine Howey, Mindy Childress Herman & John Busser, Land of Cleve Theatre, Pinch & Squeal's WIZBANG!, Ohio City Theatre Project, Cleveland Public Theatre's Student Theatre Enrichment Program (STEP), Sally Groth, Greg Vovos, India Nicole Burton – 18/19 NNPN Producer in Residence, Lauren Joy Fraley – 18/19 Joan Yellen Horvitz Director Fellow, Amy Schwabauer, Elaine Hullihen & Daved Thonnings, and many more Additional Performances by Disa Carneol, Cleveland Rock Gym, Mark Zust, Marian Fairman & Sarah Kunchik, Denis Griesmer, Dayni Maher, The Cleveland Museum of Art – Community Arts, RA Washington, Teatro Público de Cleveland, and others Visual Art, Installations, & Multimedia by Raymond Bobgan, Faye Hargate, Joan Hargate, Inda Blatch-Geib Designs, and more
Pandemonium 2018 Celebrity Chefs
Celebrity chefs will be cooking live, including: Astoria Café and Market, Davenport's Divine Delicacies, Flying Fig, Luxe Kitchen and Lounge, The Root Café, Saigon Food Service and Catering, West Side Market Café, and XYZ the Tavern.
---
Video produced by Ted Sikora.
 Click here or on the image above to watch the video from Pandemonium 2017: UNLEASH!
---
2018 Pan Award Honoree: Rick Chiricosta
Rick is an advocate for corporate philanthropy, health and wellness, and the arts.
Rick Chiricosta is chairman, president and chief executive officer of Medical Mutual of Ohio.
Under Mr. Chiricosta's leadership, Medical Mutual supports organizations that make a positive impact in many Ohio communities. Locally, the company sponsors a variety of organizations and initiatives, from the Boys & Girls Clubs of Cleveland to the RTA HealthLine. In 2017, Medical Mutual made more than 400 donations to nonprofits, and 28 members of the executive staff served on nonprofit boards.
And did you know Mr. Chiricosta is passionate about rock and pop music? He is the frontman for Witness Protection, a three-man cover band.
CPT is pleased to honor Mr. Chiricosta with the 2018 PAN Award, recognizing all the accomplishments he and Medical Mutual have achieved in our Greater Cleveland community.
Read more about our honoree here.
---
"It's hard to put it into words because it's so amazing and spectacular with all the talent of the artists – I mean, there's bands, and performance artists, poetry reading, rock climbing, there's jugglers. I feel like it's just gotten bigger and bigger over the years and more amazing. They always try to outdo what they did the year before. I can only imagine what this year's going to bring."
-Brandon Sitler, Owner of Urban Orchid and Pandemonium Table & Floral Designer
CPT Executive Artistic Director Raymond Bobgan and Urban Orchid Owner Brandon Sitler were on WKYC's Live on Lakeside to talk about the Party of the Year… Pandemonium 2018: Labyrinth of Desire!
Click here or on the image to the watch the full video.
---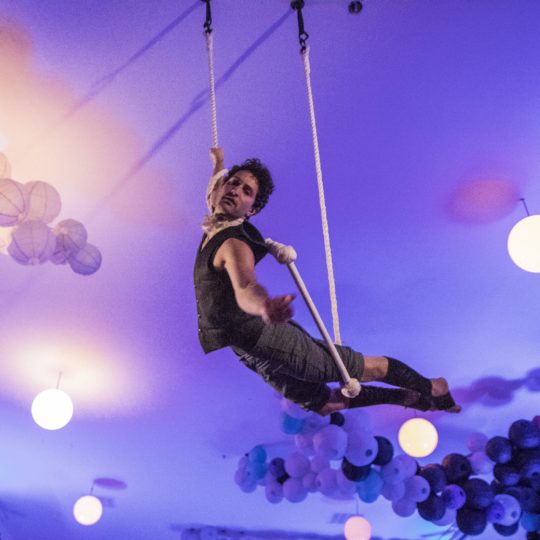 ---
Pandemonium 2018 Sponsorships Available
Contact Caitie Hannon Milcinovic
216-631-2727 ext 213 or
caitiehm@cptonline.org
Click here to view sponsors of Pandemonium 2018.
---
Sponsorship Opportunities
Click here or on the thumbnail above to view Sponsorship Opportunities for Pandemonium 2018.
---
---
HONORARY CHAIR
Mayor Frank G. Jackson
HOST COMMITTEE CO-CHAIRS
Brent D. Ballard
Scott Chaikin
Paul Dolan
Diane Downing
Andrea Hogben
Jakki & Fred Nance
Philip M. Oliss & Rachel McQuade-Oliss
Joe Roman
Mark Ross
Andrew & Randy Watterson
HOST COMMITTEE
Rita Andolsen
Jodi L. Berg
Dr. Ronald M. Berkman
Dr. Akram Boutros
Maggie Cappello
Bill & Judie Caster
Hon. Joe Cimperman & Nora Romanoff
Jill & Paul Clark
Eric L. Dicken & Paul Putman
Fred DiSanto
Trina Evans & Ken Birch
Umberto P. Fedeli
Lee Friedman & Joe Gogol
David Gilbert
Arne F. Goldman
Dee Haslam
Stephen H. Hoffman
Dr. Alex Johnson
Lou Joseph
Donna & Stewart Kohl
Wally Lanci
Chief Valarie McCall
Pat & Chuck Mintz
Jeffery K. Patterson
Albert & Audrey Ratner
Matt Reville
Chris Ronayne
Thomas & Anita Scanlon
Charna Sherman
Dr. Marie A. Simon & John Michael Zayac
Barbara R. Snyder
Kristofer Spreen
Terry & Sally Stewart
Christine Taylor
Karen White
Thomas F. Zenty III
Hon. Matthew & Michelle Zone
---
"We just really want to have a great party. Pandemonium's not just about fundraising; it's really a celebration of the artists of Cleveland, with 300 artists performing on that one night… We want you to leave your pocketbook at home, come and just have an awesome time, and experience the art and richness of Cleveland's art scene."
-Raymond Bobgan, CPT Executive Artistic Director
Click here or on the thumbnail to watch the full video of Raymond and CPT Director of Development Caitie Hannon Milcinovic on WKYC's We The People.
---
"We don't call Pandemonium a gala, because it's not one. We just don't think of it like that. It is just a great way to show off our artists and our artistry to a wide swath of the community who might not be theatregoers, but who believe in our impact and love a great party."
-Raymond Bobgan, CPT Executive Artistic Director
Click here or on the thumbnail to read "How to Stage a Must-Go Gala: Dos and don'ts for making your annual fundraising bash rewarding, in all senses" in American Theatre magazine.