Ya Mama!
---
The Creative Production Team Includes:
Raymond Bobgan – Producer
Beth Wood – Line Producer
Tyree Franklin – Stage Manager
Inda Blatch-Geib – Scenic Designer
Monique Cuyler – Lighting & Sound Designer
Dred Geib – Assistant Scenic Designer
Chialla Geib-Fenske – Scenic Artist
Bill Ransom – Percussionist/Composer
Dan Schumacher – Technical Director
Kenya Woods – Choreographer & Movement Coach
---
---
About the Playwright: Nina Domingue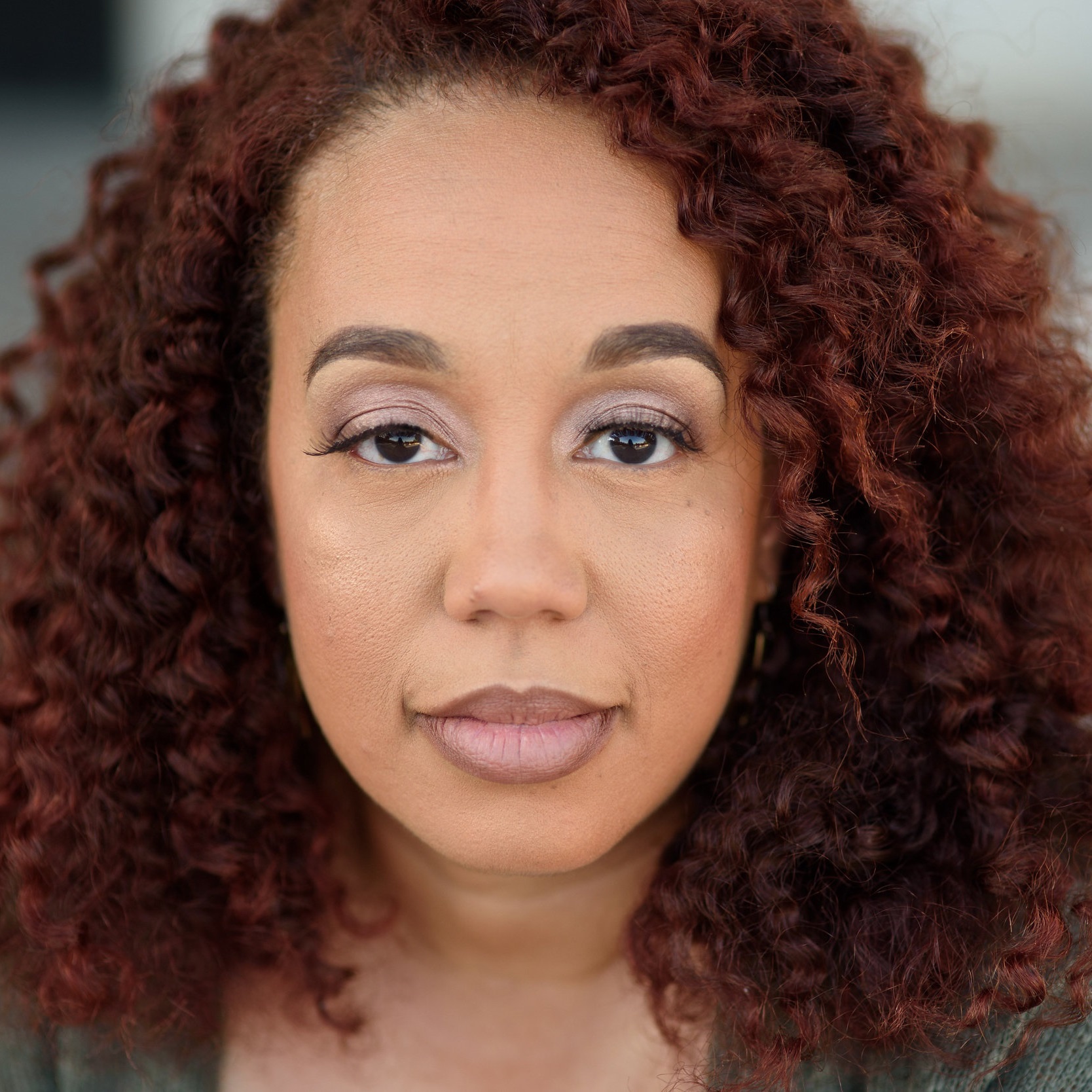 Nina Domingue is a well-respected and sought-after actress and playwright. Ya Mama! was developed in the CPT Big Box series before debuting in the NY International Fringe Festival in 2011, and then returning to CPT's 2011/2012 season. Nina received a Bachelor of Arts in Theater Arts from Dillard University of New Orleans and a Master of Fine Arts in Acting from West Virginia University. Nina was described by nytheatre.com critic Andrew Rothkin this way: "Domingue, an eloquent artist of more colors than Crayola, and who has the refined skill of someone twice her age." The Plain Dealer described her performances as "Must-see theatre!" Credits include Medea at 6:00 (Ensemble Theatre), Project1Voice 2015: Home by Samm-Art Williams (starring James Pickens, Jr. – Grey's Anatomy), Project1Voice 2014: for colored girls… (lady in orange, Dale Shields), It Hasn't Always Been This Way by Ntozake Shange (Off-Broadway, Diane McIntyre), Venus (The Venus Hottentot, CPT), Merry Wives of Windsor (Mistress Quickly, Great Lakes Theater Festival), Nickel and Dimed (Multiple Characters, co-production between CPT and GLTF), for colored girls… (lady in red, Karamu House, Terrence Spivey). Solo show credits include NY International Fringe Festival, Ya Mama! (developed in CPT's Big Box series), No Child… (CPT), The Little Mermaid (Cleveland Play House, Pamela DiPasquale), A Jewel of a Tale (commission by Cleveland Play House). Independent film: Bringing Henrietta to Life (Henrietta Lacks), The Passageway (Dr. Collins), A Day of Racism (Sancha). She made her mainstage directorial debut at Karamu 2.0 with the American premiere of The Adventures of the Black Girl in Her Search for God by Lisa Codrington. Awards and honors include: Best Actress in a Play (Cleveland Theatre Collective, lady in red), Memorably Distinctive Performances in a Theatrical Season (Cleveland Theatre Collective, 2004-2005 Season), and The Plain Dealer has said that Nina is "…a young Anna Deavere Smith" and watching her is "like a master class in acting." Nina is a wife and mother of five, her greatest work to date.
---
About the Director: Nathan Henry
Nathan Henry is Line Producer and Director of Marketing and Communications at Karamu House, where he has worked as a multi-disciplined artist for nearly a decade. Credits for Karamu include: director of the critically-acclaimed production of Passing Strange; director and choreographer of the regional premiere of Lee Summers' From My Hometown; director of Flyin' West and Yellowman in collaboration with NYC's Project1Voice; and associate director of the regional premiere of Tony Kushner and Jeannine Tesori's Caroline, or Change, a co-production with Dobama Theatre. He also served as line producer for the world premiere of Believe In Cleveland, the American premiere of The Adventures of the Black Girl in Her Search for God, and the regional premiere of Sassy Mamas – all at Karamu House. Select regional credits include: August Wilson's Seven Guitars, Elton John and Tim Rice's Aida, Smokey Joe's Cafe, Ain't Misbehavin', The Wiz, Once On This Island, Anything Goes, and Guys & Dolls, among many others. He has worked with The Kennedy Center for Performing Arts TYA/USA, Cleveland Play House, Cleveland Public Theatre, Great Lakes Theater, Dobama Theatre, Beck Center for the Arts, Ensemble Theatre, Porthouse Theatre, Cain Park, Playwrights Local, The Maltz Museum, The Musical Theater Project, Case Western Reserve University, Kent State University, and Talespinner Children's Theatre, where he sits on the board of directors.
---
---
"[Ya Mama!] deals with losing my own mother, gaining a stepmother, and then becoming a mother with all these conflicting images of motherhood. And now with so much attention on maternal mortality, and infant mortality particularly amongst black women, it has become a very timely piece. But it's also been very healing for me, and a lot of people. The responses from the audiences have been amazing—both men and women."
-Nina Domingue, Ya Mama! Playwright & Performer
Click here or on the image to watch Nina Domingue and 2018/2019 Nord Family Foundation Playwright Fellow Lisa Langford share about CPT's new play development—including behind-the-scenes info about Ya Mama!!
---
"I've always been intensely curious, and I wanted to understand why people do the things that they do, and that's really what acting is. It's the study of human behavior."
-Nina Domingue, Ya Mama! Playwright & Performer
Tune in to 93.1 WZAK or Z107.9 on a Sunday morning during the run of Ya Mama!, and you might just catch Sam Sylk interviewing Nina Domingue about Ya Mama! on Access Cleveland! Click here or on the image to listen to the full interview.
---
A Message from Raymond Bobgan, CPT Executive Artistic Director
Nina Domingue shines mightily in all that she does. And in Ya Mama!, she embodies 18 unique, bold, and stunning characters.
Ya Mama! is a beautiful autobiographical story about a woman overcoming her own limiting viewpoint of herself. It's about a journey from feeling held back and afraid because of the past, to finding empowerment—not because of an outside source, but because of what Nina finds within. I think that's a powerful story for all times, for all people.
Nina Domingue's Ya Mama! exemplifies the kind of brave space CPT is always striving for in our work. Nina takes great risks, and the audience is taking a risk by simply entering the theatre. In this case, that environment of risk and adventurousness really pays off.
Nina is a Cleveland superstar and a performer with a unique charm. We're so lucky to have her as part of our community, onstage and off. I hope you will join us for this profoundly moving, hilarious, inspiring, one-of-a-kind play.
Raymond Bobgan
CPT Executive Artistic Director
---
---
A Note from the Director
"There are times when I'm watching [a rehearsal of Ya Mama!] as the director, but I'm really watching as an audience member. What am I experiencing as I'm watching Nina tell the story? Is it clear? Does it make sense? Am I missing anything? But then I get caught up in the motion. I get caught up in the storytelling. She's such an amazing griot, (which is a storyteller…) and then I'm like 'Wait! No! I'm supposed to tell her what to do next! Stop listening so hard! Pay attention to the technical things and give her some good feedback'… [as I'm] wiping my own tears from my own face.
When you come to see this play at CPT you can expect to go on an amazing journey—ups, downs, backwards, arounds. You can expect to laugh, to be shocked, to cry, to double over with your hand over your head, completely baffled and/or confused, and/or angry. This is an emotional roller coaster."
-Nathan Henry, Director of Ya Mama!
---
"Ya Mama! is a small thread of who I am in the tapestry of my life, and it encompasses all of the joy I have for living, the gratefulness I have for my journey, and it does not deny the pain that helped me get there."
-Nina Domingue, Ya Mama! Playwright & Performer
---
---
"When your friend is a SICKENING Percussionist and joins your creative team." -Nina Domingue, Ya Mama! playwright & performer
If you've seen Ya Mama! before—in Big Box 2011, the world premiere during our 2011/2012 season, or the one-night-only performance at CPT this past summer—you're in for some surprises… including music! Bill Ransom, internationally renowned percussionist, has joined the team, creating the soundtrack for Ya Mama!! Click here to feel the excitement in Nina's Instagram post (and follow her for more behind-the-scenes photos, videos, & info at @ninadomingue!).
---
About Ya Mama!: A 7-Year Journey
Ya Mama! was developed in CPT's Big Box series—continuing on to the 2011 New York International Fringe Festival and then returning to Cleveland for a full production in CPT's 2011/2012 season. This past June, the piece was remounted to tour to the Hollywood Fringe Festival. Today, Ya Mama! is back in the rehearsal room, being fine-tuned into the production you can experience at CPT this fall.
Andrew Rothkin of nytheatre.com described the show this way: "Ya Mama! is a richly woven tapestry of love, loss, strength, and spirituality, beautifully written and exquisitely performed by the phenomenally gifted Nina Domingue, who jumps from the comedic to the dramatic to the poetic in an eye-blink as she inhabits a seemingly endless parade of sometimes mean, sometimes loving, sometimes wacky characters—or rather, real people from her life, past and present… Her story, chiefly surrounding issues of motherhood—her mother's suicide as a very young child, her love/hate relationship with her father's second wife, the full-of-life aunts who eventually took her (and her sister) in, and finally, the joys and challenges of being a mother herself—are fascinating and tender and funny, and one with which I could—somehow—relate. While my upbringing was different from her upbringing and while I will never be a mother, so much was universal…"
---
---
A piece of inspiration behind Ya Mama!
When playwright and performer Nina Domingue was first writing Ya Mama! in 2011, her sister shared Hope Edelman's book Motherless Daughters with her. The author interviewed a multitude of women who had lost their mothers (at different ages, under different circumstances), and found there were specific patterns of grief and behaviors consistent among all of the women.
"Because of the kind of uniqueness of the way [my mother] died, the particular way our grief was manifesting, and the other things happening in our lives, [my sister and I thought] this was a singular experience and no one else feels like this—and how could they? Because this didn't happen to them. Well this is a lie. And this feeling of being alone is also a lie. There is community, a community of grief that exists… What happened during the course of creating the show is, for the first time, I began to grieve my mother."
-Nina Domingue, Ya Mama! Playwright and Performer
---
"If you are ever wondering if your story is important, or if the minutia of your life can help someone, the answer is yes."
-Nina Domingue, Ya Mama! Playwright & Performer
---