A Xmas Cuento Remix
---
The Creative Production Team Includes:
Raymond Bobgan – Producer
Faye Hargate – Line Producer
Maria DiDonato – Music Director
Lilly Corona Moreno – Dramaturg & Assistant Director
Anthony "TonyFresh" Velez – Choreographer
Jesse Reagan Hernon – Stage Manager
Sylka Edmondson – Assistant Stage Manager
Aaron Benson* – Scenic Designer
Inda Blatch-Geib – Costume Designer
Richard Ingraham – Sound Designer
Jeremy Paul – Lighting Designer
Musicians: Maria DiDonato (Piano), Tim Miller (Percussion), Joseph Rangel (Guitar), Kevin Thompson (Bass)
---
About the Playwright: Maya Malan-Gonzalez
Maya Malan-Gonzalez is a multidisciplinary artist focused on performing, writing, and ensemble collaboration. She's a lifelong member of Milagro Theatre in Portland, where she most recently performed in Wolf at the Door. Through her history with the company, Milagro commissioned her new play, A Xmas Cuento Remix. In addition, Maya is an ensemble member with Teatro Luna West, where she recently premiered The Times, in which she was a core developer and performer. Maya's story "Down the Side of the Mountain" is featured in Teatro Luna's Audible Original audiobook, Talking While Female and Other Dangerous Acts. Her online blog series "Learning With Maya" can be found at Teatrolunawest.org/blog. Maya is also a company member with Cara Mia Theatre, where she was last seen performing in Deferred Action and De Troya. Maya received her BFA in Acting from The Theatre School at DePaul University with a concentration in Latino Studies.
---
About the Director: Holly Holsinger
Holly Holsinger has been a Cleveland theatre artist for over twenty years. Most recently, Holly toured to New Orleans and London with her solo show, Frankenstein's Wake, which she co-created with Raymond Bobgan. Other original works include Ancestra and Insomnia: The Waking of Herselves, co-devised and performed at CPT. Holsinger's work has been featured in Canadian Theatre Review, Theatre Journal, and in Lisa Wolford's book Grotowski's Objective Drama Research. She has performed throughout the United States, Canada, Romania, Belgium, and Brazil. Holly is an Associate Professor at Cleveland State University where she received a Distinguished Faculty Award, the University's top honor for teaching. She received an MFA in Acting from the University of California, Irvine and is a certified Associate Teacher of Fitzmaurice Voicework.
---
About the Music Director: Maria DiDonato
This is Maria's first time music directing a show at Cleveland Public Theatre. She is fresh off of music directing Into the Woods at CSU where she has also worked on Violet, Avenue Q, Company, and Emotional Creature. Maria has also done musical direction for French Creek Theatre, The Academy for the Dramatic Arts, Huntington Playhouse, Brecksville Theatre, St. Mary's Catholic School, and the Tri-C Performing Arts Camp. Maria is an adjunct theatre professor at CSU, a music theory professor at Tri-C, and gives voice/piano lessons through her own studio. Maria's favorite performances include: opening for Common at the Wolstein Center, performing/recording with hip-hop violinist DBR, and singing for President Obama. She also enjoys performing with her band Hip to That all over Northeast Ohio. Maria has earned both a Bachelor's Degree in Music Education with a minor in Theatre and a Master of Music in Vocal Performance from Cleveland State University.
---
About the Dramaturg & Assistant Director: Lilly Corona Moreno
Lilly Corona Moreno joined Teatro Público de Cleveland in 2014. TPC Stage credits: Vuelo del Ocean (Pandemonium 2014), Mi Nombre Es (TCG 2015), White Rabbit Red Rabbit (2015), Yo Sueño of Home (Pandemonium 2015), Mariel's List (Pandemonium 2016), Labio de Liebre (The Lip of the Hare) (2017), and ¡OBRAS EN EVOLUCIÓN! A Festival of New Play Readings (2017). Lilly was born and raised in Cleveland, Ohio. She is married to Alejandro Moreno, one of the founding members of Teatro Público de Cleveland. They have two children, Cruz and Citlali Moreno. Currently, Lilly is a Spanish teacher in North Ridgeville, Ohio. She is the Director of Grupo Tepehuani Nelli, the Mexican folkloric dance group she founded in 1999. The group performs pre-Hispanic/Aztec dances and dances representing the different regions of Mexico. She has been dancing/performing since childhood. Lilly enjoys recording voice overs and is a former radio announcer for the show La Preferida at WCSB, 89.3 F.M.
---
"We can't wait to share this vibrant production with Cleveland; A Xmas Cuento Remix provides a fresh perspective on time-honored holiday traditions, combining strong female leads, modern music, and holiday cheer."
-Teatro Público de Cleveland Leadership Committee
"[A Xmas Cuento Remix reminds us] that we, as individuals, can be proponents of change. We can make a difference in our community, and within the people around us. It's easy to shut ourselves off, but we have the ability, if we work together, to really create a sweeter world."
-Maya Malan-Gonzalez, A Xmas Cuento Remix Playwright
---
The music of A Xmas Cuento Remix
"Going back to my roots and Latino culture, so much of our teatro is about interacting with the audience, and the community coming together and having a shared experience. I love Christmas, so I want to hear Christmas songs, but I want to hear them with that bass. I want to hear some rapping. I want my "Deck the Halls" to be both in Spanish and English. In the Latino community we have these songs that everybody knows, like "Mi Burrito Sabanero." How can we take that song and put it in the show? -Maya Malan-Gonzalez, Playwright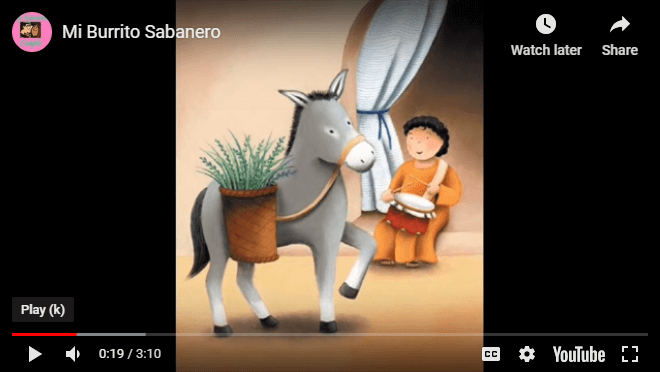 "It's about the different flavors in the music. We've got tons of different styles. We've got an old-school, 80's Emcee type song that's the opening number, there's a modern pop style with our rendition of "Jingle Bells." You get those old traditional Mexican songs in "Los Peces En El Río," "Noche De Paz"… There's just so much variation in the music that I really do think there is something for everybody." -Daniel Valdez, Co-Composer & Co-Arranger
Click here or on the image to hear "Mi Burrito Sabanero," "Los Peces En El Río," and "Noche De Paz", as well as several other songs remixed in A Xmas Cuento Remix (USA Today).
---
"What are all of the beautiful things that really transcend past culture? What are these things that we all hold dear to the holidays? Family. Food. Traditions. Whether your tradition is making tamales or making your Christmas ham, we all have these certain things we hold dear."
-Maya Malan-Gonzalez
---
Reflections from Dramaturg & Assistant Director Lilly Corona Moreno
"I was excited the family in A Xmas Cuento Remix was a family of my culture, of my cultural background. I'm familiar with the original story and I love how it was adapted by Maya. I was very familiar with the family's interactions, with their everyday life… I'm just excited to be part of a production where I can show what my culture is.
There is a line in the play that one of the goddesses (Ixchel, the spirit of Christmas past) mentions. It's in Mayan: 'In lak'ech.' It means, as she says in the script, 'Tú eres mi otro yo. (You are my other me.) If I do harm to you, I do harm to myself. If I love and respect you, I love and respect myself.' It's a tiny line, but I think it's so important to the play."
-Lilly Corona Moreno
---
"A Xmas Cuento Remix is going to be a huge hit nationally—I think a lot of theatres will be producing it. It's exciting to lay some of that groundwork here."
-Holly Holsinger, A Xmas Cuento Remix Director
---
NATIONAL NEW PLAY NETWORK ROLLING WORLD PREMIERE
In partnership with the National New Play Network (NNPN), A Xmas Cuento Remix is produced at Cleveland Public Theatre as part of a NNPN Rolling World Premiere. Other partnering theatres are Milagro Theatre (Portland) and 16th Street Theater (Chicago).
NNPN is an alliance of professional theatres that collaborate in innovative ways to develop, produce, and extend the life of new plays. NNPN's Rolling World Premiere Program supports three or more theatres that choose to mount the same new play within a 12-month period, allowing the playwright to develop a new work with multiple creative teams in multiple communities. The playwright is part of the process, working on the script and making adjustments based on what is learned from each production. Click here for more information.