Student Theatre Enrichment Program (STEP) 2019: Color the City
---
---
Producer Raymond Bobgan
Co-Director Diego Aramburo
Co-Director & Program Manager Adam Seeholzer
Singing Instructor Nadia Tarnawsky
Teaching Instructors Brandon X Mc Swain, Anastasía Urozhaeva, Jaytionna Wells
Dance Instructor Kevin Marr
Administrative Assistants Molly Andrews-Hinders, Anastasía Urozhaeva
Tech Team Leader Aaron Benson
Tech Instructors Chialla Geib-Fenske, Dred Geib, Brandon X Mc Swain
Costume Designer Inda Blatch-Geib
Wardrobe Supervisor Brielle McGowan
Performance Ensemble: Mohamed Ali, LaTanza Chapman, Angeles Cortes, Brandon Crowley, Xevion Davis, Marcellous Ghee, Willie Johnson, Ste-vee Lang, London Linen, Ronnie Onuorah, Niyla Orr, Stephen Patterson, Dorothy Reynolds, Johnara Richardson, Aleiya Sawyer, Anthony Stiegelmeyer, Zhavaughn Twitty, Mallory Wilks
Tech Team: Vincent Brown, Kiarra Chaney, Trey Davis, Ernest Morris III, Dieme Mudatenguha, Nicole Onuorah, Patrick Shyaka, Jordan Stapleton, Cariana Tootle
---
Very special thanks to Councilpersons: Kevin Bishop, Anthony Brancatelli, Phyllis Cleveland, Blaine Griffin, Martin J. Keane, Kerry McCormack, Matt Zone
Special thanks to these Community Partners: Bellaire-Puritas Development Corporation; Broadway Public Art; Burten, Bell, Carr Development, Inc.; City of Cleveland Department of Community Development; Cleveland Metropolitan School District; Cleveland Public Library; Cuyahoga Metropolitan Housing Authority; Detroit Shoreway Community Development Organization; Kamm's Corners Development Corporation; LGBT Community Center of Greater Cleveland; Merrick House; Metro West Community Development Office; Ohio City Inc.; Partnership for a Safer Cleveland; Slavic Village Development; Sweet Moses Soda Fountain & Treat Shop; Tremont West Development Corporation; Union Miles Development Corporation, WOVU 95.9 FM
---
---
Huatiacuri, the Story of a Mountain
The 2019 STEP Ensemble's Color the City is based on a traditional tale from Los Andes, Huatiacuri, the Story of a Mountain. The longest continental mountain range in the world, Los Andes spans the entire western edge of South America and is shared by 7 countries, including Bolivia, the birthplace of STEP Co-Director Diego Aramburo. Multiple versions of the tale exist throughout the region.
The story follows Huatiacuri, a woman who lives on a mountain and is also the daughter of the deity Pariacac. Although Huatiacuri is poor in wealth, she is rich with ancestral wisdom.
When a powerful and well-to-do man in a nearby town starts speaking and behaving as if he was a god, the true gods and nature punish him by making him sick—a sickness that no one, not even the great scientists, can heal. Huatiacuri passes through the town and claims she can cure the rich man, but only if she is received as part of their society by marrying the rich man's youngest son.
Ultimately, Huatiacuri, the Story of a Mountain calls on us to honor the importance of our connection with nature.
---
Meet Bolivian artist Diego Aramburo, STEP 2019 Co-Director
"The best moment is when a teenager participating in the program starts to feel they can do anything. There is a strength in youth. They have so much energy, so much power and creativity, that they could change everything… they can really make us question what we are doing with the world." -Diego Aramburo
Leading this year's STEP production is Co-Director Diego Aramburo—award-winning Bolivian director, playwright, actor, and founder & director of Kiknteatr. This is not Diego's first time working on a STEP production… she was here at CPT working with the program in 1996!
Over 20 years ago, Diego met CPT Executive Artistic Director Raymond Bobgan in Brazil. Raymond's theatre company at the time, Theatre Labyrinth, was performing in a festival and held a workshop. Diego was one of the participants, and afterwards, Raymond invited Diego, along with Brazilian artist Ana Paula Jones, to come to Cleveland and perform in Theatre Labyrinth's The Warbling Carousel. The production took place at the same time as STEP, allowing Diego to participate in the creation of the 1996 STEP Ensemble's re-telling of Gabriel García Márquez's A Very Old Man with Enormous Wings.
Diego has created more than 50 plays, both with her own company and with companies and international festivals that engage her (in the USA, Brazil, Argentina, France, Ecuador, Canada, Romania, and Dominican Republic.) Her work is subdivided into two main lines: interdisciplinary investigative creations and 'strictly theatrical' large format assemblies. All of Diego's work is connected by her interest in working with political themes as they relate to what is happening in communities and societies.
---
What is STEP?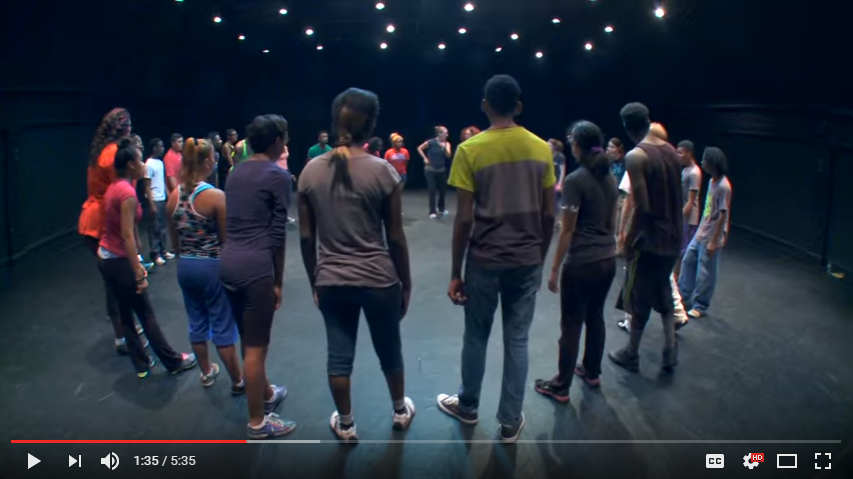 Founded in 1994, CPT's Student Theatre Enrichment Program (STEP) celebrates its 25th year of providing rigorous arts education and job training for teens. The majority of these teens come from families defined as low-income, live within the city limits, attend public schools, and are artists of color. STEP is an 8-week intensive that offers youth the opportunity to earn money while working and training in close collaboration with professional artists. Each year, the CPT Teaching Artists select works of literature that serve as a starting point for the teens to create an original theatrical production. STEP participants meet five hours per day, five days per week to engage in acting, writing, movement, percussion, voice, dance, technical production, and touring while developing valuable job skills such as timeliness, commitment, and teamwork. The program culminates in the creation of an original theatrical production that tours to indoor and outdoor venues across the city. Through STEP, the youth see themselves as positive and inspirational forces, and watch as their work impacts the larger Cleveland community. Many youth return to the program year after year, eventually going on to assume leadership roles inside of the program.
---
---
Thank you to our Partner Organizations: LAND studio and Youth Opportunities Unlimited
                                                                      
---
STEP is generously Funded by
---
                                         
---
                                                  
---
                                           
---
---
                               
---
---
---