Student Theatre Enrichment Program (STEP) 2020
---
Click here or on the image below.
---
---
ABOUT THE PERFORMANCES
THE TRAIL OF BLACK DEGRADATION
Written by: STEP Ensemble | Directed by: India Nicole Burton | Assistant Director: Ste-vee Lang | Conceived by: Azizah Muhammad | Cast: Da'Nita Goins, Ste-vee Lang, Azizah Muhammad, Shaniya Patterson, Angelo Sanford, Zhavaughn Twitty
Written and performed entirely by the STEP ensemble, The Trail of Black Degradation is a fictional story of a young Black girl's tragic rape and murder that ultimately results in the brutal killing of a young, Black, boy protester by a white police officer. This fictional story collides with non-fictional themes, as it is a representation that is all too well connected to the current reality in America.
RAGE AGAINST THE MACHINE: ARTIST & ACTIVIST ACT OUT!
Written by: STEP Ensemble | Directed by: Ed Blunt | Cast: Angeles Cortes, Samone Cummings, Brian Currie, Kierra Stover, Jayla Swanson, Moises "Antonio" Tuyas
What do you do when you feel your voice isn't being heard? When you feel oppressed, marginalized, and ignored? You find a creative, joyful, and empowering way to give voice to the voiceless. Do not miss this powerful and transformational experience of what can take place when imaginations collide with modern day technology, self-expression, and personal creativity!
---
Producer Raymond Bobgan
Co-Director & Program Manager India Nicole Burton, NNPN Producer in Residence
Co-Director & Co-Lead Teaching Artist Ed Blunt
Movement/Dance Instructor Nehemiah "Neemo" Spencer
Stage Manager & Teaching Instructor Jaytionna Wells
Administrators Molly Andrews-Hinders, Colleen McCaughey
Performance Ensemble: Angeles Cortes, Samone Cummings, Brian Currie, Da'Nita Goins, Ste-vee Lang, Azizah Muhammad, Shaniya Patterson, Angelo Sanford, Kierra Stover, Jayla Swanson, Moises "Antonio" Tuyas, Zhavaughn Twitty
Very special thanks to Councilpersons: Kevin Bishop, Anthony Brancatelli, Phyllis Cleveland, Kevin Conwell, Blaine Griffin, Kerry McCormack, Jasmin Santana, Matt Zone
---
Made possible through the generous support of: Cleveland City Council and the Mayor's Office of Prevention, Intervention, and Opportunity for Youth and Young Adults; Cleveland Foundation; Paul M. Angell Family Foundation; George W. Codrington Foundation; Cuyahoga Arts & Culture; Dollar Bank Foundation; First Federal Lakewood; Char & Chuck Fowler Family Foundation; George Gund Foundation; Martha Holden Jennings Foundation; David & Inez Myers Foundation; Ohio Arts Council; PNC Bank; Kelvin & Eleanor Smith Foundation; Thomas H. White Foundation
Special thanks to these past & present Community Partners: Bellaire-Puritas Development Corporation; Broadway Public Art; Burten, Bell, Carr Development, Inc.; City of Cleveland Department of Community Development; Cleveland Metropolitan School District; Cleveland Public Library; Cuyahoga Metropolitan Housing Authority; Detroit Shoreway Community Development Organization; Fairfax Renaissance Development Corporation; Kamm's Corners Development Corporation; LAND studio; LGBT Community Center of Greater Cleveland; Merrick House; Metro West Community Development Office; Ohio City Inc.; Orange Barrel Media; Partnership for a Safer Cleveland; Slavic Village Development; Sweet Moses Soda Fountain & Treat Shop; Tremont West Development Corporation; Union Miles Development Corporation
---
WHAT IS STEP?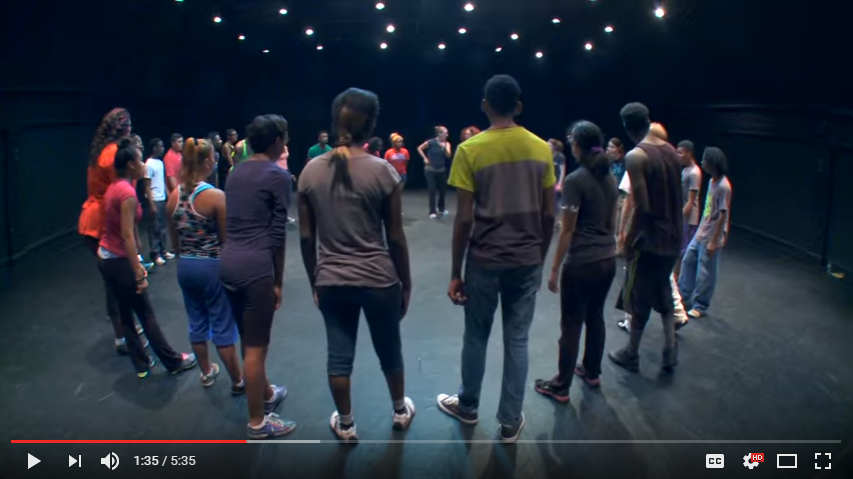 Founded in 1994, CPT's Student Theatre Enrichment Program (STEP) is a rigorous arts education and job training for teens. The majority of these teens come from families defined as low-income, live within the city limits, attend public schools, and are artists of color. STEP offers youth the opportunity to earn money while working and training in close collaboration with professional artists.
For over 25 years, STEP participants have engaged in acting, writing, movement, percussion, voice, dance, technical production, and touring while developing valuable job skills such as timeliness, commitment, and teamwork.
The program culminates in the creation of an original theatrical production that has toured to indoor and outdoor venues across the city. Through STEP, the youth see themselves as positive and inspirational forces, and watch as their work impacts the larger Cleveland community. Many youth return to the program year after year, eventually going on to assume leadership roles inside of the program.
---
---
Thank you to our Partner Organization: Youth Opportunities Unlimited
---
STEP is generously Funded by
---
                                         
---
                                               
---
                                                         
---
---
                               
---
---
---