PANDEMONIUM 2022: THE DOORS OF IMAGINATION
---
PLAN YOUR EVENING
PROGRAM & ARTISTS LISTING HERE!
PANDEMONIUM MAP & SCHEDULE HERE!
TRAVEL & PARKING
In general, please plan plenty of time for travel. As parking space is limited, we encourage you to take advantage of the complimentary valet parking beginning at 6:30pm.
PANDEMONIUM 2022:
THE DOORS OF IMAGINATION
CPT celebrates the artist within us all:
Cross the threshold… and discover new worlds!
CPT's education programs empower youth and adults to find the key to their imagination,
creating brilliant and visionary performances for the community.
CPT is on a mission to inspire creativity, innovation, and enlightenment on the west side of Cleveland.
---
Pandemonium 2022 Artists
(list subject to change)
Dance Performances by Verb Ballets; Inlet Dance Theatre; Ballet Legato; Bella Sin; The Wind & Sand Dance Company; Cleveland Modern Ballet; Jailyn Sherell Harris; Ba-Bim Dance Company; MorrisonDance; Ballet Legato; Blakk Jakk Dance Collective LLC; Reflections Dance Theatre; Mojuba! Dance Collective Live Music Performances by Pureplex DJs featuring Neil Chastain and DJ Square Biz; The Prom Queens; David Munnell & Future Perfect; Kalim Hill; Da Land Brass Band; DJ P. Stoops; and more Original Theatrical Work by Cleveland Public Theatre's 2022 STEP Ensemble; Crooked River Circus; Syrmylin Cartwright; Roberto Di Donato; Siaara Freeman; David Hansen; Raymond Bobgan, developed with Cleveland CORE Ensemble; Luna Larkinsong AKA Holly Holsinger; The Dark Room featuring plays by John Busser, David Munnell, & Greg Mandryk; Teatro Público de Cleveland; The Sparrow's Fortune LLC; De'Aja Mon'e Wilson Additional Performances by Kulture Kids; Molly McFadden; Forrest Paige; Robin Van Lear & ArtActs; Daniel Wasdahl; Carrie Williams; Mark Zust, Pandora Robertson; and others Visual Art Installation & Multimedia by Argerie Vasilakes, Inda Blatch-Geib Designs, Benjamin Gantose, Garrett Markgraf, Lauren Calevich, and more
---
Video produced by Ted Sikora.
Click here or on the image below to watch the video from Pandemonium 2021: The Break Of Dawn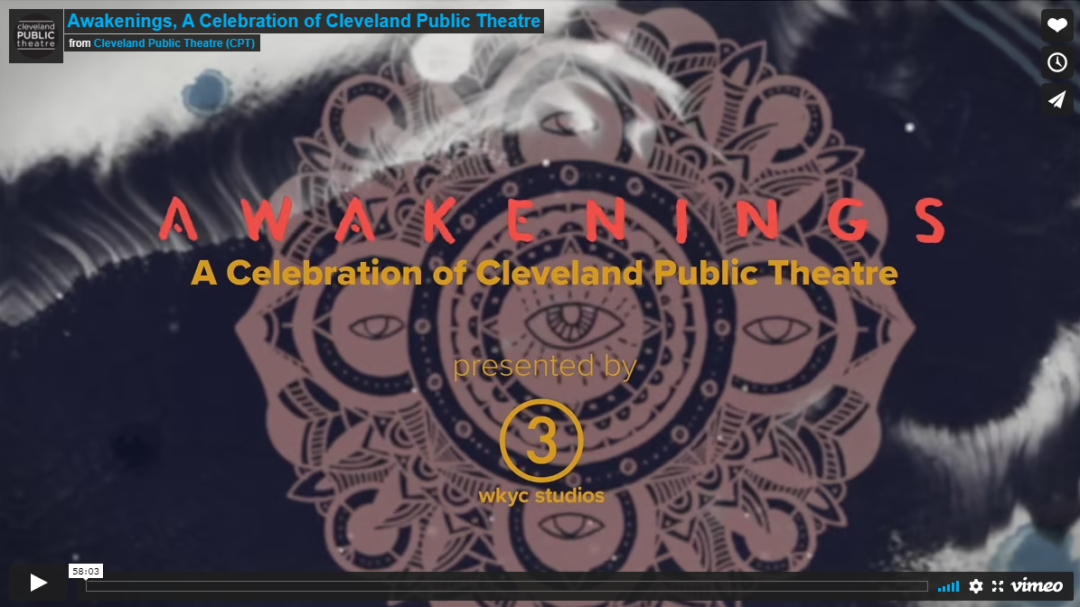 Video produced by WKYC Studios
Click here or on the image below to watch the video from Awakenings: A Virtual Gala
---
2022 PAN AWARD HONOREE: TRINA EVANS
TRINA IS A CHAMPION OF THE ARTS, EDUCATION, DIVERSITY, EQUITY AND INCLUSION, AND OUR GREATER CLEVELAND COMMUNITY.
Trina Evans is Director of Corporate Center and Chief of Staff for KeyCorp, a leading financial services institution with more than 17,000 teammates. Trina leads teams responsible for client and employee experience, enterprise communications, media relations, marketing, government relations, ESG (Environmental, Social, and Governance), philanthropy, and DE&I (Diversity, Equity, and Inclusion). She is a member of the senior executive team, a direct report to the CEO, and regular presenter to the board of directors.
Through her leadership, community development and volunteerism have become central to KeyBank's culture. Trina leads the delivery of the company's $40 billion National Community Benefits Plan focused on affordable housing and community development projects nationwide, small business and home lending in low- and moderate-income communities, and philanthropic efforts targeted toward education, workforce development, and safe, vital neighborhoods.
Trina has earned a reputation as one of the industry's most civic-minded leaders. KeyBank has received an unprecedented 10 consecutive "outstanding" ratings for meeting or exceeding the terms of the Community Reinvestment Act from the Office of the Comptroller of the Currency. KeyBank has been recognized by DiversityInc 12 times as a "Top 50" company for diversity; eight times by the Civic 50 Points of Light as "one of America's most community-minded companies;" and 13 times by the Corporate Equality Index as a Best Place to Work for LGBTQ Equality.
Trina has been honored many times for her own civic footprint. She serves on the Boards of Trustees of the Cleveland Food Bank, the Rock and Roll Hall of Fame, the Greater Cleveland Sports Commission, and the Weatherhead School of Management (Case Western Reserve University) Visiting Committee. Trina is a Director Emeritus of the Cuyahoga Community College Foundation. She is also a member of the National Association of Corporate Directors.
She and her husband, Ken, live in Chagrin Falls and have a daughter, Grace. All three have attended Pandemonium in years past!
We are thrilled to be recognizing Trina as our 2022 PAN Award recipient, and we look forward to celebrating her at the 20th anniversary of Pandemonium in September.
---
Pandemonium 2022 Sponsorships Available
Contact Director of Organizational Advancement Caitie H. Milcinovic
216-631-2727 ext 213 or
caitiehm@cptonline.org
Click here to view the sponsors of Pandemonium 2022
---
SPONSORSHIP OPPORTUNITIES
Click here or on the thumbnail above to view Sponsorship Opportunities for Pandemonium 2022.
VOLUNTEERS MAKE PANDEMONIUM HAPPEN!
Click here or on the image above for more information on how to join the team.
HONORARY CHAIRS
Mayor Justin Bibb
Paul Clark
Margot James Copeland
Carole F. Hoover
Dr. Alex Johnson
Beth E. Mooney*
CO-CHAIRS
Nic Barlage
Suzanne & Akram Boutros
Chris Gorman
Nancy W. McCann
Randell & Gail McShepard*
Mark Ross*
Eddie Taylor, Jr.
Andrew & Randy Watterson*
Vanessa L. Whiting
HOST COMMITTEE
Rita Andolsen
Kristen Baird Adams
Teresa Metcalf Beasley
Alexandria Johnson Boone
Amy Brady
Chuck & Barb Brown
Micki Byrnes*
Amy Carlson
Bill & Judie Caster
Susan Donlan
Diane Downing & Tom Corrigan
Kirsten & Charles Ellenbogen
Eric Fiala
Lee Friedman & Joe Gogol
David Gilbert
Arne F. Goldman
Eric Gordon
Brian E. Hall*
Dr. K. Kelly Hancock
Lee Ann Howard
Aneta Ardelian Kuzma
Kelly Manderfield
Brian McDonald
Greg McDonald
Catherine M. Miller
Robyn Minter Smyers
Dan & Dorothy Moulthrop
Augie & Joan Katz Napoli
Megan O'Bryan
Philip M. Oliss & Rachel McQuade Oliss
Catherine O'Malley Kearney
Eric Langston & Christopher Panek
Patrick M. Pastore
Jeffery K. Patterson
Andrea Penn
Dr. Denise Reading
Lauren Rich Fine
Victor A. Ruiz
Barb Smith
Shanelle Smith Whigham
Stacey Starnes
Sally & Terry Stewart
Dr. Jerry Sue Thornton
Stevie Turner
Michael Varvaro
Kristin Warzocha
James Waters & Frances Cudjoe Waters
Karen & Bob White
Sonali B. Wilson
Dr. Marie A. Simon & John Michael Zayac
Ann Zoller & John Mueller
*past Pandemonium Honoree
---
CELEBRATING 20 YEARS OF PANDEMONIUM!
At this year's event, we will be paying a special tribute to the esteemed Honorees of Pandemoniums past. Check out this venerable list of Cleveland movers-and-shakers-and-awesome-change-makers:
Trina Evans (2022), Randell McShepard (2021), Micki Byrnes (2020), Mark Ross (2019), Rick Chiricosta (2018), Andrew Watterson (2017), Pat & Chuck Mintz (2016), Robert & Yan Maschke (2015), Beth Mooney (2014), Nick Catanzarite (2013), Fred & Jakki Nance (2012), Hon. Joe Cimperman & Nora Romanoff (2011), Betsy & Matthew Figgie (2010), Brian E. Hall (2009), Jim & Lauri Rokakis (2008), Edward "Ned" Handy (2007), Paul Volpe (2006), Hon. Matthew Zone (2005), Thomas B. Schorgl & Louise J. Gissendaner (2004)
(Did you know… CPT produced the very first Pandemonium event in 2003, but we did not start the tradition of recognizing an Honoree until the following year. Hence, 2022 will be our 20th Pandemonium!)