STUDENT THEATRE ENRICHMENT PROGRAM (STEP) 2017: AND YET, WE SHINE
---
---
Co-Director & Program Manager Adam Seeholzer
Co-Director Molly Andrews-Hinders
Assistant Director & Writing Instructor John Dayo-Aliya
Dance Instructor & Choreographer Mikaela Brown
Assistant Instructors Terah McGowan & Dezhanay Simmons
Administrative & Teaching Assistant Josy Jones
Guest Instructor Joshua Brown
Tech Team Leaders Ryan T. Patterson & Inda Blatch-Geib
Costume Designer Inda Blatch-Geib
Tech Assistants Dezhanay Simmons & Vince Tyree
Costume Assistants Dred Geib & Chialla Geib-Fenske
Performance Ensemble: Andy Antos, Kaundima Ashley, Grace Chito, Elijah DeBerry, Tiajhanae Jennings, Jeliel King-Weaver, Francheska De La Cruz, Quenisha Moss, Chance Nsabiyeze, Neivay Patterson, Rozlyn Pittman, Anthony Stiegelmeyer, Jennae Taylor, Iyonna Turner, Sadara Wagner
Tech Team: Tatianna Acoff, Brandon Alicea, Solomon Dooley, Hatim Elsair, Raquia Hendricks, Chase McMichael, Abigail Murray, Mary Jane Reinhardt, Aaliyah Taylor-Boswell, Gyasi Turner, Shawnisha Wilson
---
Very special thanks to Councilpersons: Anthony Brancatelli, Phyllis Cleveland, Kevin Conwell, Brian J. Cummins, Blaine Griffin, Martin J. Keane, Kerry McCormack, Terrell H. Pruitt and Matt Zone
Special thanks to these Community Partners: ACLU of Ohio; Art House; Bellaire-Puritas Development Corporation; Broadway Public Art; Burten, Bell, Carr Development, Inc.; City of Cleveland Department of Community Development; Cleveland Metropolitan School District; Cleveland Public Library; Cuyahoga Metropolitan Housing Authority; Detroit Shoreway Community Development Organization; Fairfax Renaissance Development Corporation; Harvard Community Services Center; Kamm's Corners Development Corporation; LGBT Community Center of Greater Cleveland; Metro West Community Development Office; MyCom; Near West Family Network; Ohio City Inc.; Old Brooklyn Community Development Corporation; Omni Media; Partnership for a Safer Cleveland; Pilgrim UCC; Slavic Village Development; Starting Point; Sweet Moses Soda Fountain & Treat Shop; Tremont West Development Corporation; WIRE-Net
---
---
"We're teaching how to make theater, but we're also teaching
how to be a community – how to work together… And not give up.
Because it's gonna get hard… 
When it gets hard, what do you do?"
-Adam Seeholzer, STEP Co-Director & Program Manager, CPT Education Manager
Peek behind the curtain and see what it's like to participate in the rigorous STEP program, get a taste of this year's brand new production and meet some of the devoted STEP staff – and a few of the phenomenal young artists in the 2017 STEP Program.
Click here or on the image to the left to read the full story.
---
---
"Participating in this program really helped me to bring out things in me that I never thought was in me."
-Gyasi Turner, 2017 STEP Participant
Hear from many of this year's STEP participants about the program, as well as Adam Seeholzer, STEP Program Manager and Co-Director – and watch a few short clips from And Yet, We Shine!
Click here or on the thumbnail to the left for the feature on WVIZ/PBS ideastream.
---
A Note From CPT Staff
For the past 6 weeks, 40 Cleveland teens have been busy exploring, constructing and creating.
The script has been written, the costumes are ready and the set is built. In a few days these artists will head out into the city to share their work: the full-length production of And Yet, We Shine.
The Student Theatre Enrichment Program (STEP) is a rigorous 8-week intensive that engages teens in creating, performing and touring an original production. This year, the play And Yet, We Shine features three interwoven tales of standing strong in the face of injustice. Each story is developed from the students' own experiences and creations in the rehearsal room.
Guided by a team of professional artists, STEP participants learn theatre arts while developing valuable skills like collaboration, communication, dedication and commitment. But the STEP Program is also a safe and nurturing place for teens to discover and develop their voices. It's a platform for them to blossom, to tap into their greatness – and play an important role in society by sharing their gifts with the world.
So throw down a blanket, set up your lawn chair and meet us under the warm summer sun for a production of And Yet, We Shine – and see what these exceptional youth are capable of.
-The Cleveland Public Theatre Staff
---
   
---
"A LAUNCHING PAD FOR THEM TO REACH THEIR DREAMS" -John Benson, CoolCleveland
"Teens of this community have a lot to offer and they also know what it takes to work hard and what it takes to make a successful work of art… they have it within themselves, they just need the space and time and energy along with it to make that work."
-Adam Seeholzer, STEP Co-Director & Program Manager, CPT Education Manager
Click here or on the image to the left to read the full interview with Adam in CoolCleveland.
---
A note from CPT TEchnical Director, Ryan T. Patterson
There are no words to describe the pride and honor I feel working with this amazing group of teenagers.
They have trained, assembled, designed, and built, and painted all that you see.
And this is not to mention the incredible costumes waiting to be revealed to the public when we go on tour, this week!
Being with them inspires me every day, and I hope you can find the time to come see all of their awe-inspiring work out at any of our tour locations around Cleveland.
Hope to see you there,
-Ryan T. Patterson, STEP Tech Team Co-Leader, CPT Technical Director
---
Look closer…
…that 2017 STEP image is sprinkled with meaning! And Yet, We Shine features three separate stories woven together – and there's a little taste of each tale in this design (click here or on the image to zoom in).
And Yet, We Shine takes place in an abandoned steel mill, where a group of artists gather in secret to galvanize resistance and combat oppression of creativity. Notice the smoke stacks and feet of the robot – and can you spot the word "STEEL"?
See that cup with a smiley face? That's from the first story about three teens who are forced to make a choice. If they don't, they must drink from the cup o' smiles…
The robot? That's from the second one, a re-imagining of Ionesco's Rhinoceros… but with robots.
Can you find a suitcase and traffic signs? Those are from the third tale about the awakening of two brothers on a road trip.
---
---
What is STEP?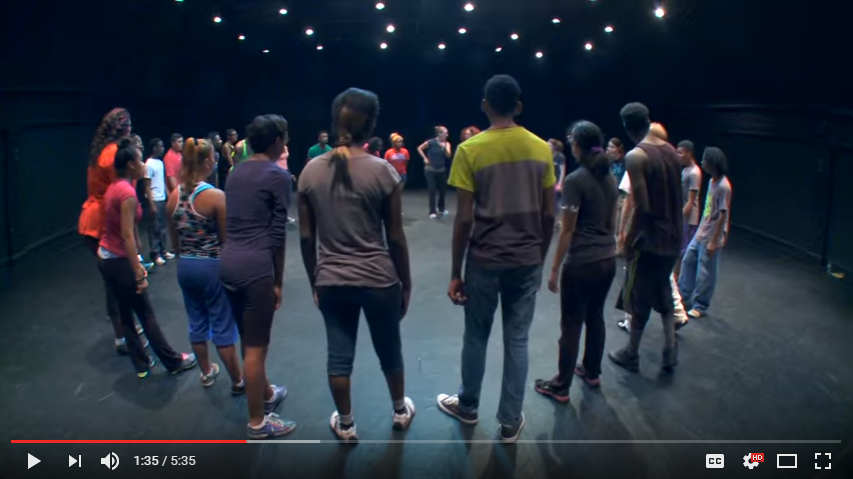 Founded in 1994, CPT's Student Theatre Enrichment Program (STEP) celebrates its 24th year of providing rigorous arts education and job training for teens. The majority of these teens come from families defined as low-income, live within the city limits, attend public schools, and are artists of color. STEP is an 8-week intensive that offers youth the opportunity to earn money while working and training in close collaboration with professional artists. Each year, the CPT Teaching Artists select works of literature that serve as a starting point for the teens to create an original theatrical production. STEP participants meet five hours per day, five days per week to engage in acting, writing, movement, percussion, voice, dance, technical production, and touring while developing valuable job skills such as timeliness, commitment, and teamwork. The program culminates in the creation of an original theatrical production that tours to indoor and outdoor venues across the city. Through STEP, the youth see themselves as positive and inspirational forces, and watch as their work impacts the larger Cleveland community. Many youth return to the program year after year, eventually going on to assume leadership roles inside of the program.
---
Something's different…
This year, the STEP Tech Team is playing a larger role.
CPT Education Manager and STEP Co-Instructor Adam Seeholzer shared what's new.
"The Tech Team is here for all eight weeks of the program, as opposed to just three weeks. They've been trained by Tech Team Leader and CPT Technical Director, Ryan T. Patterson, and Tech Team Leader and Costume Designer, Inda Blatch-Geib.
They're learning things like how to draw, what movement means, what theatre-in-the-round means, what sight lines are. They've already built our objects for the play which are essentially fancy acting cubes of brick, steel and concrete facades. There are some really interesting ideas of what the set will possibly look like.
They're also designing costumes right now with Inda. If you're outdoors and it's hot, what are the right fabrics to use? What colors should you use? How do you want to connect all of the costumes? Even though there are three separate stories in the play, you still want the costumes to be in the same world."
---
STEP and CPT Staff Meet and Greet
On Tuesday, June 27, the students of STEP and CPT's staff gathered in the James Levin Theatre to meet and to greet.
Each student introduced themselves and shared with us why they are participating in the summer program. CPT staff members shared what it means to work at this theatre and what the different jobs look like (it's not all vocal warm-ups, theatre games and cool t-shirts…). Who balances the budget? Who creates the posters? Who orders the soda and sells the tickets? Creating and performing are just a few of the ways to participate in the arts.
---
Thank you to our Partner Organizations: LAND studio and Youth Opportunities Unlimited
---
---
STEP is generously funded by:
---
---
---
---
---
---