Our Lady of Common Sorrows
---
The Creative Production Team Includes:
Producer - Raymond Bobgan
Line Producer - Melissa Crum
Technical Director - Joshua Smith
Stage Manager - Caorl McAfee
Set Designer - Kix
Lighting Designer - Logan Chapman
Costume Designer - Melody Walker
Sound Design - Vince Tyree
Wardrobe Maintenance/Laundry - Brielle Mcgrew
---
Opening Night – Ticket includes free admission to the post-show opening party with appetizers and beverages! Mingle with cast members!
Free Bev Friday – Ticket includes FREE post-show beverages! Following every Friday night performance.
Market Monday | Oct 30, 2023 –is a new initiative for small business owners who are invited to showcase their businesses as part of a pop-up market that will occur one hour prior to the start of one of our scheduled Monday night performances for FREE! 
Featuring:
Shali Caver, Self Remedy 
Self Remedy sells daily reminders of taking self-care and mental wellness as a priority through journals, affirmation cards, stickers, mugs, dad hats, lapel pins and more. www.selfremedy.co.  
---
Ramika Evans, All Kreative Genres 
All Kreative Genres is a handmade craft store that specializes in one-of-a-kind items not found anywhere else! www.allkreativeprints.com 
---
Lacy Talley, visual artist and graphic designer 
Lacy offers a diverse range of products that blend art and inspiration! Her collection includes prints and framed prints to enhance your space with beauty and positivity. You can also find trays and stickers for everyday self-expression. Plus, don't miss the chance to purchase a ticket to attend Lacy's "I AM Affirmation" Laced N Paint classes. Discover the awesome impact of I AM affirmations as you unleash your inner artist and immerse yourself in a supportive and uplifting environment. Fall Series starting on October 13, 7pm-10pm 2023! @talleymarxxandcom
---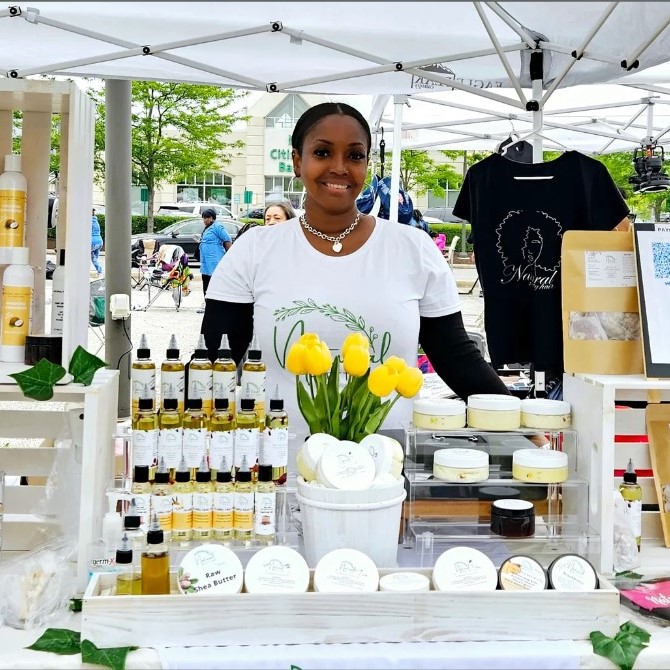 Christie Davis, Natural Pretty Hair
Natural Pretty Hair is an all-natural, handmade, non-toxic, cruelty-free hair and skin care company that believes in the power of natural ingredients to achieve hair and skin care goals. Our products range from natural shampoos, conditioners, hair oils, hair butters, body butters, beard products, bath teas and hair accessories. Learn more at www.Naturalprettyhair.com  
---
---
ABOUT Jaiie Dayo Aliya
Jaiie Dayo Aliya is an Akron Arts Alive and Knight Arts Challenge Award-winning playwright, actor, and musician. They studied at Kent State University, where they majored in Theater Arts and Pan-African Studies. They are Artistic Director of Ma'Sue Productions. With Ma'Sue, Dayo Aliya has produced eight plays in the past 9 years that have received numerous accolades and press in local media such as; The Devil Strip, Akron Beacon Journal, Cleveland Plain Dealer, Akronlife Magazine, and many other locally and regionally published media outlets. His work has been produced at Balch Street Theatre, Cleveland Public Theatre, and Akron Civic Theatre. They were also the 2020/2021 Nord Family Foundation Playwright Fellow at CPT.