---
Witnessing artists deepen their craft, sharing their important work on (or behind!) CPT stages, is a true joy.
CPT strives to be an incubator for homegrown art and local talent, and earlier this week we announced the CPT Artist Spotlight Series, where we'll be highlighting Fellows, staff members, and folks who call CPT their creative home.
Today, we're excited to celebrate artists and staff members Denis M. Griesmer, Hillary Wheelock, and Beth Wood! Read on and check out some of their work here at CPT in recent seasons, why they do what they do, and what they're up to currently.
-The Cleveland Public Theatre Staff
---
Denis M. Griesmer
Creator & Performer; CPT Chief Financial Officer & General Manager
 When he's not balancing the budget, overseeing CPT's day-to-day operations, or managing building renovations, Denis crafts interactive, intimate, and inspiring performances that imprint on our hearts and call us to consider our past, present, and future. You may recognize him from The Poetry Psychic Project—perhaps you've even sat across from Denis (in a shipping container or a basement at Pandemonium, a storefront in the neighborhood, or on a bustling W. 25th Street during the Ohio City Street Festival) as he beguiles and foretells, asking, "Can you see your fortune in a random poem?"
Denis has served as CPT's General Manager since 2007, but has worked in a variety of artistic and managerial positions at CPT since the fall of 2001. He has served on the board of Network of Ensemble Theaters and Greater Cleveland Community Shares, was a 2019 Gordon Square Artist-in-Residence, and directed the Y-Haven Theatre Project from 2006 to 2009.
---
Snapshots of Denis M. Griesmer's The Poetry Psychic Project Throughout Cleveland
Pandemonium 2019: Alchemy
2018 Ohio City Street Festival
Pandemonium 2017: UNLEASH
The performance space on Detroit Ave. for Gordon Square Artists-in-Residence Denis M. Griesmer's The Poetry Psychic Project and Chris Seibert's Love's Lost Raree Box
---
What Denis is currently up to…
"Chris Seibert, my collaborator on the project, and I were looking forward to developing The Poetry Psychic Project this spring through a series of open rehearsals. This was in preparation for a week-long residency at North American Cultural Laboratory in the Catskills next August. Well, we threw that plan out the window! Now we've begun to experiment with what we're calling 'Remote Readings,' where we take the heart of the interaction and use teleconferencing as the venue. We've recruited volunteers the past two weeks to help us discover and then solve the challenges of moving this intimate and personal performance to a video format. So far we've done 'one-on-one' readings, but we're hoping to move to small groups of 5 to 6 guests in May. In fact, if anyone is interested in volunteering to participate, they can send me an email at readings@poetrypsychicproject.com. We would love that!
During the epidemic I've gone back to work on my performance of #13 in the project cycle which seems relevant in a new way. It's a poem by Dan Albergotti called Things to Do in the Belly of the Whale,
Measure the walls. Count the ribs. Notch the long days.
Look up for blue sky through the spout. Make small fires
with the broken hulls of fishing boats. Practice smoke signals.
Call old friends, and listen for echoes of distant voices.
Organize your calendar. Dream of the beach. Look each way
for the dim glow of light. Work on your reports. Review
each of your life's ten million choices. Endure moments
of self-loathing. Find the evidence of those before you.
Destroy it. Try to be very quiet, and listen for the sound
of gears and moving water. Listen for the sound of your heart.
Be thankful that you are here, swallowed with all hope,
where you can rest and wait. Be nostalgic. Think of all
the things you did and could have done. Remember
treading water in the center of the still night sea, your toes
pointing again and again down, down into the black depths."
The Poetry Psychic Project Remote Reading in action
---
Hillary Wheelock
Actor, Fight Choreographer, & Educator; CPT Finance Associate
If you've seen Hillary perform, you've witnessed her vibrancy and power to warm hearts, open eyes, and shake audiences to the core. From comedy to drama, English to Spanish language, scripted plays to devised pieces, Hillary is able to bring a multitude of characters to life with remarkably honest and charismatic portrayals.
Hillary was most recently seen on the CPT stage in Teatro Público de Cleveland's (TPC's) productions of Marisol and A Xmas Cuento Remix. She performed in the reading of Voces/Voices (working title) at Entry Point 2020, and performed in and was Fight Choreographer for Good at Heart at BorderLight International Theatre + Fringe Festival this past summer. Last season, Hillary was featured in Fire on the Water (both the full production and the excerpts seen at Entry Point 2019); Colt 45, American Nightmare, and The Tulpa at ¡OBRAS EN EVOLUCIÓN 2018! A Festival of New Play Readings; Cleveland CORE Ensemble's Crevice, Moth, & Star at Pandemonium 2018: Labyrinth of Desire and the 2018 Ohio City Street Festival; and Cleveland CORE Ensemble's Wrestling Hope at Station Hope 2019. Hillary was also a Student Theatre Enrichment Program (STEP) Teaching Instructor for the 2018 production of After the Shadow. Hillary's 2017/2018 season credits at CPT include The Family Claxon, The Loush Sisters get HARD for the Holidays (Yippie-Kai-Yay Mother-Loushers), and TPC's En el Tiempo de las Mariposas / In the Time of the Butterflies.
---
Snapshots of Hillary Wheelock's work at CPT
TPC's Marisol, 2020
TPC's A Xmas Cuento Remix, 2019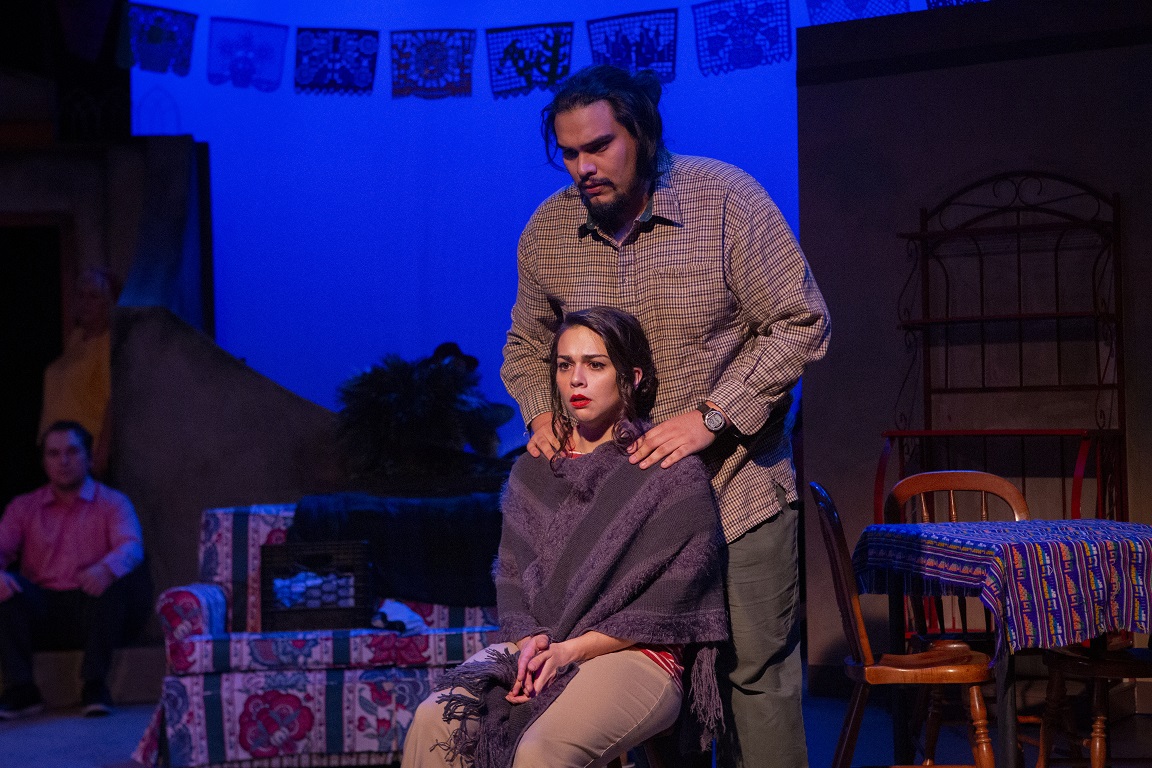 Good at Heart at BorderLight International Theatre + Fringe Festival, 2019
Fire on the Water, 2019
TPC's En el Tiempo de las Mariposas / In the Time of the Butterflies, 2018
The Family Claxon, 2017
---
What Hillary's currently up to…
"This is the first time since I started my acting career that I've been forced to take a significant break of undetermined length from theatre, and it is quite difficult for me to have so much time on my hands instead of being at rehearsal.
I'm breaking out my time in a few different ways. My days are structured a lot around my partner's and my dog. Sadie (the pup) loves that we're home, but since she's a German Shepherd/Husky/Malamute, we have to exercise her often. She's taken on to the Nerf tennis-ball-launching bazooka we got her. When we can, we all take hikes together—we try to go to a different Metropark each time.
Creatively, my best friend and CPT artist Jesse Reagan Hernon and I are writing a play together. We've been working on it for some time, but this break gives us room to compose the piece. We're using Greek Mythology to examine emotional manipulation, intimate partner violence, and Post-Traumatic Stress Disorder.
There have been quite a few video games as well… I have a hefty Nintendo 64 collection, and I've been playing a lot of Banjo-Kazooie, Harvest Moon 64, and Super Mario 64.
My partner is also an accomplished musician and music educator, so we're hoping to take some time to teach me bass guitar and introduce me to percussion (I'm a baritone saxophonist so this is NOT my comfort zone).
I try to find quiet activities when I can and plan on perfecting my minimalist watercolors of animal skulls."
---
Beth Wood
Creator, Director, Actor, & Designer; CPT Associate Artistic Director & Director of Production
Whether you're belly-laughing at Beth's comedic genius in The Loush Sisters, dabbing a tear during a beautifully-crafted onstage moment shaped by Beth's directorial finesse, or choosing your own adventure at a CPT event she's line-produced, Beth's versatile and adept artistry touches virtually every corner of CPT; it is rare for a CPT show or event to not have been blessed by Beth's touch in one way or another.
Beth joined the CPT staff in 2007, but she's appeared in nearly 20 productions since 2002 (that's a 15+ year tenure of performing on CPT stages). Since she began her work here at CPT, Beth has directed one (sometimes two!) mainstage productions every season. Earlier this year, she directed and was Props & Co-Video Designer for the world premiere production of Breakout Session (or Frogorse). You may also know Beth as a member of the Loush family—not only does she portray the delightfully inappropriate, larger-than-life Holly Loush; she is also the Director, Co-Creator, and often Scenic Designer of the "Rated R for Raucous" Loush Sisters productions. In recent seasons, Beth directed The Loush Sisters Love Dick'ns: Oops!… They Did It Again, Gloria, The Loush Sisters get HARD for the Holidays (Yippie-Kai-Yay Mother-Loushers), Barbecue, Lines in the Dust, and The Loush Sisters Love Dick'ns: Great Expectations. She performed in a reading of Breakout Session (or Frogorse) at Entry Point 2019, where she was also a panelist on "The Play's Not the Only Thing" discussion. As the Line Producer of Station Hope and Pandemonium, Beth oversees the artistic programming and production of some of CPT's largest events.
---
Snapshots of Beth Wood's work at CPT
Breakout Session (or Frogorse), 2020
The Loush Sisters Love Dick'ns: Oops!… They Did It Again, 2019
Gloria, 2019
"The Play's Not the Only Thing" Entry Point 2019 panel discussion
Barbecue, 2017
Lines in the Dust, 2016
---
What Beth's currently up to…
"I am such a lucky human being. I get to do what makes me happy—what inspires me. Of course there's the art side of things—that it's super fun and challenging and meaningful (and and and—I could go on for a while) to create art—like The Loush Sisters or direct Breakout Session or produce Station Hope. But there's more. I get to work with the most amazing staff in American Theatre—artists and leaders who inspire me every day to be better—to do better. And I get to work with them in service of the community. Honestly—it blows my mind when I think about it. I do what I do because I love it. Because it makes me happy. Because I get to help tell stories that ignite conversations we need to have. Because I get to support artists doing what they do best. I am so grateful to have the opportunity to do what I do. I am such a lucky human being.
This is a crazy time. It is nerve-wracking on so many levels—the health of my dear ones and the community and my personal health and all of the artists of CPT. I decided to go home to my mom's house outside of Columbus to ride out the stay at home order. I live by myself and couldn't imagine at least 4 weeks with only myself to keep me company. 🙂 It is strange to be away from CPT's awesome staff, but we're still finding ways to connect in lovely, inspiring ways. To look on the bright side of things, I'm grateful to have the opportunity to spend a lot of unexpected time with my mom and her adorable dog Jacki. If I have to be in lockdown, then I'm happy I get to do it with my mom and her fantastic cooking!"
---
Next up in our CPT Artist Spotlight Series we'll be featuring Nina Domingue and Holly Holsinger!