---
We are psyched to continue to highlight the incredible CPT Fellows, staff members, and folks who call CPT their creative home.
Today, we celebrate Nina Domingue and Holly Holsinger, longtime members of the CPT family.
Read on below for a look back (and forward!), and to see what Nina and Holly are up to currently.
-The Cleveland Public Theatre Staff
---
Nina Domingue
Actor, Playwright, & Director; 2019/2020 Nord Family Foundation Playwright Fellow
Nina Domingue is a Cleveland superstar who shines mightily in all she does. Her intimate stories of love and loss, struggle and triumph, her spirit of risk-taking and adventurousness, and her unique charm and intense curiosity about human behavior set her apart. She exemplifies the kind of brave space CPT is always striving for in our work.
Nina has this uncanny ability to carry the audience along with her through a myriad of characters. She makes us laugh and then suddenly everything flips—there is a broken heart, a tragedy, a revelation, a moment of epiphany. You can't help but identify with her characters and her deeply personal and life-affirming stories. Critics say that Nina is "…a young Anna Deavere Smith" and watching her is "like a master class in acting." Nina was recently named the Barbara Smith Playwright in Residence at Twelve Literary Arts.
A New Orleans native, Nina first appeared on the CPT stage in Venus (2005) and then several years later in No Child… (2009). In 2011, her solo show Ya Mama! was developed in CPT's Big Box series, continuing on to the 2011 New York International Fringe Festival and then returning to Cleveland for a full production in CPT's 2011/2012 season. Ya Mama!—the autobiographical story of a young Afro-Creole girl losing a mother, gaining a stepmother, and becoming a mother (in which Nina embodies 18 characters)—was remounted in 2018 to tour to the Hollywood Fringe Festival before returning to CPT for a second production featuring new elements, new stories, and new music. In her latest solo piece, Nina chronicles the life of poet, activist, and retired social worker Joan Southgate in The Absolutely Amazing and True Adventures of Ms. Joan Southgate, set to open CPT's 2020/2021 season.
---
Snapshots of Nina Domingue's* work at CPT
Ya Mama!, 2018
*Actor appears courtesy of Actors' Equity Association, the Union of Professional Actors and Stage Managers in the United States.
"Considering the Source: Creating With Existing Material" Entry Point 2020 panel discussion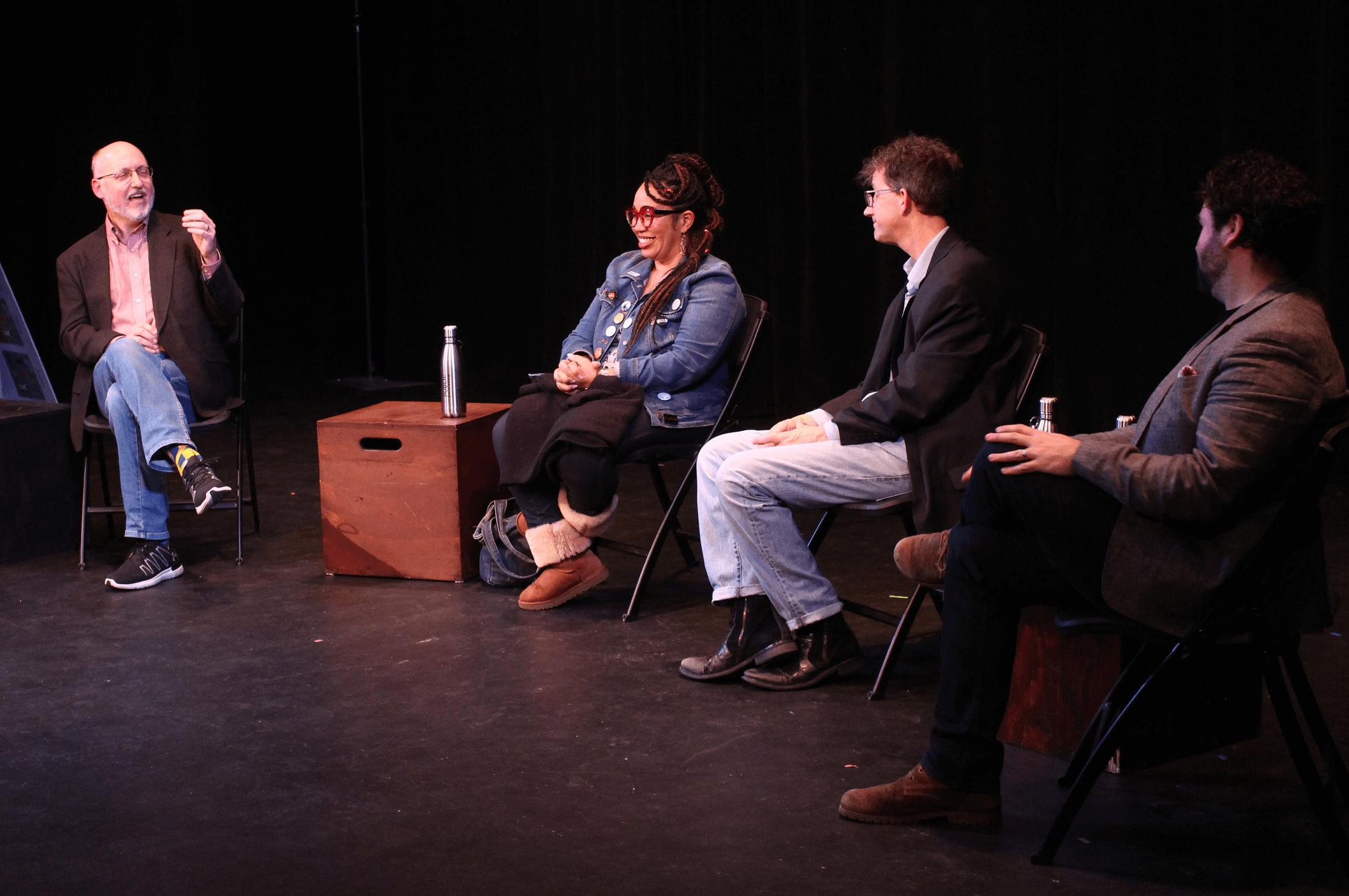 No Child…, 2009
Venus, 2005
---
What Nina's currently up to…
"I am taking it one day at a time. I am enjoying time with my family AND not trying to force myself to create or be or do anything. I'm concentrating more on listening and being present.
I do what I do because I can't do anything else. I do what I do because it's like breathing to me, I don't know how not to do it… I am a storyteller and it's my gift and calling. That's it."
Opening CPT's 2020/2021 season:
stay tuned for more information!
---
Holly Holsinger
Creator, Performer, Director, & Educator; Cleveland CORE Ensemble Member
Holly's tenure at CPT spans 20+ years (there is even a section of the CPT campus named after her; Holly's Hall). She's served in a variety of roles at CPT including (but not limited to) Teaching Artist, Education Director, Interim Managing Director, Performer, Creator, and Director. Holly has touched every level of the organization and is most certainly at the heart of what CPT is all about.
On stage, Holly enchants and captivates audiences with electrifying performances, often featuring beautiful and mystifying physical scores. Her one-of-a-kind vocal quality and ability is a vital element in her daring, intense, and remarkably honest work. As a creator, she champions women, investigates important issues, and celebrates human connection and the vulnerability and reverence of this togetherness which is beyond our everyday selves. Holly is also a highly skilled director whose expertise enables her to create dynamic environments where the traditional and experimental converge.
Holly was recently seen at Entry Point 2020 in a selection of Marie Curie Horror Story, her original play about the triumphs and tragedies of Marie Curie's life. In the winter of 2019, Holly directed Teatro Público de Cleveland's (TPC's) A Xmas Cuento Remix. In the fall, she engaged in a teaching exchange at The Raikin Theatre School in Moscow, Russia through Cleveland State University, where she is an Associate Professor. And in the past year, Holly toured to New Orleans and London with her solo show, Frankenstein's Wake, a twisted adaptation of Mary Shelley's masterpiece co-created with Raymond Bobgan (Frankenstein's Wake first performed Off-Broadway in 1997 and remounted at CPT as part of the 2015/2016 season). Other original works shown at CPT include Ancestra and Insomnia: The Waking of Herselves, co-devised with Chris Seibert. Holly was also featured in Waters (working title) at Entry Point 2019, Red Ash Mosaic (2017, 2018) and at countless Station Hopes and Pandemoniums of years past.
---
Snapshots of Holly Holsinger's work at CPT
Marie Curie Horror Story at Entry Point 2020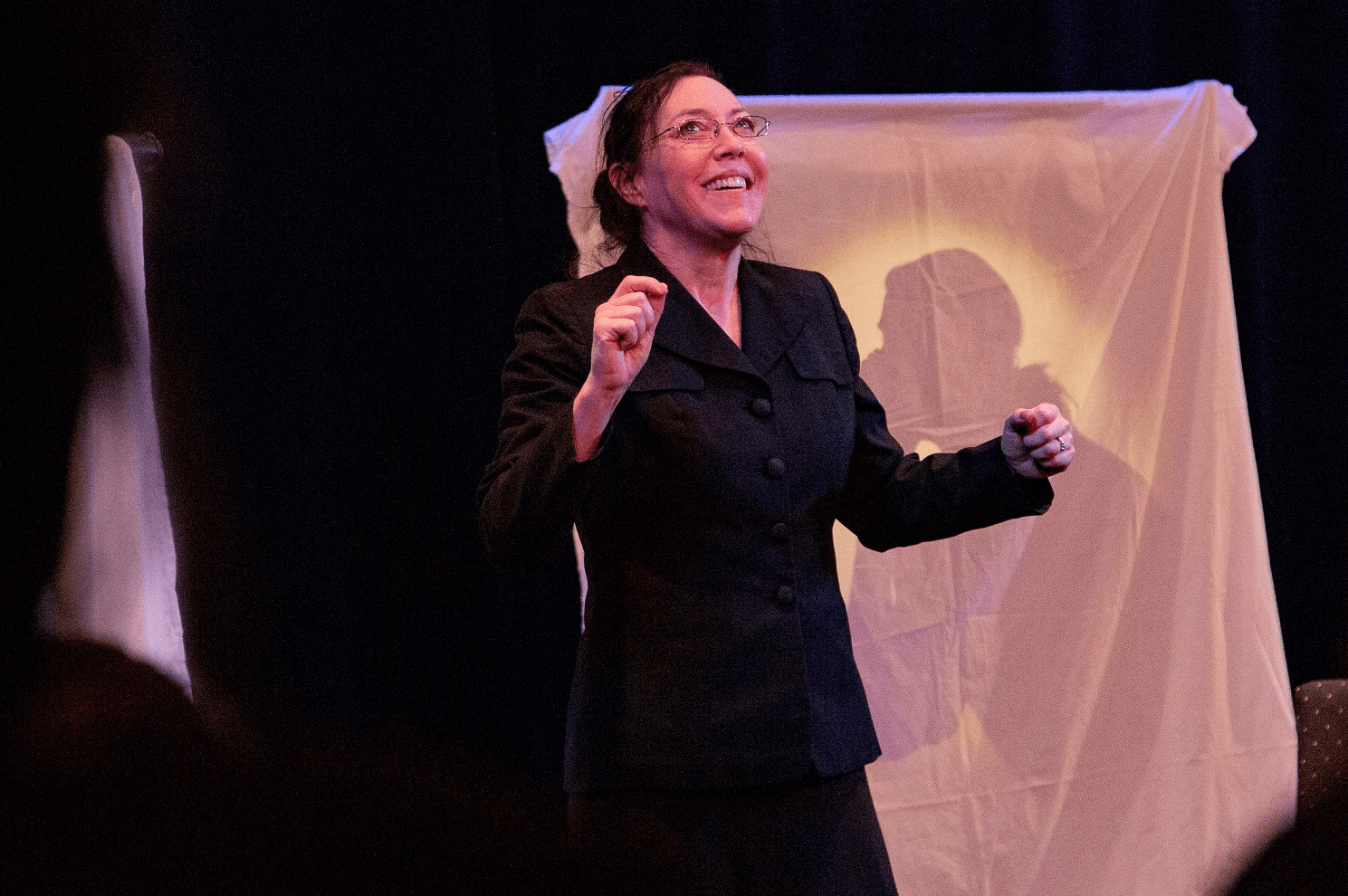 TPC's A Xmas Cuento Remix, 2019
Cleveland CORE Ensemble's Crevice, Moth, & Flame at Pandemonium 2019: Alchemy
Red Ash Mosaic, 2018
Frankenstein's Wake, 2016
Insomnia: The Waking of Herselves, 2011
Fefu and Her Friends, 2006
---
What Holly's currently up to…
"I'm spending a lot of time engaging with my students in the ways available to me, which are chat groups, emails, Zoom sessions. Acting is not an easy subject to teach online. Acting is so much about human connection, receiving and sensing messages on many levels. All those subtle communications are masked when we are our virtual selves. I'm also contemplating what this pause means for our culture. We are such doers, achievers, get aheaders. What happens when we stop? When there's not much to do, achieve, get ahead of? I'd like to say I'm working on art, and I guess I am, a little. But it's difficult right now. I'm distracted by all of this. I'm not sure what my heart has to say right now—I'm afraid? I miss you all?
I like making theatre, embodying theatre because it allows me to connect with other humans in ways that are completely unacceptable in everyday life. I am able to play with my fellow performers, reveal hidden parts of myself, share stories with audiences in surprising and unusual ways. I do it because it's incredibly satisfying to collaborate and find a place where ideas meet and intersect and weave together to make something so much better than I could have ever made by myself. It takes an incredible amount of work and risk to be an artist. Theatre is a vulnerable craft. That is the beauty and the danger, and both are exciting to me."
---
Next up in our CPT Artist Spotlight Series we'll be featuring Faye Hargate and Obediya Jones-Darrell!