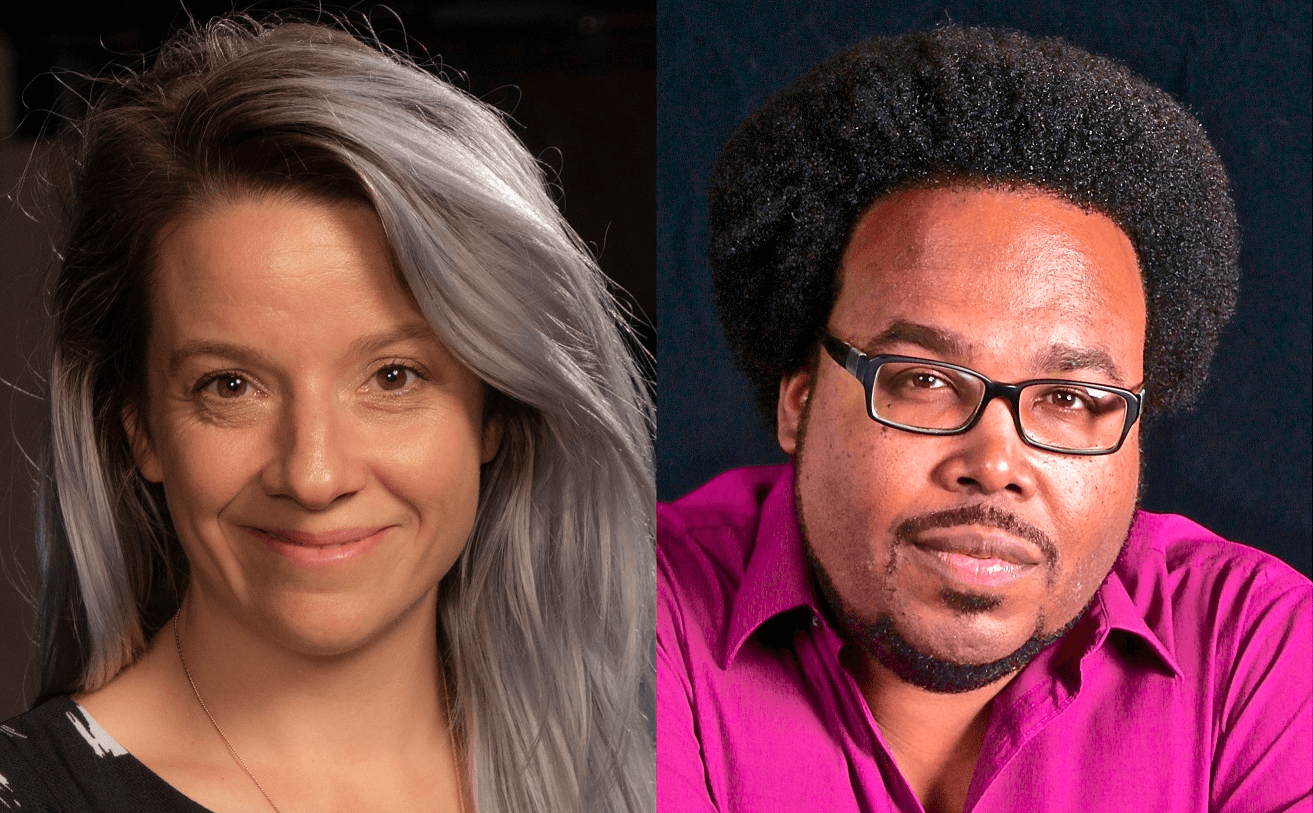 ---
We love celebrating the incredible CPT Fellows, staff members, and folks who call CPT their creative home.
And this week, the spotlight is on Faye Hargate and Obediya Jones-Darrell!
Read on to check out snapshots of their work here at CPT in recent seasons and to discover why Faye and Obediya do what they do, and what they're up to currently.
-The Cleveland Public Theatre Staff
---
Faye Hargate
Performer, Educator, Creator, Installation Artist, & Director; CPT Director of Community Ensembles; Cleveland CORE Ensemble Member
Strongly rooted in her hometown of Cleveland, Faye is an artist who starts from the deeply personal and dives into the complexity of the human spirit. Faye's work does not fit neatly into a defined artist role and breaks new ground as a theatre artist. Whether you've witnessed Faye's acting prowess enabling her to seamlessly shift from character to character; experienced her extraordinary gift of creating original and dynamic art in collaborative settings (most recently seen this winter in Masrah Cleveland Al-Arabi's وبعدها التقينا مسرح كليفلاند العربي And Then We Met…, co-created by Faye, Raymond Bobgan, and the Ensemble and directed by Faye and Raymond); or been transformed by one of her performance art installations, Faye's artistry is unparalleled and pushes the form of theatre forward.
Faye is a founding member of the Cleveland CORE Ensemble, and under the direction of Raymond Bobgan, she has collaboratively created and performed in original works Fire on the Water (Part Four of the Elements Cycle), Red Ash Mosaic, and Rusted Heart Broadcast, to name a few. Faye's solo show Feefer Rising was premiered in 2015 at CPT. She was last seen in Cleveland CORE Ensemble's Crevice, Moth, & Flame at Pandemonium 2019: Alchemy, Fire on the Water (2019), and will be featured in next season's Candlelight Hypothesis #1-12.
As an installation artist, Faye has collaborated with Joan Hargate to direct and create performance art installations When the She'll Broke – Workshop at Entry Point 2018, She's Wearing White…, Royal Ann's Preserve, Echoless Shore, and Fellsalie.
Faye was appointed to Director of Community Ensembles in 2016 after serving in a range of education, community connection, and artistic roles since joining full-time staff in 2009. She works with Teatro Público de Cleveland (TPC), supporting the production of bilingual devised plays, Spanish language scripted plays, and community projects at events like Station Hope and the Ohio City Street Festival, and Masrah Cleveland Al-Arabi, collaborating with Raymond Bobgan and company members to support the development of new plays by, for, and with Arabic-speaking communities. Faye also line produces TPC and Masrah Cleveland Al-Arabi productions.
Faye has over ten years of experience with CPT's Cleveland Act Now (formerly Brick City Theatre), teaching, directing, producing original plays and community events. In 2018, she founded CAN Academy, a theatre training program onsite at CPT for younger teens and youth that live in Cleveland and surrounding neighborhoods.
Faye is a 2014 Creative Workforce Fellow, and in fall 2019, she was recognized by Cleveland Museum of Contemporary Art as a New Agency Member.
---
Snapshots of Faye Hargate's work at CPT
Masrah Cleveland Al-Arabi's وبعدها التقينا مسرح كليفلاند العربي And Then We Met…, 2020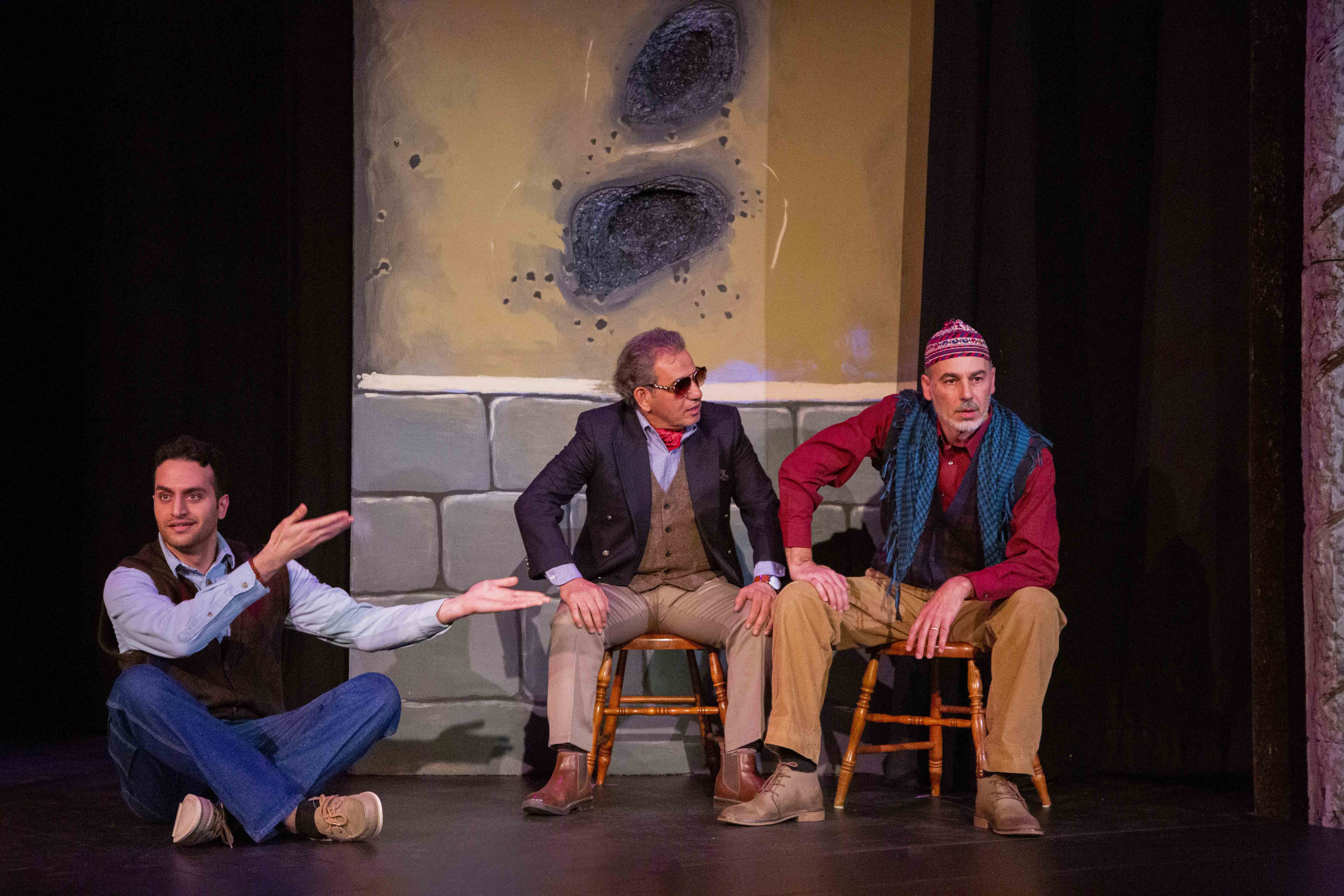 Cleveland CORE Ensemble's Crevice, Moth, & Flame at Pandemonium 2019: Alchemy
Fire on the Water, 2019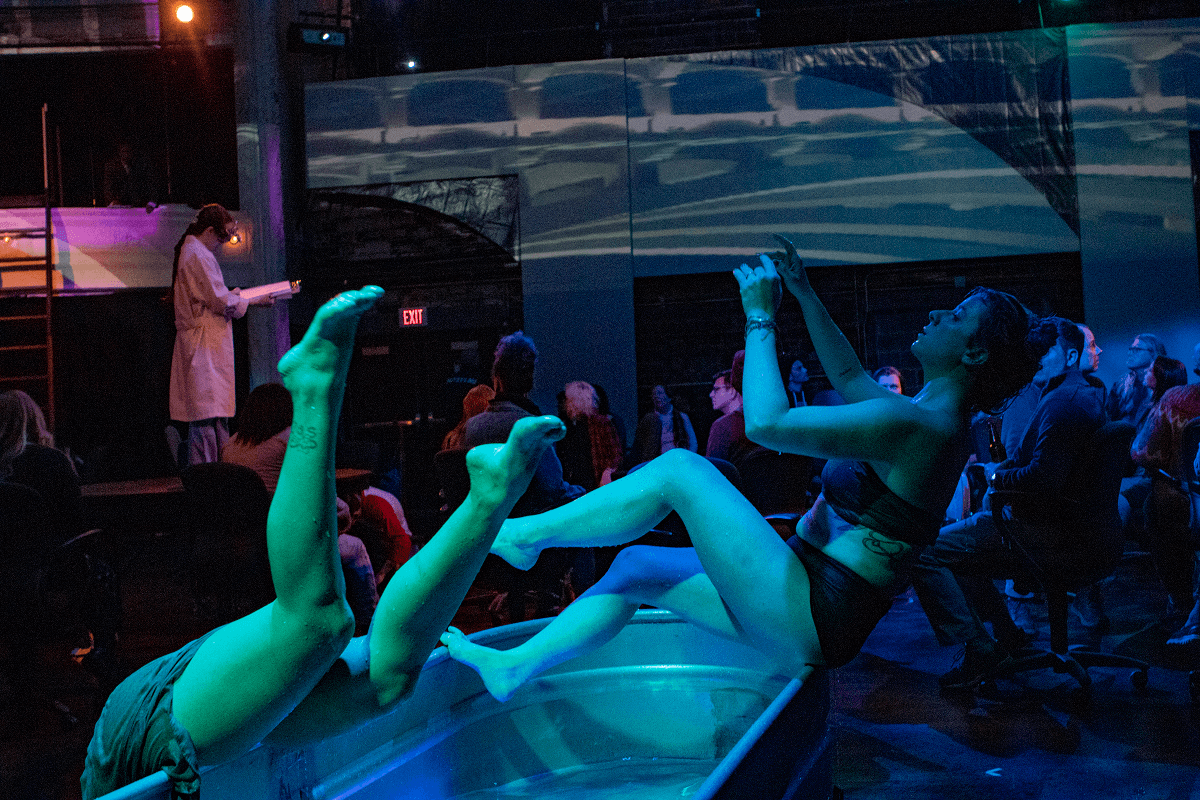 CMHA CAN's Through My Lens: See Me See You / Lakeview Terrace at Station Hope, 2019
Red Ash Mosaic, 2018
Feefer Rising, 2015
She's Wearing White…, 2014
---
What Faye's currently up to…
"Cleveland Act Now (CAN) Academy Teaching Artist Zyrece Montgomery and I have taken to the world wide web to keep the CAN Academy young artists connecting and learning! The online resources and support for teachers right now has been inspiring, encouraging, and really useful. Since I love human to human interactions—that's one of the reasons I do theatre and teach—I was intimidated to make the jump online, and at first, I wanted to make sure everything was figured out before we released it to the CAN Academy young artists, but soon I realized this is more of a day-by-day, grace-under-fire, take-it-in-strides, small-is-all kind of situation.
The learning curve to teach online felt like a mountain at first, but it also provided some fun at-home learning for me and Zyrece. We explored different platforms, connected to teacher groups around the nation, did parent polls, talked to kids and guardians, got advice from my young nieces. Facebook private group explorations was a fun fail. Zyrece and I spent about 2 hours playing in the group and the FB features to see if it could work. Ultimately, FB has too many privacy concerns so we didn't go that route, but as we say at CPT, 'no work is ever wasted. It has gone to the well!' We ended up going with Zoom and the Google Suite. We might consider adding something like Flipgrid or Seesaw, but honestly, right now, we are learning how to flow in Zoom. Day by day. It's been fun and here are some of our lessons learned in the first week of teaching:
It is possible!
Kids like to move!
Zoom is accessible.
Open the space up for parents too while prioritizing a 'kids-only' time.
Use visual aids to help keep the interaction interesting, i.e. give an announcement on Post-its instead of live video.
Try to get them moving!
Remind them to stand up from the chair.
Be creative about what teacher tools you use to inspire/entice/excite. Since there is a big separation, nuance is harder to translate.
Small steps is good steps—I wanted to add all the 'bells/features' in the first day. Give yourself room to figure it out as you go.
Another lesson learned right now for me is 'lean on and uplift'. Once we asked the parents advice on needs, the online curriculum content started to write itself. Ask for what you need and what others need.
Why do I do what I do? Theatre provides avenues to communicate and learn that daily life doesn't. I look for artistic spaces that create these communication and learning openings. Openings for our senses, how we can talk to each other, how we design, illustrate, communicate an idea, feeling, smell, or sound. Openings for our minds to make sense of it all .. or not … to grapple, to churn, to learn.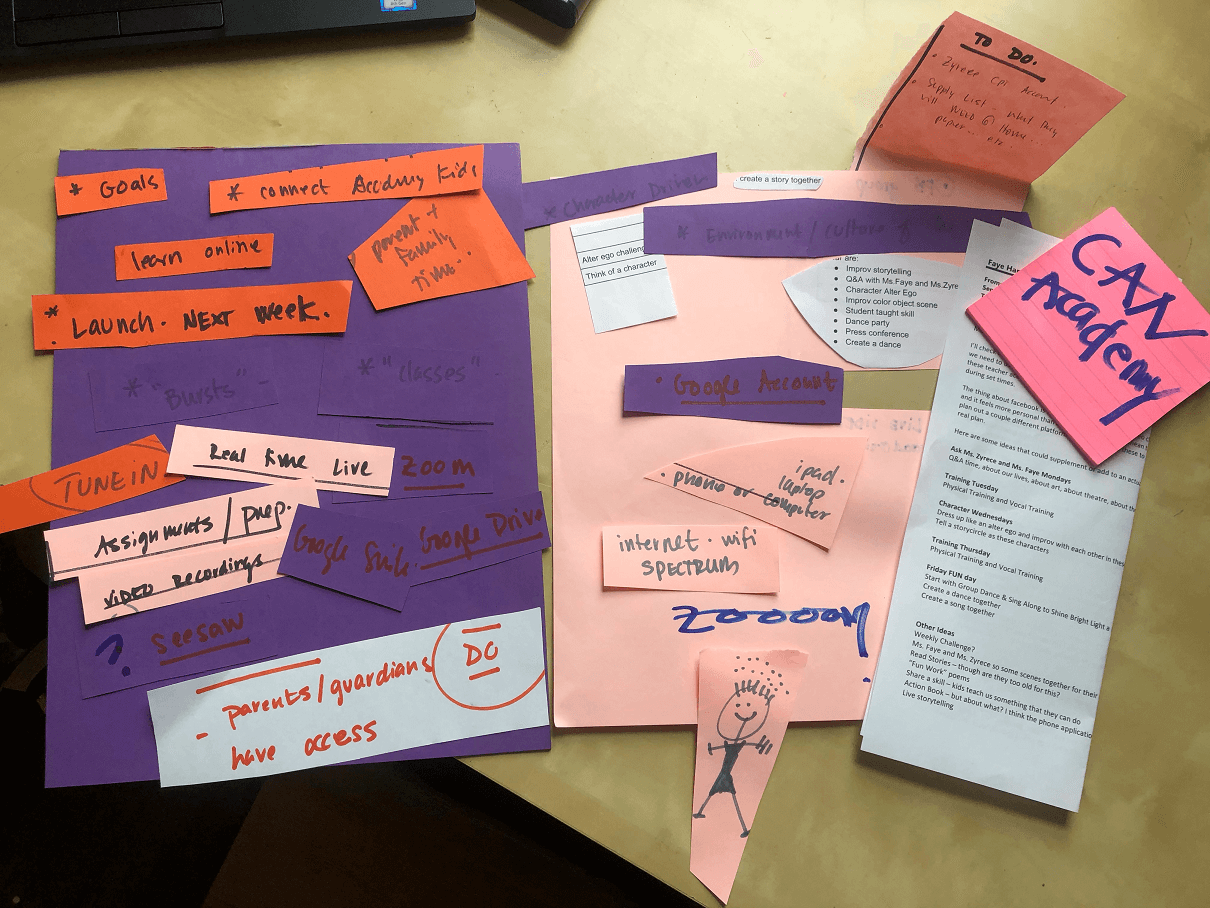 ---
Obediya Jones-Darrell
Music Composer, Playwright, Producer, & Filmmaker; 2019/2020 Kulas Theatre Composer Fellow
Obediya is a versatile artist with a diverse portfolio of creative productions in various mediums. Inspired by international travels over the past two decades, Obediya's work often reflects a global world view grounded in culture and self discovery.
The style and content of his work is large, rich, epic, draws on a wide range of sources, and it turns upon issues of self-awakening and concepts of responsibility and duty, themes that are really important in the current moment.
Obediya is drawn to theatre because it has a focus on exploring the depth of human emotion to a level unmatched in other disciplines. As a composer, he writes music for musicians, but when it is combined with a theatre production it has the power to take the audiences and performers to new heights.
Born in Halifax, Nova Scotia, Canada, Obediya is an award-winning playwright, music composer, and producer. Obediya is a member of the Playwrights Guild of Canada. Across Canada, two of his full-cast radio plays won Outstanding Achievement in Creative Production (NCRA) 2012-2013 (Winnipeg, Manitoba) and 2013-2014 (Victoria, British Columbia) for his use of sound design. As a classically trained music composer, he is equally comfortable writing sheet music as he is making contemporary electro-acoustic music to score theatrical productions. As a film director, several of his music-themed award-winning short films are currently being screened in film festivals internationally. In March 2019, his short film "Energy" won Outstanding Music Video in Cleveland's Short. Sweet. Film Festival. Obediya was also selected as one of Canada's 20 Emerging Diverse filmmakers by Toronto's Reelworld Film Festival (2019).
Obediya's original compositions were featured at CPT this past winter in the world premiere production of Breakout Session (or Frogorse) and Living on the Moon at Entry Point 2020. He has also performed at Station Hope 2018 and 2019 as part of Kombilesa Asé, a band offering a unique musical experience with original compositions inspired by the African diaspora. His new play Speak Easy, which examines the struggles of the average working person, the entrepreneurial spirit, and what success truly means, was scheduled to be a part of Test Flight 2020.
---
Snapshots of Obediya Jones-Darrell's work at CPT
Breakout Session (or Frogorse), 2020
Living on the Moon at Entry Point 2020
---
What Obediya's currently up to…
"As a recent immigrant to the United States, I feel I have been given a chance to start a new life as an artist here in Cleveland. As a music composer, playwright, filmmaker, and storyteller, my ultimate goal is for everyone to see a piece of themselves in the work I create. Being offered the opportunity to collaborate with the amazing CPT community of artists and audiences has enriched my creative process. I feel so much gratitude for the opportunity to share the stage with such talented and passionate people. Thank you for your patience in me as I learn all of the beautiful culture Ohio has to offer!
During my time at home during COVID-19 I have been working on several projects, two of which will be presented to the public. You can follow these projects and other upcoming projects on my Facebook page.
1. I have composed original music for a short documentary film Playing for Peace which is being screened on TV throughout Israel over April. The film follows the journey of an Israeli football club mixed of Jews, Christians, and Muslims as they're faced with the challenge of overcoming a 40-year championship drought. If peace is possible on the pitch and in the stands, where else can it be possible? Click here for more information about Playing for Peace, or click the image to watch the trailer.
2. This year for CPT's Test Flight series, I wrote and composed music for Speak Easy. Even though our workshop production was not able to be performed on stage as scheduled, on May 25 at 2pm EST, the cast will perform a Live Stream of the first act of the production. This 45-min performance is free to the viewer online through Zoom Conferencing and will be streamed from the Sound Body Culture Facebook Page. It will also be broadcast across Canada by the Playwrights Guild of Canada. The performance is made possible by financial support from Canada Arts Council, Royal Bank of Canada, and the continued support from Cleveland Public Theatre."
---
Next up in our CPT Artist Spotlight Series we'll be featuring India Nicole Burton and Caitlin Lewins!