5 local artists receive financial award and year-long Fellowship at CPT
Cleveland Public Theatre (CPT)'s Executive Artistic Director Raymond Bobgan is proud to announce the selection of five Cuyahoga County-based artists as 2019/2020 Premiere Fellows, made possible by dedicated funding from Cuyahoga Arts & Culture (CAC).
The purpose of the Premiere Fellowship is to celebrate, reward, and support artists who have demonstrated excellence in and are committed to new play development. The award is for theatre artists from multiple disciplines including acting, directing, playwriting, design, and stage management. Fellows receive a $5,000 cash award, plus additional fees for projects, professional development, and access to space, equipment, and other important assets needed to create their work. Each Fellowship is designed in collaboration with the Fellows.
CPT's 2019/2020 Premiere Fellows include Aaron Benson, Sheffia Randall Dooley, Les Hunter, Andrew Aaron Valdez, and Jimmie Woody.
---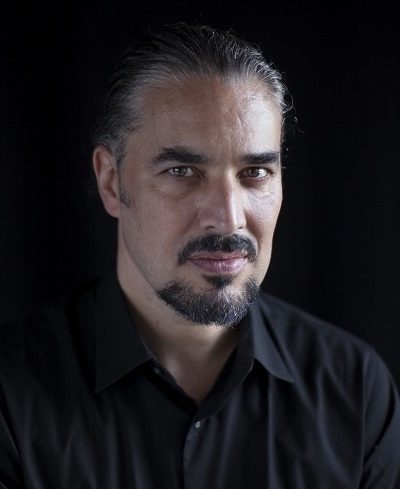 CPT Executive Artistic Director Raymond Bobgan says, "We know from experience that substantial financial awards to individual artists have a massive impact on our artists and beyond. We also have a great track record of supporting artists in project-based Fellowships that have served as important growth opportunities for both projects and individual artists. We wanted to create a Fellowship that combined both of these aspects—a direct financial award and project-based professional development. The entire community benefits from investments like this, and we are grateful to Cuyahoga Arts & Culture for their support of artists and their commitment to bolstering Cleveland's artistic vibrancy. CPT values principles of equity, diversity, and inclusion and CPT celebrates diverse aesthetics and approaches to making theatre. The five artists selected, from early career to mid-career, have demonstrated excellence in their craft and a commitment to adventurous new theatre."
---
ABOUT CUYAHOGA ARTS & CULTURE (CAC)
Cuyahoga Arts & Culture (CAC) is one of the largest local public funders for arts and culture in the nation, helping hundreds of organizations in Cuyahoga County connect millions of people to cultural experiences each year. Cuyahoga County residents created Cuyahoga Arts & Culture in 2006 when they approved a tax on cigarettes to support arts and culture in our community. Since 2007, CAC has invested more than $182 million in more than 400 organizations both large and small, making our community a more vibrant place to live, work, and play. Learn more at www.cacgrants.org.
---
ABOUT AARON BENSON
Aaron is a freelance Scenic Designer whose most recent designs include Cleveland Public Theatre's American Falls; Teatro Público de Cleveland's La Gringa (Spanish) and En el Tiempo de las Mariposas / In the Time of the Butterflies; Beck Center for the Arts' productions of One Flew over the Cuckoo's Nest and Waiting for Godot; Dobama Theatre's Peter and the Starcatcher, Superior Donuts, and The Aliens; and Cleveland Public Theatre at Playhouse Square's The Santaland Diaries. He also designed Cleveland State University's productions of Miss Julie, Bus Stop, The Emperor's New Clothes, and five others. Prior to arriving in Northeast Ohio, Aaron was the Faculty Scenic Designer and Technical Director for Fullerton College in Fullerton, California for three years. His designs for Fullerton included Julius Caesar, Hair, and Cyrano de Bergerac, as well as many others. He also worked at the Utah Shakespeare Festival in many capacities, from Assistant Scenic Designer to Technical Director, between the 2004-2009 seasons. Aaron holds his MFA in Scenic Design from the University of Illinois at Urbana-Champaign.
---
ABOUT SHEFFIA RANDALL DOOLEY
Sheffia Randall Dooley is a theatre graduate of Baldwin Wallace University and has been an arts educator and administrator for over 20 years. She has held positions as the Director of Education at Karamu House, Master Teaching Artist for the Musical Theatre Project, and Teaching Artist at several organizations including Great Lakes Theater, Cleveland Play House, Cleveland Public Theatre, and the Cleveland School of the Arts, and is currently the Assistant Director for Community Engagement and Education at Playhouse Square. A member of Actors' Equity Association, Sheffia has extensive acting experience having appeared as Mama Nadi in Ruined, the title role in Caroline, or Change, and a reprised role in Simply Simone as Nina Simone 4 at Karamu House. Regional credits include: The Crucible, The Tempest, and Blithe Spirit at Great Lakes Theater; Pulp, Our Town, The Secretaries, and Nickel and Dimed at Cleveland Public Theatre; and RESPECT, a Musical Journey at Playhouse Square's Hanna Theater. Other notable credits include: Sophia Jones in Dontrell, Who Kissed the Sea, Aiofe in Open Mind Firmament, as well as a recurring role as Butter Rum in The Loush Sisters DO the Nutcracker, The Loush Sisters Love Dick'ns: Great Expectations, and The Loush Sisters get HARD for the Holidays (Yippie-Kai-Yay Mother-Loushers), all at Cleveland Public Theatre. Selected directing credits include Tale of Jiminirising (Test Flight 2018) and The Book of Grace at Cleveland Public Theatre, and Aida, Fences (Assistant Director), Sister Act, and Aladdin at Karamu House.
---
ABOUT LES HUNTER
As a playwright, Les Hunter's work contemplates the way theatre specifically can shed new light on emerging problems of selfhood. His plays include Down by Contact (Dobama Theatre/Playwrights Local), Weimar (Baldwin Wallace University), and To the Orchard (Playwrights Local and JPP 2016 International Jewish Playwriting Contest Top 10 Finalist). He wrote for all three parts of the collaboratively written, NYC hit, The Jackson Heights Trilogy (Theatre 167). His other dramatic works include an American adaptation with Turkish dramatist Ozen Yula of his play, For Rent (LaGuardia Performing Arts Center); a screenplay, Lion (Dubai Film Connection); and a musical, '99 (Theatre 167), with Ben Morss of the band Cake. Playscripts, Brooklyn Publishers, and Indie Theatre publish and license his plays. Hunter is a 2019/2020 Cleveland Public Theatre Premiere Fellow and the Ohio Regional Representative for the Dramatists Guild of America. He is an associate professor of English at Baldwin Wallace University, where he teaches theater history and playwriting. In 2014, he attended the Mellon School of Theater and Performance Research at Harvard University. He is a member of the Playwrights GYM at Dobama Theatre and has received residencies from Ora Lerman and Millikin University. He was previously the Curator of New Plays at LaGuardia Performing Arts Center in New York City, literary director of Theatre 167, and co-founder of the Brooklyn Playwrights Collective. His articles and reviews have appeared in American Theatre magazine, The Dramatist, Text & Presentation, HowlRound, Theatre Journal, The Wallace Stevens Review, Ecumenica, Cutbank, Theatre Survey, and the edited collections Experimental O'Neill and Performing the Progressive Era. His creative prose appears in Fiction Southeast, Barnhouse, and the anthology Dating Games. He lives in Lakewood, Ohio with his wife, Elana, their son, Asher, and their Australian Shepherd, Maya.
---
ABOUT ANDREW AARON VALDEZ
Andrew Aaron Valdez is an actor, director, playwright, poet, and educator, and is a C.A.R.E. Teaching Artist at Cleveland Play House, Steering Committee Member of the Latinx Theatre Commons, and a 2019/2020 Americans for the Arts (AFTA) Arts & Culture Leaders of Color Fellow. As an educator he has worked with ZACH Theatre, Creative Action, Safe Place, The Indigenous Cultures Institute, and Cleveland Public Theatre. As a theatre artist, Andrew focuses on the development of new work. He's worked with ZACH Theatre, Teatro Vivo, 14/48 Austin Theatre Festival, Paper Boats, Kitchen Dog Theatre, Karamu House, Cleveland Public Theatre, Cleveland Play House, Dobama Theatre, The Cohen New Works Festival, and on various productions at the University of Texas at Austin. As a playwright, his work was a part of the 2015 and 2016 Teatro Vivo Austin Latino New Play Festival, the 2015 Cohen New Works Festival, and the 14/48 Austin Theatre Festival. Andrew is a Terry Scholar and received his Bachelor's degree in Fine Arts – Theatre Studies from the University of Texas at Austin.
---
ABOUT JIMMIE WOODY
Some of Jimmie Woody's most recent directorial credits include: The Art of Longing, InCogNegro (Big Box 2009), How Blood Go (Entry Point 2017), and The Bomb (Station Hope 2016) by Lisa Langford, 365 Days/365 Plays by Suzan-Lori Parks, and Song by Daniel Gray Kontar (Cleveland Public Theatre); brownsville song/b-side for tray (Dobama Theatre); To Kill a Mockingbird, Clybourne Park, and Raisin in the Sun (Weathervane Playhouse); MLK Day and When the Chickens Came Home to Roost (Karamu House); The Panther Dancer by Logan Smith (Playwrights Local); Split Show by Lisa Langford (convergence-continuum and Tri-C Metro); The Lower Depths and The America Play (University of Akron); Glass Menagerie, For Colored Girls…, Jitney, Two Trains Running, and Joe Turner's Come and Gone (featuring Bill Cobbs) (Tri-C Metro); Seedfolks (Tri-C JazzFest Cleveland, Cleveland Public Library, and the Cleveland Botanical Garden); Underground Griots and Wilberforce by Keith Josef Adkins (Here Café/NYC, The National Black Theater Festival, and Cleveland Public Theatre); Hollis Mugley's Only Wish by Keith Josef Adkins (New York Hip Hop Festival/Joseph Papp Public Theater and The National Black Theater Festival); The Bacchae of Euripides: A Communion Rite (Oscar Hammerstein Theater/Columbia University and Cleveland Public Theatre). As an actor he has appeared in numerous productions including: Brucie in Sweat and Paul in 8 at Cleveland Play House; Yank in The Hairy Ape directed by David Herskovitz and Dionysus in The Bacchae of Euripides: A Communion Rite at Cleveland Public Theatre; Hollis in Hollis Mugley's Only Wish directed by Robert O'Hara at Joseph Papp Public Theater; Pozzo in Waiting for Godot at Oscar Hammerstein Theater; Spaniard in Cymbeline at New York Shakespeare Festival directed by Andrei Serban; Tigre in Dream on Monkey Mountain, Cassius in Julius Caesar, Cholly in The Bluest Eye, and multiple characters in The Colored Museum at Karamu House; Macbeth in Voodoo Macbeth at Ensemble Theater; Julio in The Mother F**ker With The Hat, Robert in The Exonerated, and multiple roles in Ten Minutes from Cleveland at Dobama Theatre; Booth in Top Dog/Underdog, William in Lobby Hero, and Tybalt in Romeo and Juliet at Beck Center for the Arts; Hamlet in Hamlet at Tri-C Metro; and Cobbler in Julius Caesar directed by Diane Paulus at Horace Mann Theater. Jimmie received his MFA in acting from Columbia University. He is a 2012 Creative Workforce Fellow and is currently a film teacher at the Cleveland High School for Digital Arts and an acting professor at Cuyahoga Community College.
---
To schedule interviews or for information about Cleveland Public Theatre, please contact Caitlin Lewins, Director of Audience Engagement & Media Relations, at clewins@cptonline.org or 216-631-2727 x211, or visit www.cptonline.org.